Are you experiencing issues with stains resulting from salts and other contaminants that seep through tiled surfaces? Although efflorescence is a natural occurrence, it's still a hindrance, but thankfully not any more with FILA's PW10 .
Acting as a powerful sealant, PW10 can be applied on the back and sides of tiles and other absorbent paving slabs. As a result, the migration of contaminants like tannins and oxides is effectively halted, thus averting the development of unattractive streaks and stains on the material surface.
With its innovative formulation, PW10 provides robust defence, ensuring this issue no longer mars the beauty of your surfaces. In this post, we'll delve into the product features, benefits, and application techniques, empowering you with the knowledge to incorporate this remarkable pre-laying treatment into your projects.

The solution for protecting against salts and other contaminants
Due to their porous nature, absorbent materials like stone encounter issues with impurities rising up through the substrate. This process leads to the formation of unsightly marks and discolouration, which often occurs in only a matter of weeks.
PW10 is our water-based contaminate blocker, developed for the professional treatment of absorbent materials, including granite, marble and terrazzo. When applied, it prevents pollutants from rising from the substrate, thus preventing the formation of halos and stains and providing ultimate protection .
The main advantages of PW10
Does not substantially alter the adhesive characteristics of glue (we'll explain the glue test further down)

Does not yellow or form a surface film (non-yellowing according to ASTM G154 standards)

PW10

is resistant to UV rays

Permeable (according to EN ISO 7783-2 standards), in accordance with UNI EN 1348:2009 – 8.4 standards and ASTM C 482-02-(R-2009)

Water-based and VOC-free,

PW10

is a part of FILA's Green Line

PW10

allows the material to breathe and does not alter its characteristics

It also has water-repellent and consolidating properties

It can prevent the blackening of the material caused by smog
Where can PW10 be used?
PW10 is a water-repellent versatile product ideal for coverings and floors, but it can be used to treat many other surfaces too. Offering reliable protection against the rising up of contaminants, this water-based treatment is well-suited to natural stone, terracotta and other absorbent materials.
By forming a protective barrier, PW10 ensures anything rising up from the substrates does not compromise the integrity or appearance of the surface. This is down to its unique formulation, which strikes a balance between safeguarding against unwanted substances and preserving the natural breathability of the material itself.
How to use PW10
As a pre-laying treatment
It's often essential to prevent the occurrence of rising up stains from the back and sides of a material.

First, begin by thoroughly cleaning the back of the tile before drying and ensuring the surface is free of moisture and any residues.

You can then apply

PW10

on the back and sides using a flat brush or airless pump, taking care to avoid excessive pooling.

Allow the material to fully dry before proceeding with bonding.

This typically requires approximately 12 hours at temperatures between 20 °C and 40 °C or 24 hours at temperatures between 10 °C and 20 °C. 

It's also important to select an appropriate adhesive for the type of installation, following the UNI EN 12004:2012-2 standard.

Following the initial wash, you can then complete the surface treatment using one of FILA's

water-based protectors

that is most suitable for the intended use of the material.
In the presence of high humidity
In the presence of high humidity,

PW10

can also be used to block contaminating agents on the back and four sides of the material and to create a water-repellent effect on the front.

As before, thoroughly clean all sides of the slab before drying, making sure to remove any dust and residues.

Once the surface is dry, apply one coat of

PW10

and spread the solution evenly on all sides of the material.

PW10

can also be applied by immersing the material in the product for roughly 30 seconds.

Dab any residue with a cloth to avoid pooling and wait for the surface to dry for approximately 12 hours (temperatures between 20°C and 40°C) to 24 hours (temperatures between 10°C and 20°C) before bonding the material.

Again, choose the adhesive suited to the type of installation, according to the UNI EN 12004:2012-2 standard.

After the initial wash, the surface treatment can then be completed with a

protective agent

most suited to the material's intended use.
For surface protection
To create a water-repellent effect on the front of unpolished tiles,

PW10

can also be utilised.

First, make sure that the surface is clean and dry before applying the product by impregnating the material until saturated.

Next, dab any excess product with a clean, dry cloth – the surface will be dry and ready after just 6 hours.
Preventive measures
When dealing with glossy surfaces, it's crucial to exercise meticulous care to prevent the product from permeating and causing unsightly stains on the surface. You should also avoid applying the product directly to the front of the polished surface, and materials for featuring resin and or mesh on the back, PW10 should be exclusively applied to the edges and the top side only.
NB Again, it is advisable to consult the manufacturer to determine the appropriate binder for the intended use of the material.

Analysis and testing methods for PW10
1. Glue test
To ensure the reliability of PW10 , a test of the glue was performed to ensure the product did not affect the adhesion. This is universally recognized as the Pull-Off Test, and it is a mandatory measure.
In accordance with the UNI EN 1348-2009 and ASTM C482-02 R-2009 standards, PW10 can be applied to the back of tiles without compromising the adhesion properties of the adhesive. It is, however, important to choose the adhesive suitable for the type of installation according to UNI EN 12004: 2012-2, and we suggest consulting with the producer of the glue if in doubt.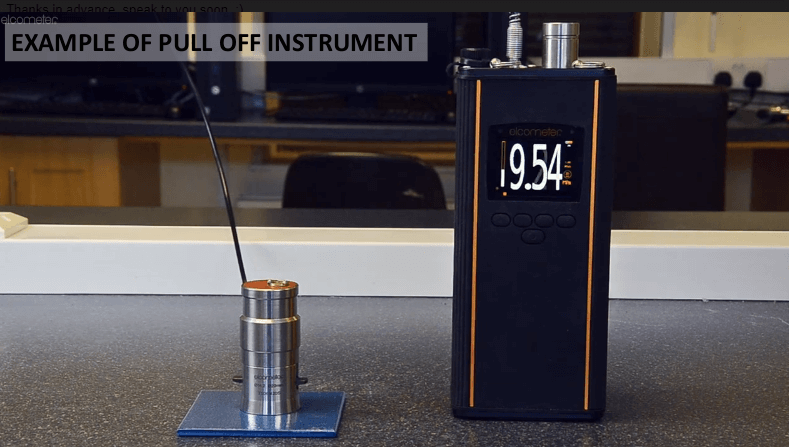 2. Chestnut tree sawdust test
To assess the formation of pollutants, we carried out the Rising-Up Test on Marble and other various stones. Half of the samples underwent PW10 treatment, while the remaining half were left untreated and placed in sawdust derived from chestnut trees. The test was carried out for up to two weeks, but after only three days, some untreated samples were already showing a dramatic change in colour.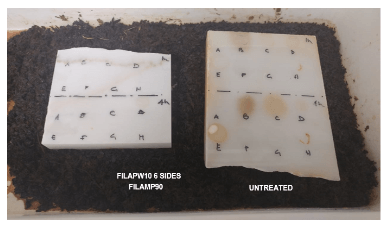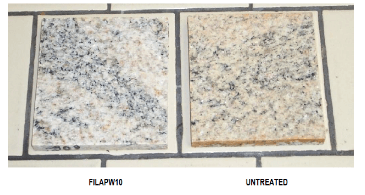 3. Tannin solution test
A further test saw samples of Indian Sandstone and Quartzite protected with PW10. After seven days, we dipped the treated and untreated samples inside a solution of tannin and water. After one day, stains began to appear, and after one week, the untreated materials were completely damaged by the tannin solution absorption.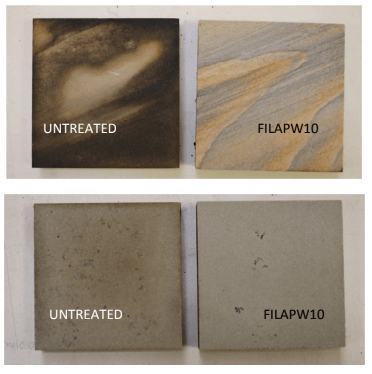 4. Water-absorption test
Finally, a water absorption test was performed using the same samples as above, with the surfaces immersed in water at half height. Specifically, the Sandstone reached maximum absorption after just one and a half hours. The treated sample, on the other hand, maintained a very low absorption even 24 hours after the initial contact with water.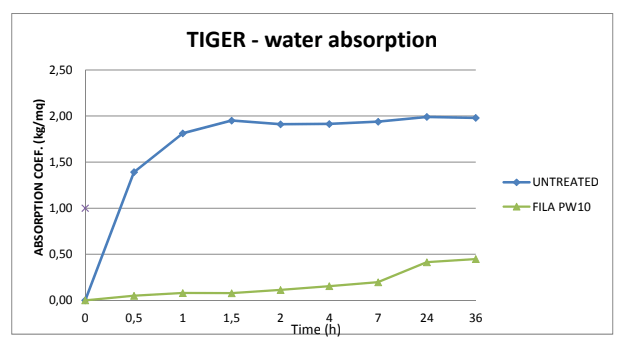 Accreditations for PW10
Indoor Air Comfort Gold
A water-based sealer, PW10 stands out for its exceptional ecological qualities. It's also certified Indoor Air Comfort Gold, an internationally recognised label that means low VOC emissions in construction materials.
Notably, PW10 's green attributes don't just stop there. It presents an excellent choice for construction professionals seeking to obtain LEED and BREEAM credits. When contractors select ecological products like this, it also reflects their eco-friendly ethos and commitment to building sustainable carbon-neutral structures.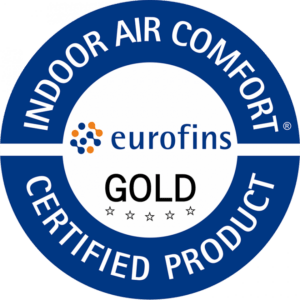 Prevent stains for good with FILA's PW10
If you're planning to use natural stone in an up-and-coming project, hopefully, this article has provided you with some reassurance. Considering that rising up stains shouldn't be a concern when you have an effective product like PW10 , it no longer needs to play a decisive role in your material selection.
If you need any further assistance, feel free to reach out to our team , we are happy to talk over the phone or via email. We're also equipped to provide you with comprehensive support to meet your individual project requirements and ensure a successful outcome for you and your clients.
Download the technical data sheet to learn more – thank you for reading.