Looking for the best way to protect natural stone floors? There is no better choice than using the appropriate stainproof sealer. Safeguarding the surface from wear and tear, sealing is an invaluable step and an integral part of stone upkeep. But with so many natural stone protectors available, however, choosing the right one can be tough. How do you know if you're using the best product for the job? Some deciding factors include the type of surface it is and the anticipated footfall. A little hint… protection begins at the micro level… 
What is MICROTECHnology?
If there's one thing we know, it's that tiny steps always get BIGGER RESULTS . So after drawing upon almost 80 years of knowledge, FILA's Innovation Center created a unique MICROTECHnology . Those who work with natural stone will know well, that it is a penetrable surface. This is because stone contains micropores invisible to the naked eye. If left untreated, water and dirt will build up, eventually deeply staining the stone, but this is easily prevented if you have the right tech.
Simply put, Microtech works by manipulating a surface at a very small and invisible level. The shape and size of these micrometric particles make them consistent with stone and are able to adequately penetrate a surface such as limestones.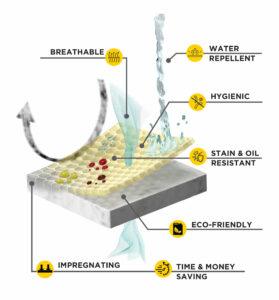 Where innovation meets surface protection
Delivering MACRO RESULTS at a micro level, FILA's technology is based on decades of research. Filling the micropores of stone and other absorbent materials, they are unlikely to stain as surfaces become the following seven things:
BREATHABLE
Does not leave a surface film or greasy residue.
WATER REPELLENT
Any water will bead on the surface and will not penetrate the stone.
HYGIENIC
The protection fills the micropores, reducing places for staining and odour-causing germs to sit.
STAIN & OIL RESISTANT
Stains and oil stay on the surface instead of infiltrating the material's pores.
ECO-FRIENDLY
Our advanced materials ensure the highest possible performance and create a low environmental impact.
TIME & MONEY SAVING
By reducing your projects' maintenance, restoration and reinstallation costs, you can invest in other areas that will ultimately increase their value.
IMPREGNATING
UV resistant, non-yellowing protection permeates the material to provide maximum results.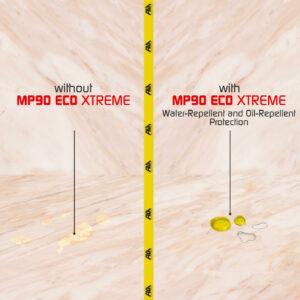 MICROTECH on the surface;

our natural stone protector at a glance
Powered with FILA's MICROTECHnology, MP90 ECO XTREME micro protects surfaces from the intrusion of water, oil, dirt, and stains. It does this by impregnating the material, thus reducing absorption without altering the aesthetics of the finish itself. This granite and marble protector results in a premium, long-lasting performance without altering the material's skid resistance or level of gloss either. Whatsmore, this green formulation can also be used for polished porcelain tiles, agglomerates and concrete, and any treated surfaces are totally safe for food contact. If you're looking for an ecological sealer for your commercial project, MP90 ECO XTREME is a solvent-free and environmentally friendly stone treatment. Additionally, it's widely used by many reputable names in the stone market who proudly recommend the FILA line.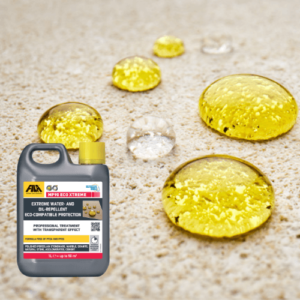 FILA's MICROTECH has been used in many notable projects!
A joint venture between Canary Wharf Group plc and Qatari Diar Real Estate Investment Company, Southbank Place is one of many projects that features FILA's MICROTECHnology. A mixed-use development in London, our job was to protect the luxury surfaces from wear, particularly where you'd expect constant footfall in the lifts, hallways and lobbies.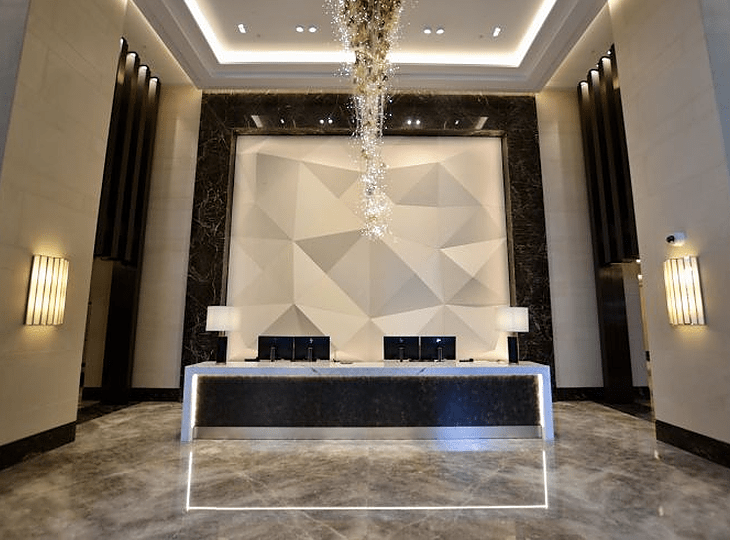 Contact FILA UK for more information on MICROTECH
At FILA, we rigorously test and research our invaluable products to ensure they meet the standards our global users expect. This means our team are able to control the process entirely, from start to finish, the raw materials and the production itself. Did you know that you can also send us samples for testing if it's a specific solution you need? We're also here to provide guidance with ongoing maintenance too. At FILA, our technical support remains unrivaled worldwide. With us, you, the installer, are in good hands.
Want bigger protection with little eco-impact? Talk MICROTECH with our team