There are many good reasons to choose natural stone if you're carrying out a renovation project. Even better, if you find an existing stone floor, there's no need for it to be replaced – a touch of natural stone care will do just the trick. As well as being an economical option, there'll also be less upheaval for you, plus if the flooring is salvageable, it's much better for the planet. We spoke to Becca Cranfield of Athena Stonecare; read on to learn more about natural stone treatments.
Can you restore any type of natural stone?
The simple answer is yes! One of the main benefits of using natural stone in a project is that it can be restored. Most commonly, we work with limestone, marble, travertine, sandstone, slate and granite. The properties of these stones are all very different, but we have a range of methods, products and equipment that allow us to restore each stone type. If you decide to use natural stone for your floors, walls or worktops, proactive maintenance from day one is essential. Natural stone can be cared for very easily and therefore avoid needing a deeper restoration treatment in the future.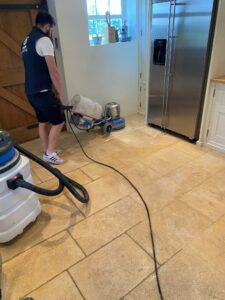 What does the process involve with natural stone treatments?
Natural stone is restored by using diamond abrasives to grind, resurface and polish the tile. The aim is to return the stone to how it looked when it was initially laid. For each stone that we encounter, the process will vary slightly depending on the type of stone, the level of damage, and the finish that the client would like. Typically, the initial stage will involve grinding the stone to remove lippage to the tiles, deep scratches and rectify worn or soiled surfaces. The next step is to refinish the surface to either a matt, satin or high shine finish. The desired finish is achieved by a system of finer grit diamond segments or pads used in a specific order. All of the processes use freshwater, meaning that neither the grinding nor polishing creates any dust. This is also a chemical-free method of polishing stone.
The diamond abrasives come in a number of different varieties. Grinding requires aggressive metal bonded diamonds, whereas refinishing uses resin bonded diamonds in segments or flexible pads. As each type of stone has a different density and abrasiveness, different types of diamonds are required when working with granite, marble, travertine and limestone.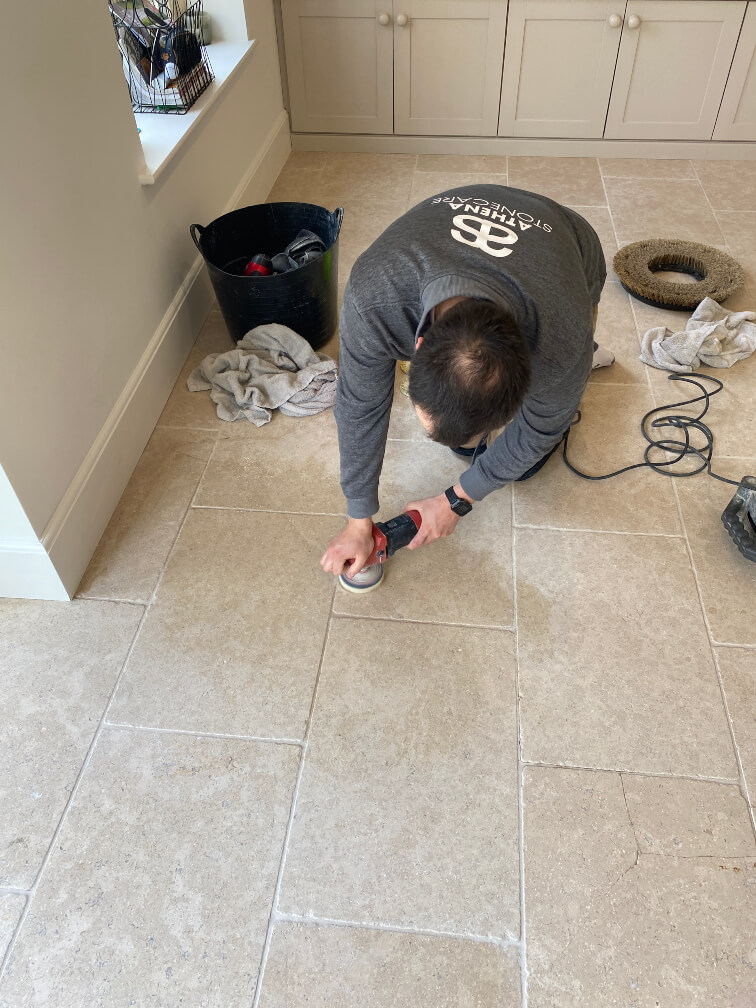 Do you have any tips for natural stone care when it is new or has been restored?
Absolutely, this is something that we are very passionate about. Natural stone can be very straightforward to maintain as long as you know how to do it. If we had to pick, here are a few of our favourite top tips.
1. Only ever use a pH neutral stone care cleaner such as CLEANER PRO. This is especially relevant if you have limestone or marble, as both are sensitive to acid. This also applies to products that you might be using on other surfaces around or near your stone, so make sure to be extra careful to protect your stone from splashes and spills.
2. Try to keep your stone as free from moisture as possible. Travertine and limestone, in particular, can be very porous, and although natural stone sealers can be applied to protect the stone, over time, they will be less effective. Sitting water on the stone will damage the surface by staining it and can even etch the surface as water is not always pH neutral.
3. Try to sweep your stone floors daily. Any dust or particles of dirt that are on your floor can scratch the surface. If lots of people are in and out of the room throughout the day then this will travel around the floor and you can end up with dull and scratched traffic lanes that will require professional restoration. If you would like further guidance then we produce several guides with advice on how to care for stone throughout the home.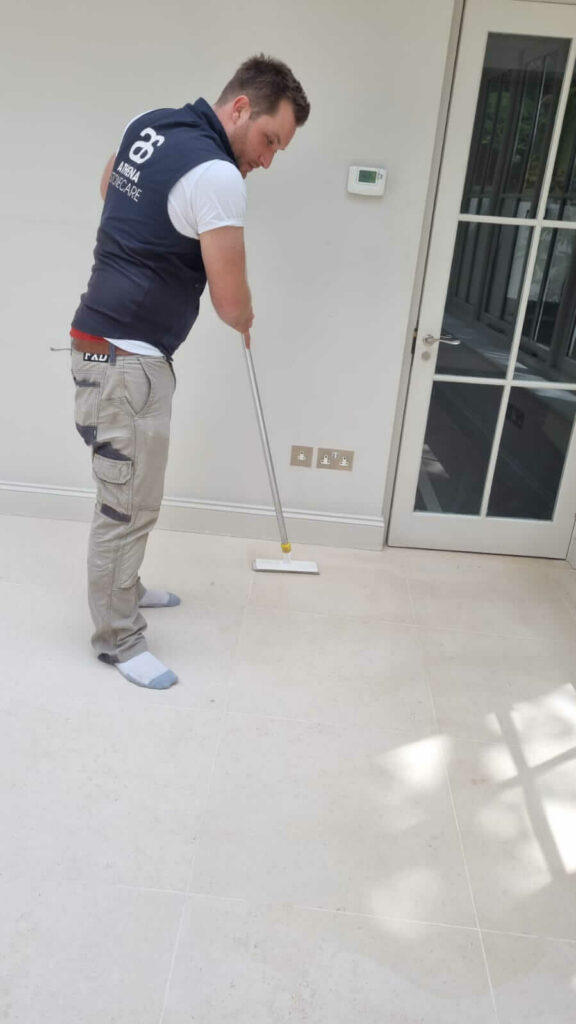 Are there any common problems you face with natural stone care?
Aside from the usual wear and tear that will occur over time with natural stone, the most common issues are caused by the use of inappropriate cleaning products. Most often this will occur in a bathroom, where typically a build-up of water and limescale will lead clients to use a harsh cleaning chemical. When anything acidic comes into contact with a marble surface, you will see the effects of this instantly. This is known as etching and is not something that can be wiped or cleaned off and will require professional restoration.
The best way to avoid this is to try and prevent the limescale build-up in the first place. We recommend that you clean your shower and bath area daily. The easiest and most effective way is to spray the walls and floor of the stall with a stone-safe cleaner such as FILA BRIO, then squeegee down after everybody in the home has taken a shower for the day. This will stop hard water build-ups to the surface of the stone. Try to ventilate your bathroom as much as possible too.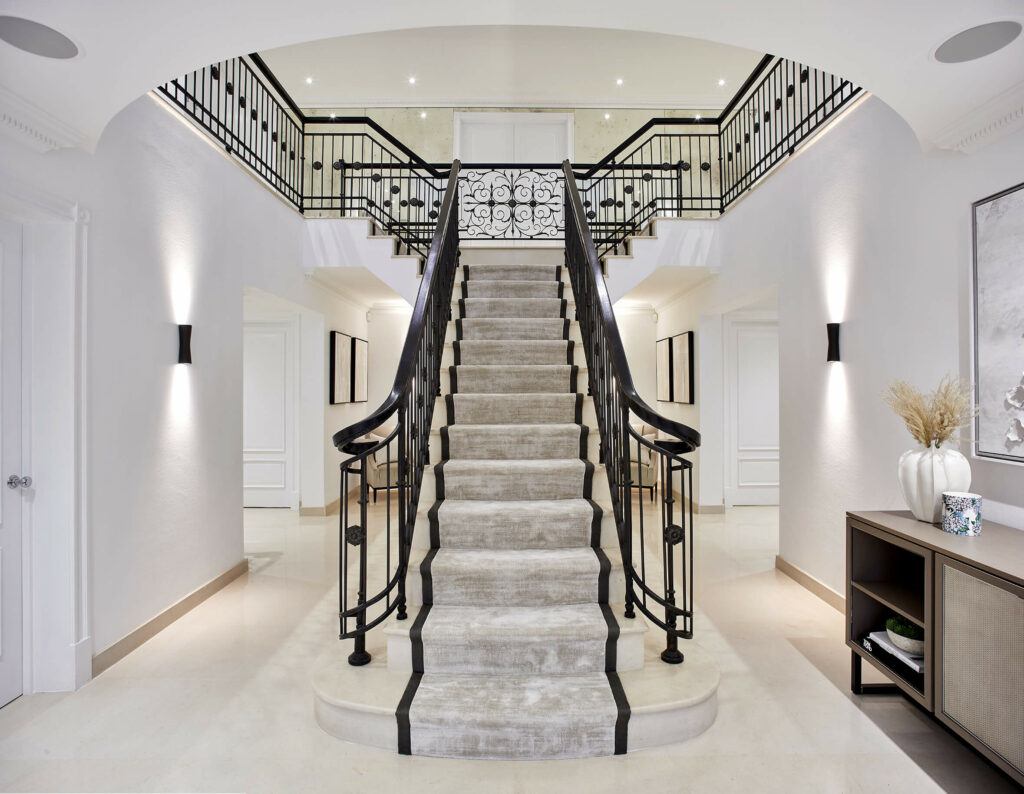 What is the most common state of disrepair you see?
Usually, we encounter stone that has become dull, scratched or dirty and stained over time with daily wear and tear. Most stone used throughout the home is not as hard as you might think. One of the first things that we do when quoting for natural stone care is to take a MOHs rating which measures how hard the stone is. On the scale, the chalk would be a 1 and the diamond is a 10. Limestone, which is a popular choice for natural stone flooring scores between 2-4 on the scale. This means that with constant footfall and dust and dirt that comes through the house, the stone surface will start to scratch and look dull.
When stone is installed, it is sealed with one of two types of sealant to help protect the stone. Impregnating sealants penetrate the capillaries of the stone and protect them from within. They can leave the stone with a natural or colour-enhanced appearance, but always with the stone surface exposed. Natural stone sealers and waxes on the other hand form a physical barrier between the stone and the environment. Neither of these is invincible, although the pores and capillaries that were originally sealed by an impregnating sealant will remain so. Abrasion caused by foot traffic will create and expose new pores and capillaries over time. With a surface sealant, the sacrificial layer created will itself be impacted by abrasion and cleaning regimes.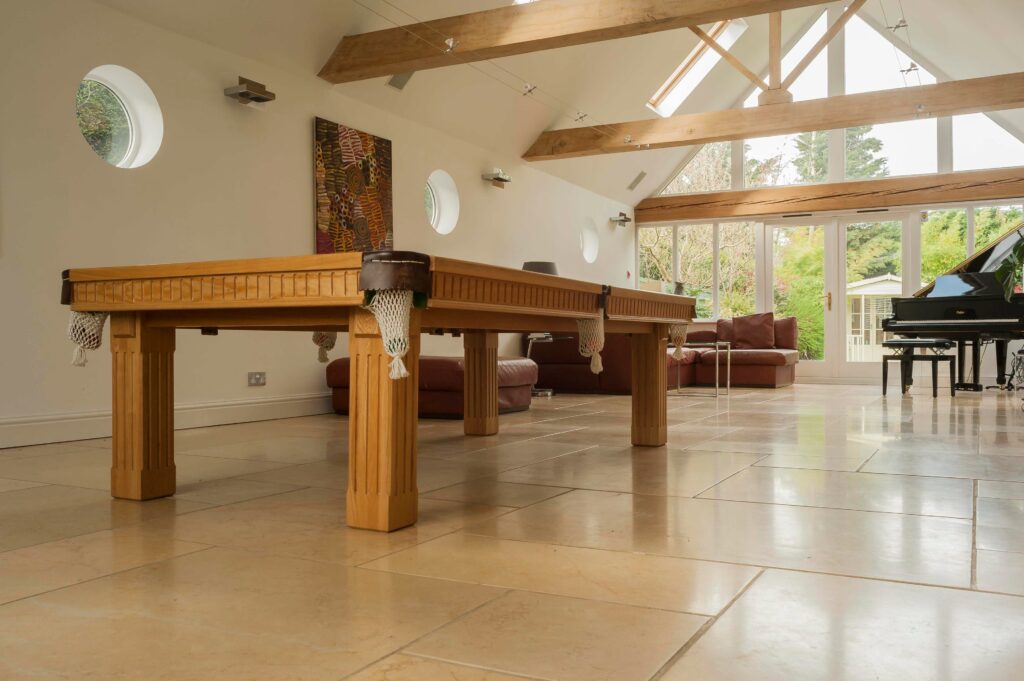 Is it possible to carry out natural stone treatments yourself?
We would not recommend any home remedies for restoring stone, however, there are lots of ways that you can maintain stone at home without needing any professional kit. The correct cleaning regime is the most important part of this, but there are a few other tips and tricks that will help you to keep your stone looking at its best.
For example, for stone used on a worktop or in a bathroom, we suggest periodically reapplying a colour enhancing sealant, such as FILA's STONEPLUS. Not only will this make sure the stone doesn't start to allow moisture ingress but it will maintain the aesthetics. Simply pour a small amount onto a microfibre cloth and apply to the stone surface in small circles until you have covered the area, then buff with a fresh cloth to remove any excess. Leave this for at least 15 minutes to dry, ideally 24 hours if possible.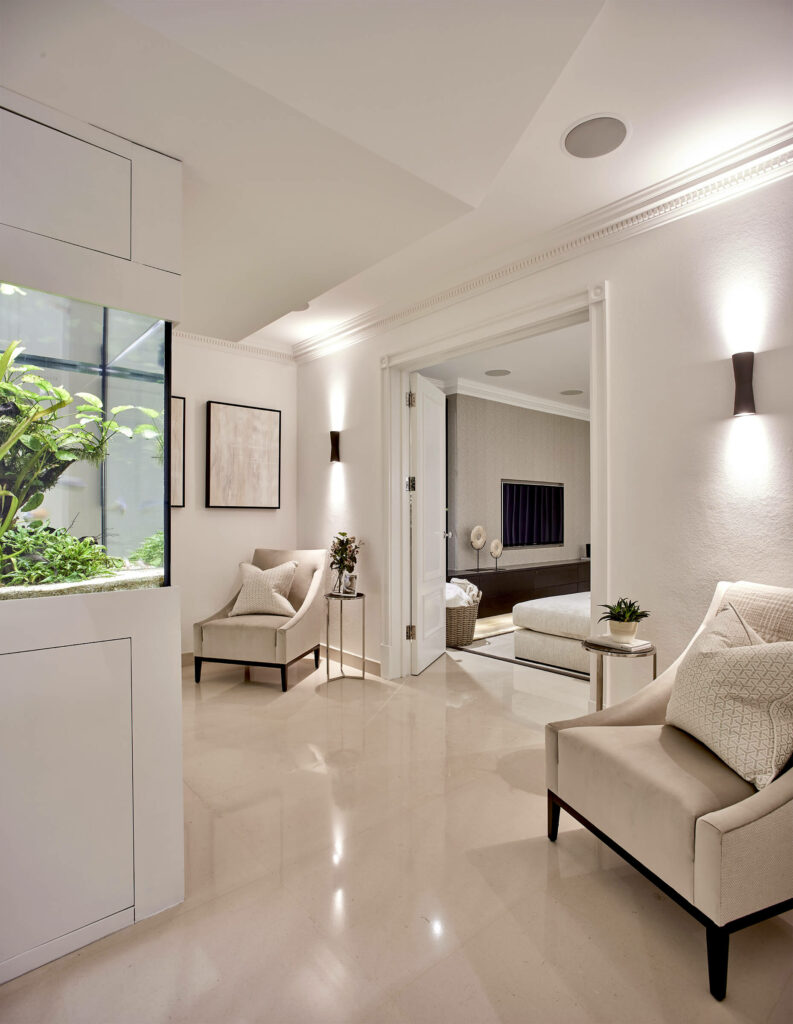 Which natural stone do you love working with the most and what would you recommend to somebody looking to buy?
We love working with all-natural stone surfaces but if we had to choose our favourite then it would probably be limestone mostly due to its versatility. There are so many different styles, finishes and formats that you can find limestone in, and it is this uniqueness that we love. For anyone looking to purchase natural stone, our advice is always to consider the finish as much as the stone type. The finish will have an impact on your maintenance regime and the type of stone care cleaner you use and so it's really important to think about this from the very beginning.
We hope you've enjoyed reading Becca's advice on natural stone care and the options available to keep your floor looking stunning. If you're looking for further guidance, contact Athena Stonecare or speak to FILA for assistance on surface care solutions. Thanks again.