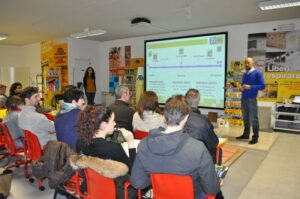 Did you know that every year FILA organises hundreds of training courses worldwide? Fila courses are for all retailer clients, surface treatment specialists and layers, architects and planners who want to learn more about the fascinating, indispensable question of protection and maintenance of surfaces in natural stone, tiles, terracotta and wood.
FilaAcademy, the FILA "training school", gives attendees all the basic preparation they need for surface treatment requirements, in terms of both prevention and also solution of stain-removing problems. This is why, in 2013 alone, more than 1000 sector operators attended a FILA specialisation course.
On Thursday 20 and Friday 21 March, a technical course for German and Austrian retailers was held at FILA headquarters and participants included the world laying champion: the German Björn Bohmfalk.
He won the gold medal in the 2013 international laying championship in Leipzig, coming joint first with two other expert tilers: the Austrian Thomas Liebenauer and the Swiss Thomas Fabian Siegenthaler. Click here to learn more about the international championships for floor and wall tilers.
How to register for a FILA course.
If you too would like to increase your professional skills and register for a FILA training course, fill in the contact form or send your request to info@filasolutions.com