The countertop space is the backbone of a modern, lively kitchen. Even on days you don't cook, you will still use your worktops, whether that's for unpacking shopping or having coffee with friends. They take a lot of abuse, so kitchen countertops should be hardwearing as well as aesthetically pleasant. Discover how to clean your kitchen countertop, no matter the material you have – read on to find the right cleaning method for you.
How to Clean Laminate Kitchen Countertops
There are three main types of laminate worktops; ABS Laminate, Post Formed Laminate and High-Pressure Laminate. Making a durable choice for those hardworking spaces, laminate countertops top the chart for practicality.
You will need:
A soft, dry cloth
Cleaning and maintenance:
Ideal for all kinds of laminate worktops, FILA BRIO delicately cleans and easily cuts through grease. We'd also suggest VIABAGNO for Post Formed Laminate and High-Pressure Laminate and avoiding any abrasive substances. With its eco-friendly and sanitising formulation that is effective against germs, RAPIDSAN is also excellent for the daily disinfection of your laminate worktops. No dilution is required; these products are ready to use; simply spray directly onto the surface and wipe clean with a soft, dry cloth.
Protection:
Laminate worktops do not require a protective sealer.
How to Clean Concrete Kitchen Countertops
As solid as granite or slate, concrete worktops can create a modern, industrial look. They're also incredibly hardwearing as long they're sealed and can be shaped and formed to match your exact kitchen dimensions.
You will need:
A soft, dry cloth
FOB XTREME (or MP90 ECO XTREME, depending on your preference)
Cleaning and maintenance:
A delicate detergent for surfaces including concrete, BRIO will ensure your worktops look their best each day. RAPIDSAN also provides a 3-in-1 action to clean, disinfect and eliminate odours and is even great for households with pets.
Protection:
Because it isn't acid-resistant and is subject to stains, concrete will need sealing on an annual basis. Our sealers FOB XTREME and MP90 ECO XTREME, will provide a protective base coat and reduce absorption without affecting the natural look of your concrete.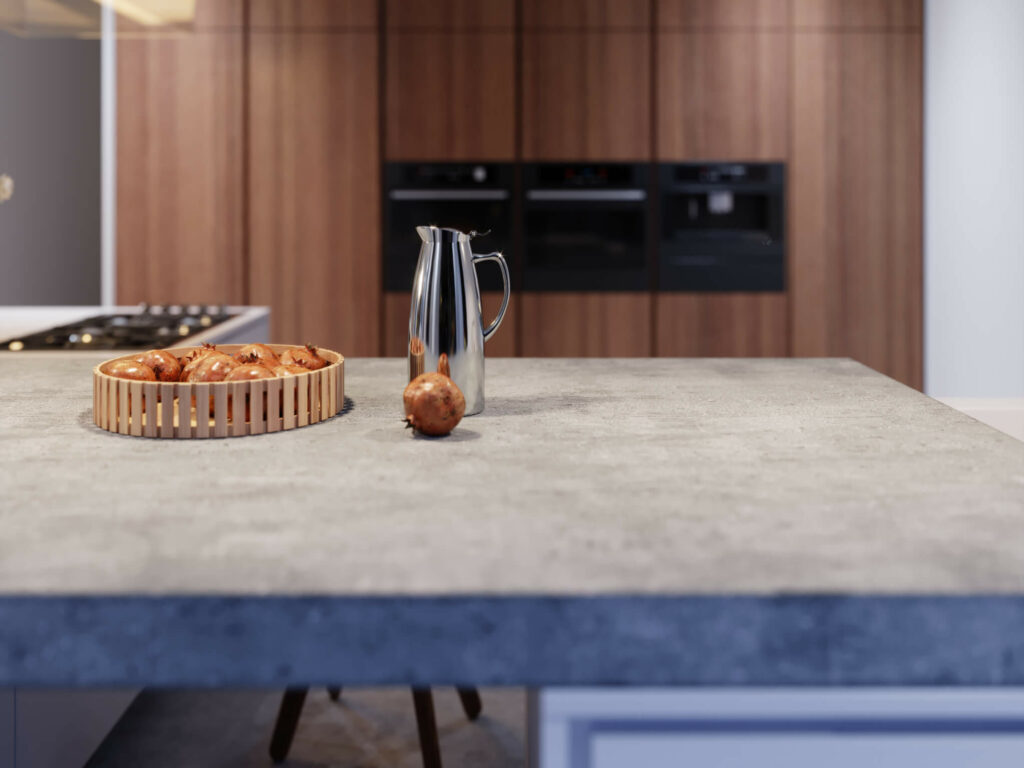 How to Clean Granite Kitchen Countertops
Granite is a natural stone formed in the Earth's crust and made up of interlocking mineral crystals. It's also harder than marble and can be resistant to acids, but it should still be protected with a natural stone sealer since it is an absorbent stone. Granite also achieves a blend of functional style when used for kitchen worktops, and if you look after them well, they will last you a lifetime. Each slab is unique, from its lines to its colours, and will ensure nobody else's kitchen looks like yours.
You will need:
A soft, dry cloth
Cleaning and maintenance:
This natural material makes a beautiful touch and is why so many homeowners choose granite for kitchen countertops. Maintain yours with a soft, dry cloth and FILA BRIO, RAPIDSAN and VIABAGNO in the presence of limestone.
Protection:
To keep granite countertops looking superb, we recommend using a sealer such as FILA's MP90 ECO XTREME. Hampering the absorption of common watery and oily stains without affecting the colour of your granite, all surfaces will also remain suitable for food.
How to Clean Marble Kitchen Countertops
A hard, metamorphic form of limestone, marble is typically white with gentle grey veining. Other forms include marble-resin agglomerate and marble-concrete agglomerate, both of which are made with a mix of marble powder, resin or concrete. Marble worktops also guarantee a resistant base and handle hot pans well whereas resin marble agglomerate is sensitive to hot cooking equipment. Both, however, will serve as an aesthetically beautiful finish and additionally, marble is much easier to cut compared to other natural stones.
You will need:
A soft, dry cloth
Cleaning and maintenance:
To prevent any lasting damage to your marble worktops, they must be kept clean and dry. Also note, marble and all materials with marble inside are sensitive to acids, and so it's very important to avoid the use of substances with a pH lower than 7. After wiping down with RAPIDSAN or BRIO, use a soft, dry cloth to remove any leftover damp from the surface.
Protection:
Since marble is incredibly porous, it is essential to seal the surface to limit stains. A permanent stain can ruin the overall look and the beauty of marble, but a sealer like MP90 ECO XTREME will protect the surface and facilitate cleaning.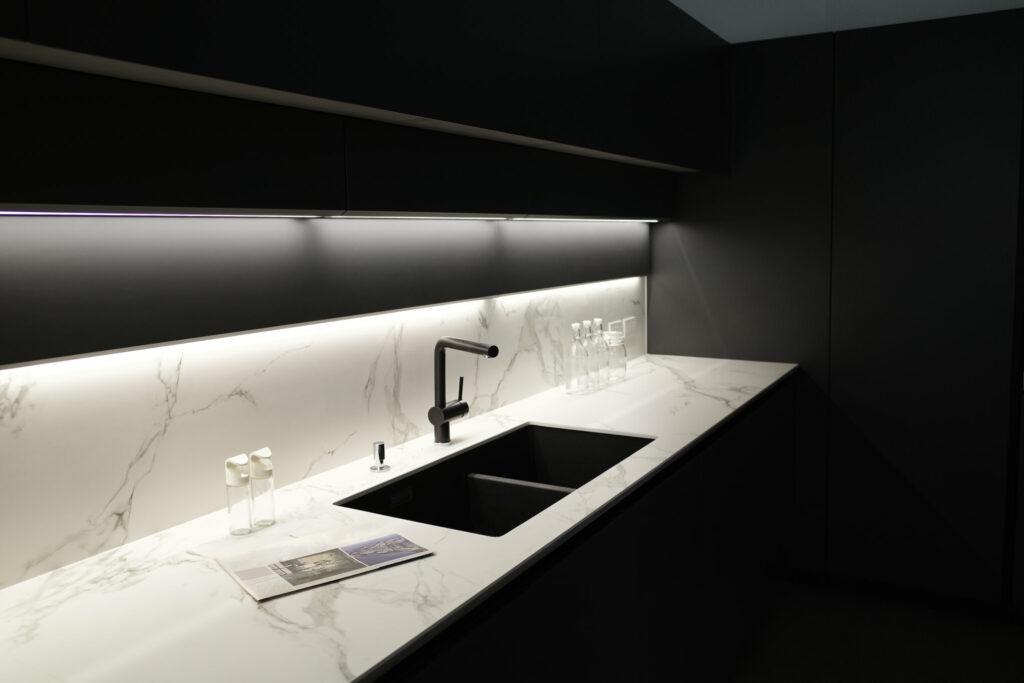 How to Clean Porcelain Tiled Countertops
Kitchen worktops made with porcelain tiles are a practical choice if your kitchen sees a lot of action. You need a surface that's not only up to the job but looks great too and hot pots and pans aren't a match for heat-resistant tiles. Whatsmore, if you have the right products, porcelain tiles are less likely to stain from food and grease permanently. Another perk of a tiled worktop? If a section happens to crack, you won't need to replace the whole thing!
You will need:
A soft, dry cloth
Cleaning and maintenance:
To keep porcelain tiled worktops looking great, clean daily with FILA BRIO and or RAPIDSAN. VIABAGNO will also remove limescale deposits and ensure your surfaces are sparkling clean without damaging stainless steel tap fittings!
Protection:
Porcelain tiled worktops do not require sealing.
How to Clean Quartz Kitchen Countertops
Quartz kitchen countertops take many forms, but in the main, worktops can be made from Quartz (as a natural stone), Quartz-Resin Agglomerates and Quartzite. Usually, when you hear the term Quartz worktops, it refers to Quartz-Resin Agglomerates, which is acid-resistant and can resist more or less well to abrasion. On the other hand, Quartz, as a natural stone and Quartzite are extremely compact and resistant to acids, but they can be highly absorbing. Lastly, Quartz Resin is made up of 94% silica sand and quartz and 6% structural polyester resins and is highly resistant to various stains.
You will need:
A soft, dry cloth
Cleaning and maintenance:
When it comes to the cleaning of Quartz, RAPIDSAN and BRIO can be used to keep your surfaces healthy and shining. We also suggest the use of VIABAGNO in the presence of limescale for Quartzite and Quartz-Resin Agglomerates.
Protection:
Although you shouldn't need a sealer for Quartz-Resin Agglomerates, MP90 ECO XTREME can be used for added protection on more glossy surfaces. This sealer will also provide water-and-oil-repellent protection for Quartzite and natural Quartz, unlike Quartz Resin, where a sealer isn't necessary at all.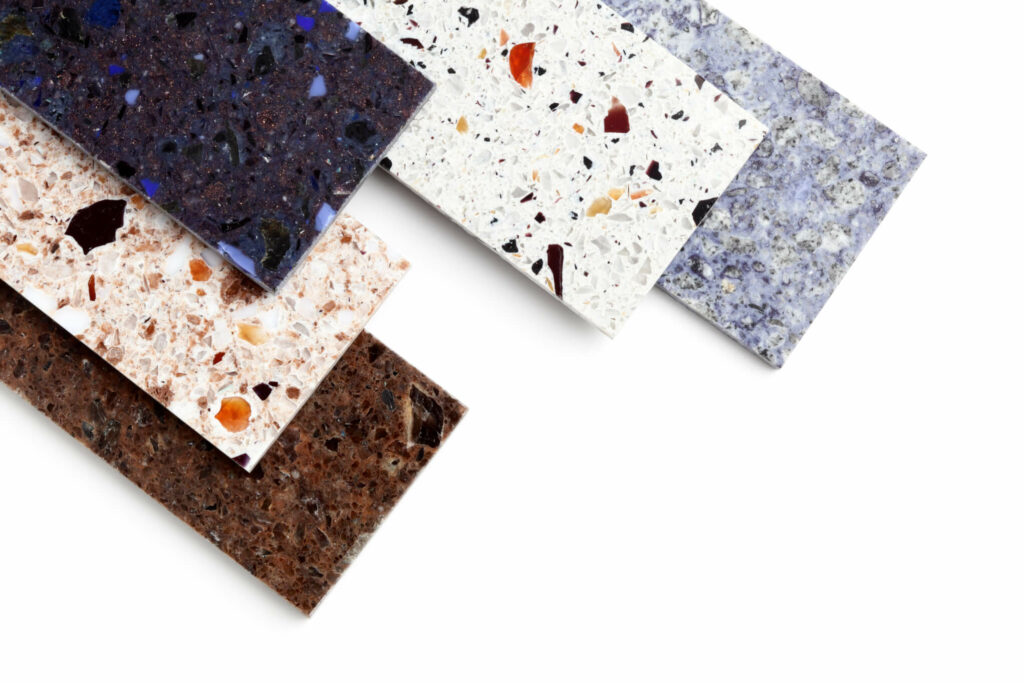 How to Clean Artificial Stone Countertops
Artificial stone countertops are generally made from two-thirds aluminium trihydrate, a third acrylic resin and natural pigments. They're also easy to clean and non-porous – just avoid using strong chemical cleaners!
You will need:
A soft, dry cloth
Cleaning and maintenance:
This man-made material is a seamless product, coming in one piece, and as a result, there are no cracks to collect food and debris. To keep your artificial stone looking tip-top, we recommend BRIO as this product doesn't contain any spirit or ammonia either. Additionally, RAPIDSAN is an eco-disinfectant with a degreasing action and is also very quick-drying. Together, these products will keep your worktops looking great and ready for action, no matter what the day brings.
Protection:
Artificial stone worktops do not require sealing.
How to Clean Sintered Stone Countertops
Sintered Stone is a new versatile product, artificially made for numerous applications in the interiors world. Not only can it be used for kitchen worktops, but it can also be used for flooring, ventilated facades, bathroom cladding and more. Made up of a blend of specially selected natural materials, Sintered Stone is 100% recyclable and antibacterial. It's also incredibly easy to clean and maintain; let's take a look at the products you'll need for Sintered Stone.
You will need:
A soft, dry cloth
Cleaning and maintenance:
In the presence of limestone, VIABAGNO will thoroughly clean Sintered Stone. Likewise, you can alternate FILA BRIO with RAPIDSAN for sparkling surfaces with a tea tree scent.
Protection:
Sintered Stone does not require protection.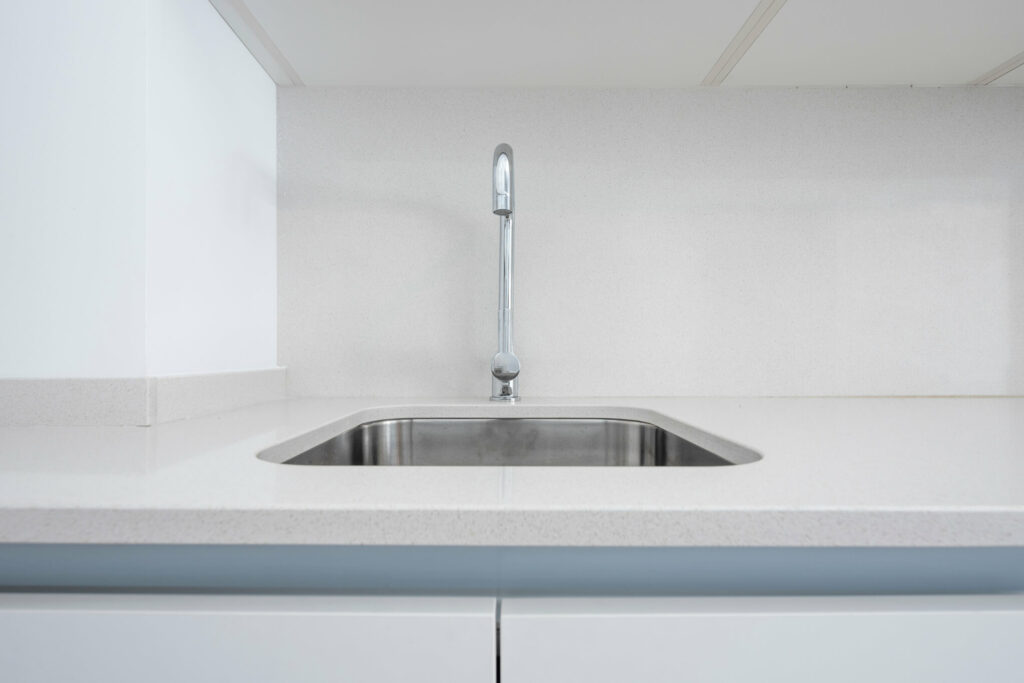 How to Clean Wood Kitchen Countertops
Whether you choose oak, maple or beech, wood countertops are a growing trend for kitchen design. Not only do they go with pretty much any style of kitchen or colour, but they're also hardwearing and they get even better with age. Imperfections can also be sanded and filled, and the surface re-oiled, so wooden worktops gain character as the surface colour naturally deepens. Wood is also a naturally hygienic material and great for a kitchen environment, thanks to its antibacterial properties.
You will need:
A soft, dry cloth
Cleaning and maintenance:
When it comes to maintaining wooden worktops, the number one rule is to wipe up spills straight away. RAPIDSAN will also eliminate germs, whilst CLEANER PRO delicately cleans – you don't want any harsh cleaning products near wood, that's for sure!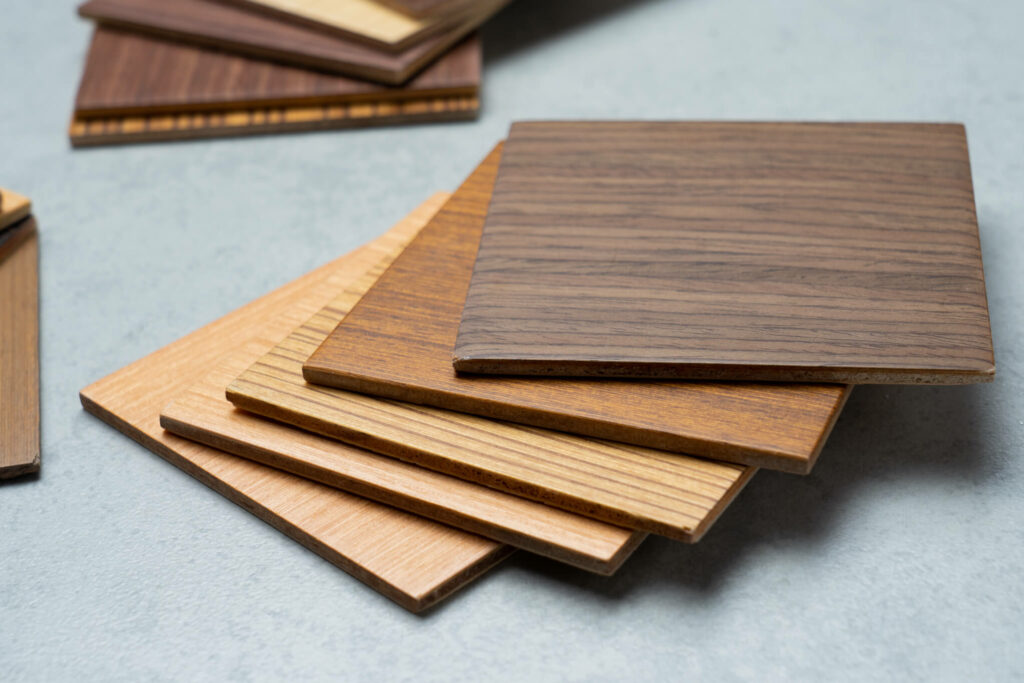 How to Clean Your Kitchen Countertop with FILA
Thank you for reading our post, and just like we said, there is no one-size-fits-all approach when it comes to this topic. In their lifetime, your worktops will go through a lot and need regular care to ensure that they stay looking brand new. Even when heat, grease and spills are a daily occurrence, these FILA cleaning heroes are always up to the challenge. If you have any questions about your kitchen worktops, please get in touch, our team would love to hear from you! Thanks again.