Sealing natural stone is the most important step in making sure the material stays protected from stains that can compromise the aesthetic of the stone you love so much. Choosing the right sealer impacts both the lifespan of the material and the quality of the space in which it is installed.
Focus on: water based stone sealers
Generally speaking, stone sealers are divided into two main categories: water based and solvent based. This article focuses specifically on water based sealers, often underestimated when compared to their solvent based counterparts. The truth is, in today's market, water based sealers are highly effective and provide performance comparable to solvent based ones.
So, why choose water based sealers for your stone surfaces?
Here are the 3 main reasons why water based sealers are an excellent choice.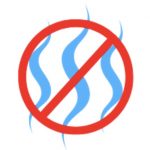 Water based stone sealers are  eco-friendly. And that's not just a catch phrase! FILA water based sealers do not emit harmful fumes that are dangerous to the environment, the sealer applicators and the people who inhabit the rooms where the sealed surface is installed.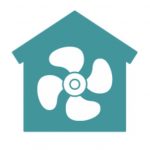 Water based sealers can be applied in areas with low ventilation. Since they do not emit harmful fumes, you don't really need to ventilate the space where they're applied. Think indoor living areas like bathrooms and kitchens; spaces that might actually be inhabited while the sealer is being applied and drying. Speaking of drying…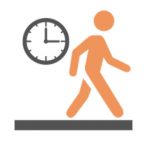 Water based sealers dry faster than solvent based sealers. That means you can use the sealed surface in some instances just 4 hours after application: apply the sealer in the morning and the surface can be touched by the afternoon!
So, now that we've discussed why water based stone sealers are a practical, effective and eco-friendly, let's look at 3 basic sealer types.
3 types of water based stone sealers
So, choosing a sealer firstly depends of the final look you want your stone to have.
Natural look sealers: you love your stone surface just the way it is and do not want to change the look of the stone. FILA's MP90 ECO PLUS High Performance Penetrating Sealer seals and protects all natural stone, polished porcelain and grout against stains. Certified safe in food preparation areas, MP90 ECO PLUS is excellent for the protection of kitchen countertops. It does not form a film, discolor or yellow over time and has very low VOC emissions. It also contributes towards LEED credits.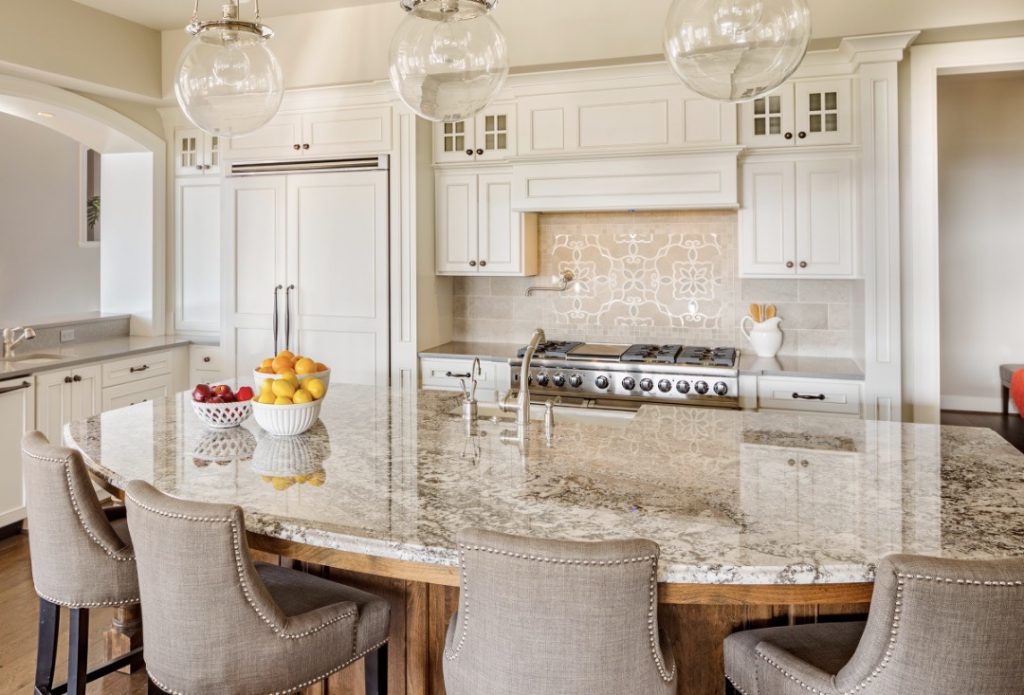 Matte finish enhanced sealers: you love your stone, but you'd like it even more if the color were a little more intense. FILA's STONEPLUS ECO Matte Finish Penetrating Stone Enhancer enriches the color of natural stone , yet it keeps the finish matte. It protects surfaces from dirt, water and oil stains. STONEPLUS ECO even hides cracks on granite surfaces. The long-lasting protection is ideal for both indoor and outdoor surfaces.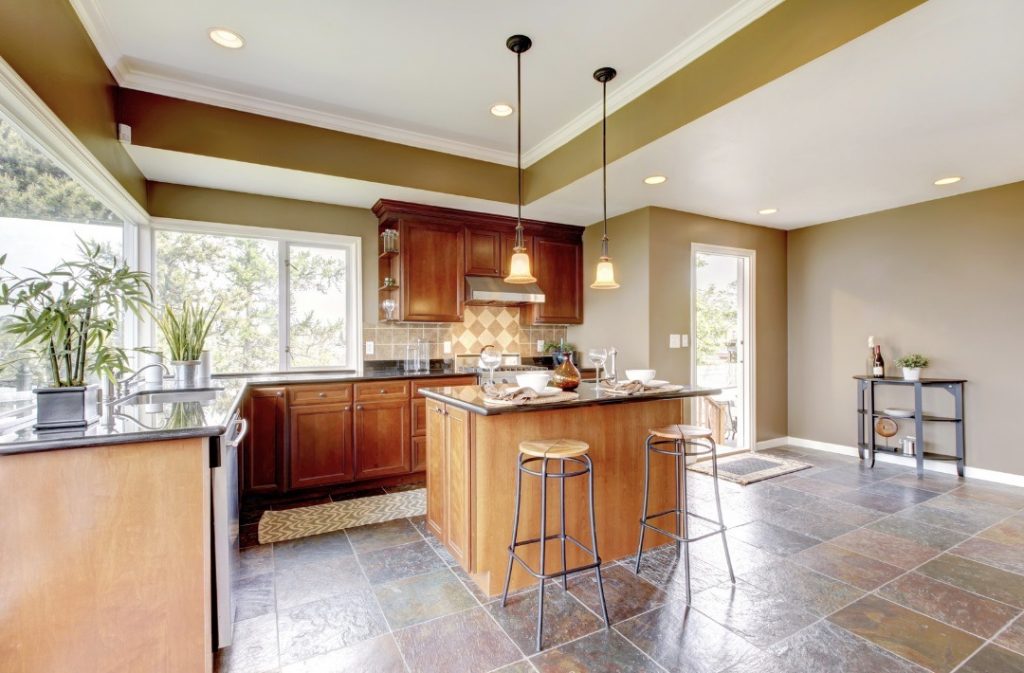 Glossy finish enhanced sealers: you love your stone, but wouldn't it be nice if the color were a little richer and the surface glossier? Well, then FILA's WET ECO Wet Look Sealer is just what you need! WET ECO seals indoor and outdoor natural stone while also giving the surface an enhanced glossy finish. As MP90 ECO PLUS and STONEPLUS ECO, WET ECO protects surfaces from dirt and stains.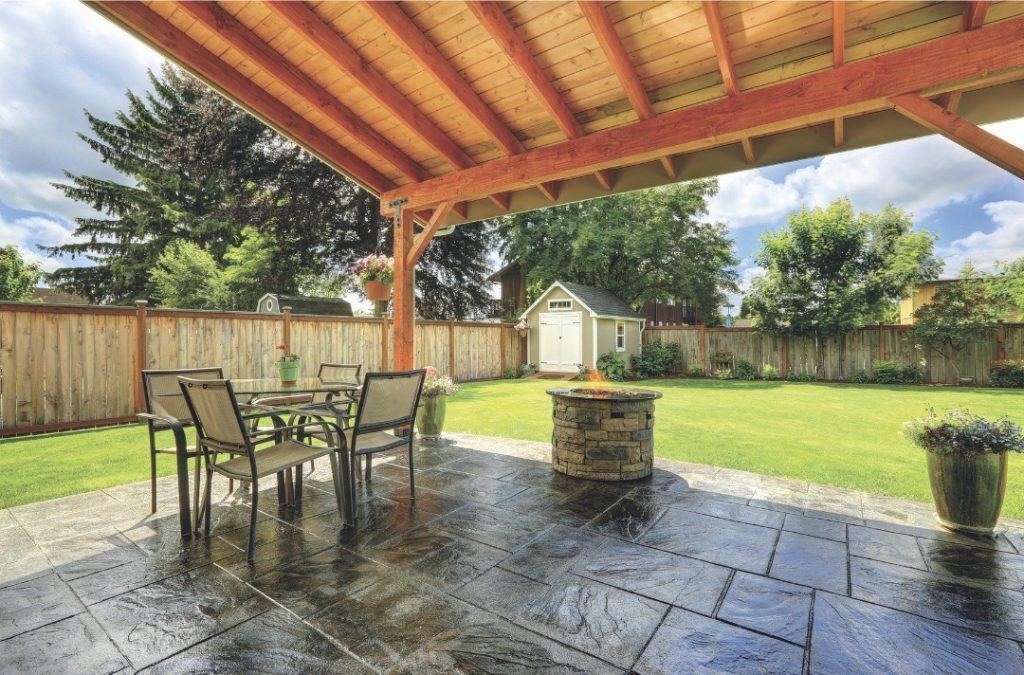 What if you don't know if a surface has been sealed? Easy! Just do the water drop test. If you spray water on the surface and the droplets bead up, then it's sealed. On the other hand, if the water gets absorbed by the stone (or grout), then it's time to think about sealing the surface.
Here's a quick recap of FILA's 3 water based sealers: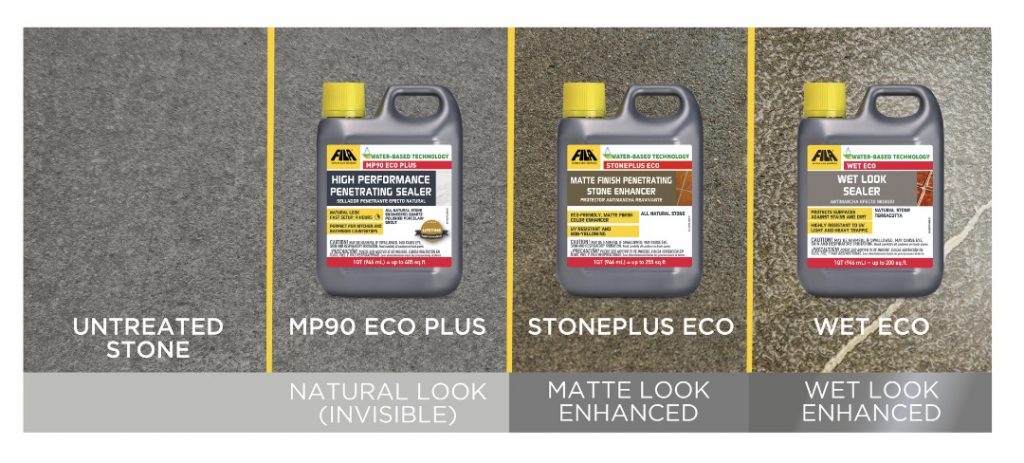 Thanks for reading our article about the best water based sealers for stone surfaces. To find out more about how to care for stone surfaces, read this blog post.