Have you ever wondered what cleaning products professional tile installers can't live without? At FILA we have 7 must-have tile cleaners that pros take along to every installation project.
Instant cleaners: clean as you install
The tile installation process itself can leave the wall or floor dirty with grout. Once this grout film has dried on the surface, it takes a lot of elbow grease to remove.
That's why the R&D team at FILA's Innovation Center spent so much time developing a couple of products that avoid this problem altogether.  They are called FILA's Instant Cleaners because that's exactly how they work: INSTANT REMOVER and HYBRID & EPOXY PRO instantly clean grout residue during the installation process, before the grout dries. They are not only products, they actually change the way tile is installed.
Once the grout is applied, right after the initial cleaning with the grout sponge, spray INSTANT REMOVER Instant Cleaner for Fresh Cement Grout (for cement grout) or HYBRID & EPOXY PRO Instant Cleaner for Hybrid & Epoxy Grout (for epoxy, urethane and pre-mixed grout) and clean the surface. It significantly speeds up the cleanup process!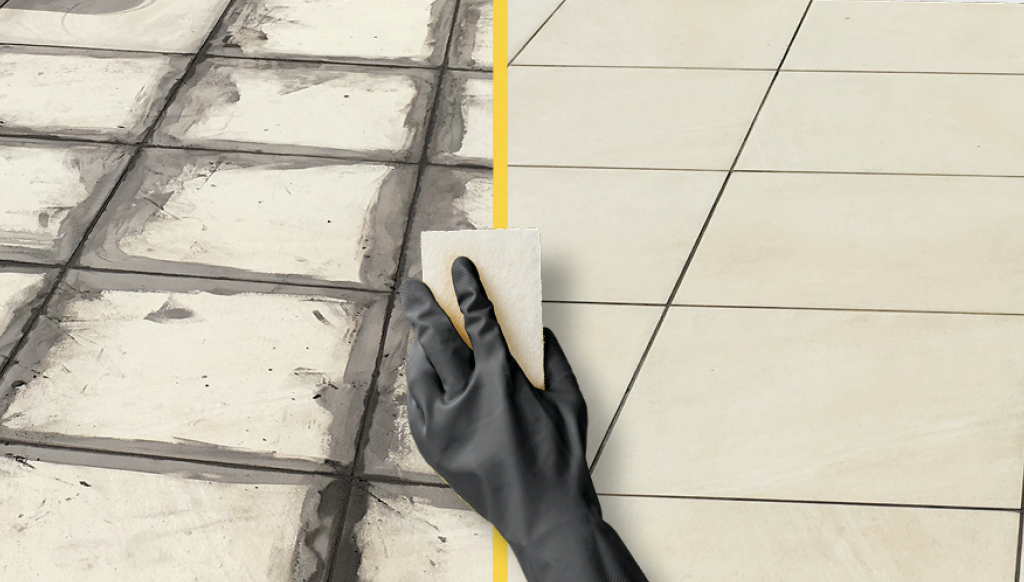 Post-installation cleaners: remove grout stains
If didn't use FILA's instant cleaners during installation, then you'll need to get rid of the grout residue film on top of the tile. But, do not fear! Just remember a couple of simple rules for choosing the right cleaner.
The key to choosing the best grout haze cleaner is the knowing the type of grout used to install the tile. Let's look at the two main options and the solutions for each one!
Cement grout: If you used cement grout in your tile installation, then you'll have to use an acid cleaner to remove the grout haze. Remember, in this post we are talking specifically about ceramic and porcelain tile. Never use acid cleaners on acid sensitive stone such as marble, limestone and travertine because they will etch the stone.
FILA recommendation: DETERDEK Cementitious Grout Haze Remover. DETERDEK is the industry standard for removing cement grout haze, but its extreme cleaning properties don't stop there. It's also your go-to cleaner for end-of-construction cleaning. It effortlessly removes paint residue, drywall residue and general construction dirt.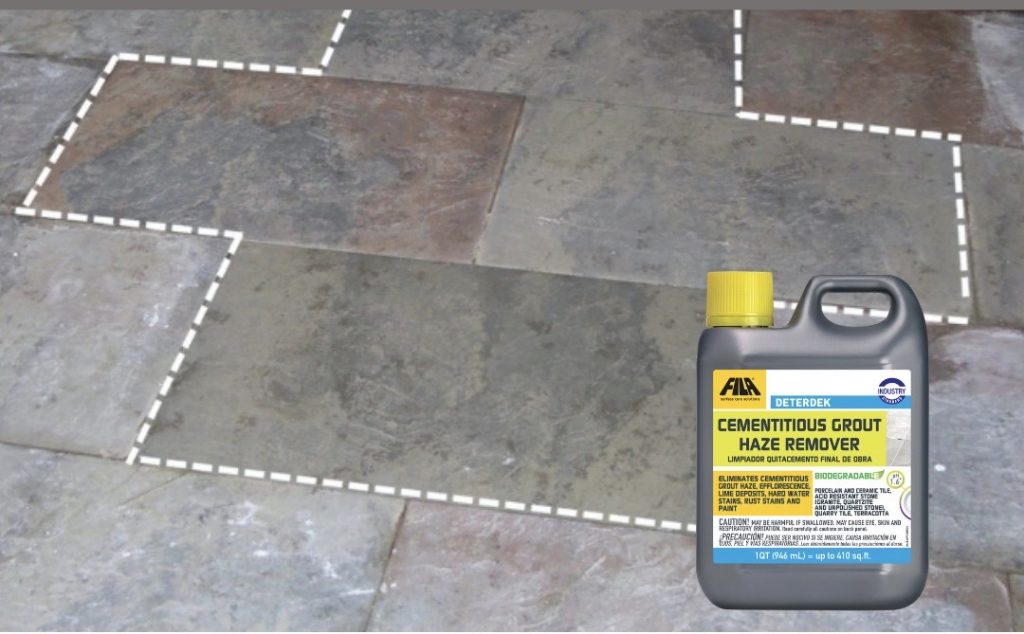 Epoxy, urethane and pre-mixed grout: If you've used epoxy, urethane and pre-mixed grout, then an alkaline cleaner is necessary to remove the cured grout haze.
FILA recommendation: EPOXYOFF Epoxy Grout Haze Remover. EPOXYOFF is particularly efficient because its gel-like consistency clings to vertical surfaces, making it even easier to clean.
Everyday cleaners: routine maintenance
Once you've finished the install, maintenance is the most important action you can take towards keeping tile surfaces clean every day. Routine cleaners should be on hand either in the back of the pro's truck or left behind as an end-of-install gift to the home owner.
FILA recommendation: CLEANALL Neutral All Surface Cleaner. Neutral cleaners are great for using every week or even daily. CLEANALL's concentrated formula goes a long way – use just on capful of product in a gallon of water for a no-rinse application. For spot cleaning floors or wiping up spills, CLEANALL's ready-to-use spray formula is the way to go. Just spray and wipe.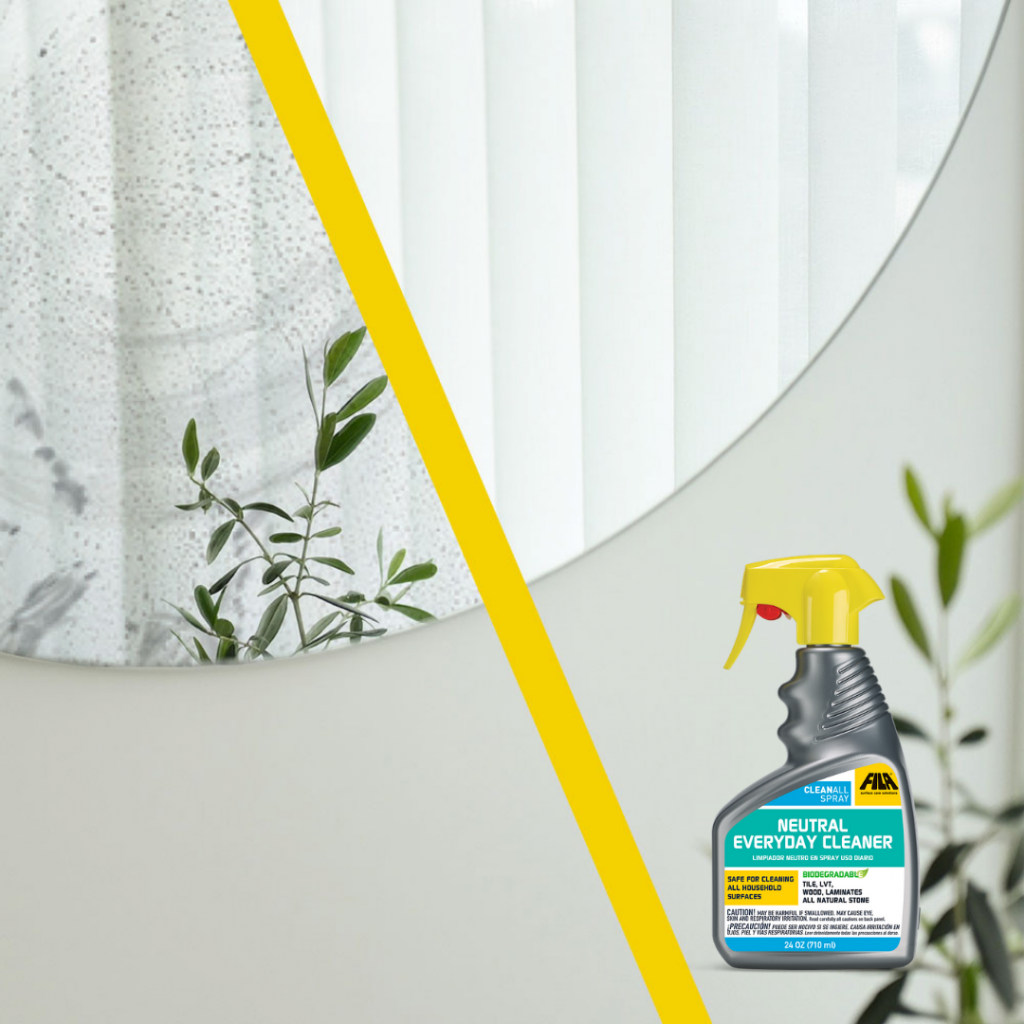 Heavy-duty cleaners: Get rid of stains
When the unexpected happens and your tile is stained, FILA is here to help. So which cleaners should you keep in the back of your truck? It depends on the type of stain you're cleaning! Stains are generally divided into two main categories: organic and inorganic.
Inorganic stains include: cement grout haze, soap scum, water spots, limescale, rust and general construction dirt. Use acid cleaner to remove inorganic stains! DETERDEK is the perfect solution. It can be diluted according to the stain you want to remove. Find out more here.
To read how to remove streak from porcelain tile, read here.
Organic stains include: grease, tomato, wine, beer, tire marks, thinset, adhesive tape, Sharpie marker and rubber cup marks. Use alkaline cleaners to remove inorganic stains. PS87 Heavy Duty Cleaner is FILA's highly recommended alkaline cleaner. It's a pro must-have! Depending on the dilution, PS87 can be used to clean, degrease and even strip water based sealers and polishing waxes.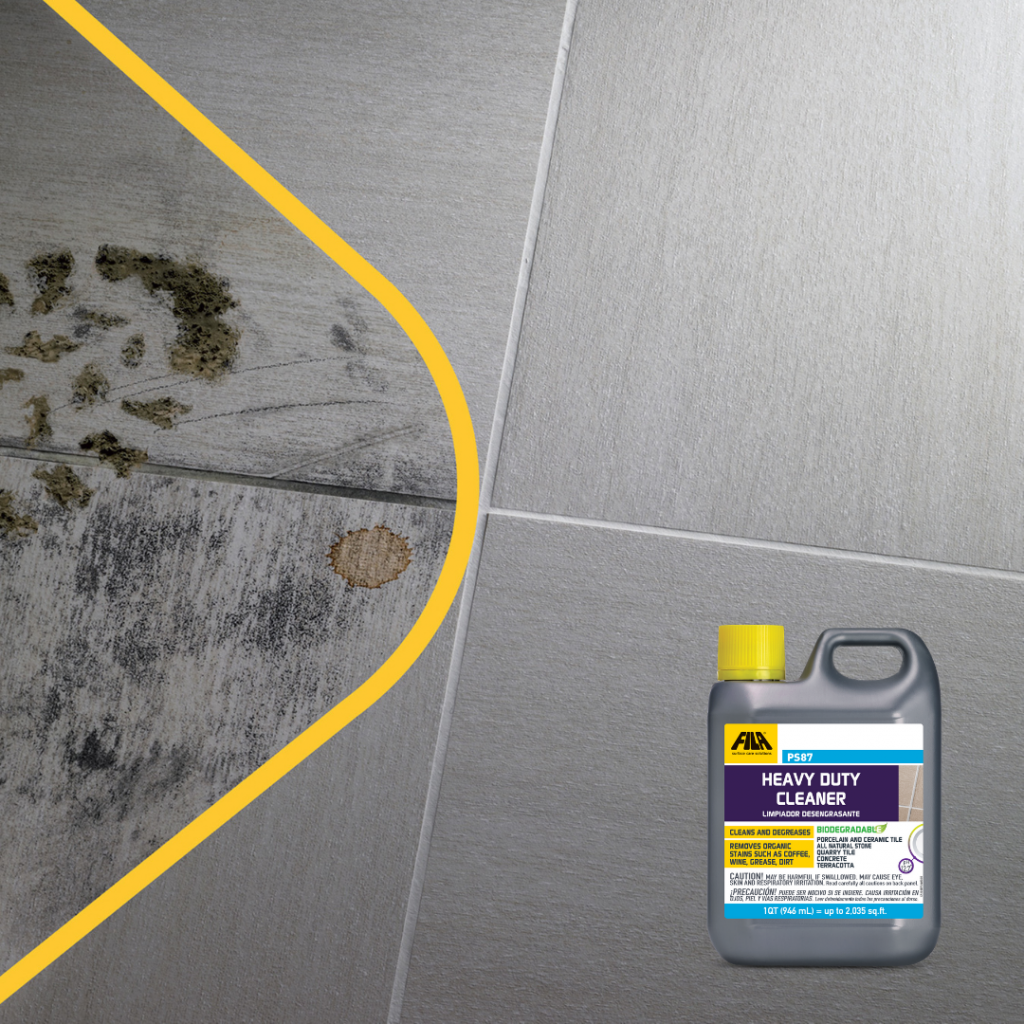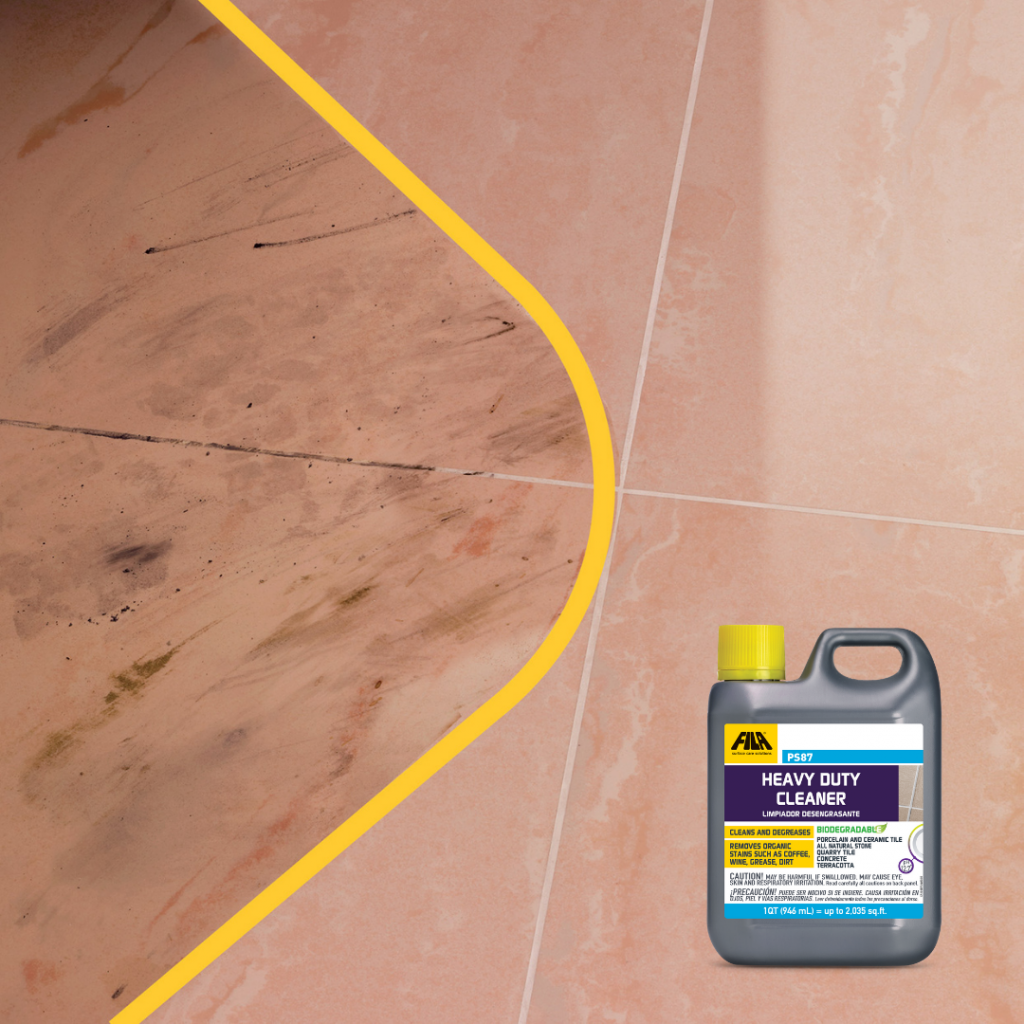 So there you have it! All the ceramic and porcelain cleaners that pros just can't live without!