If you're updating your bathroom, this post is for you – here, you'll find shower waterproofing tips to prevent damp and mould. Because what's the point of spending a fortune renovating this space if you don't take the right steps to reduce condensation? At best, excessive moisture will cause annoying small marks but at worst, it can lead to black mould and even problems with health. In this article, we look at planning a bathroom to resist the repercussions of water plus the best FILA products to keep your surfaces clean.
Only work with waterproof building materials
While eco materials like bamboo and wood are great for the home, they're not the best choice for a bathroom environment. Instead, buildings materials like metal and plastic are usually better as they tend to resist mould and mildew better than organic alternatives. For instance, instead of using MDF tile backing boards, use PVC; this material won't be as affected by bathroom moisture as MDF would. Although MDF is moisture-resistant, it's not waterproof and is still prone to unwanted swelling and warping.
Use porcelain tiles for bathroom walls
Another shower waterproofing tip, ceramic, and porcelain tiles have long been used in a bathroom environment. There's also a good reason for this; they are resistant to water and an extremely durable choice for this high-traffic space. Offering a protective layer, wall tiles can be used around a bathtub, in a shower and on a vanity unit. Tiled surfaces will also be easy to wipe when the room becomes steamy, so there's no reason not to take a long, hot shower!
To prevent mould forming on tiles, a surface cleaner can help; simply spray BRIO after showering, and you're good to go. This surface cleaner is also great for stainless steel taps, and it doesn't need rinsing, so there's no excuse not to give your bathroom a quick clean each day. With regular care, mould is unlikely to grow but, if it does, ALGACID works its magic in minutes on ceramic and porcelain tiles. Additionally, grout cleaning is also essential along with cleaning your tiles to ensure that they remain hygienic. Because grout is prone to staining from mould and a build-up of products, it can often turn an alarming shade of orange or grey. For this reason, we'd recommend you tackle grout cleaning head-on with FILA's FUGANET and follow on with our grout protector, FUGAPROOF, to seal it after.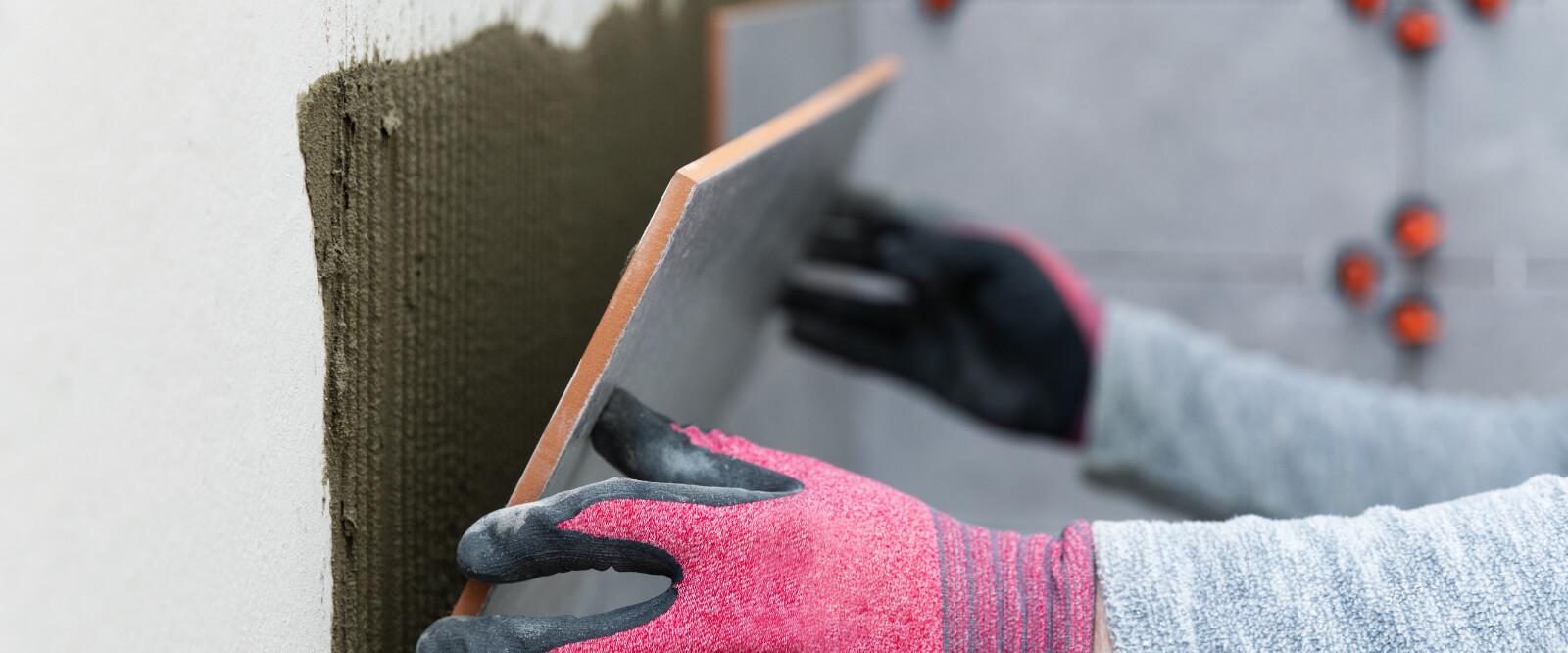 Install an extractor fan
In the UK, all bathrooms are required to have some kind of ventilation, whether a window or fan to reduce the risks of damp air. Without proper ventilation, condensation can form, causing all sorts of problems, from mould and mildew to even issues with health. An extractor fan will pull out the moisture and expel it outside, leaving mirrors and your bathroom air nice and clean. One good tip is to close the door and leave the extractor fan running for around fifteen after your shower or bath.
Choose waterproof flooring like LVT
Out of any flooring, bathroom floors are one of the toughest types to get right. Not only do they need to be slip and water-resistant, style matters, and your flooring should also complement your chosen wall finish. A classic choice is ceramic or porcelain tiles, but if you crave something different, luxury vinyl tiles (LVT) are surprisingly effective at mimicking wood and stone. Made from solid inorganic material, LVT is also a waterproof choice – discover this type of flooring in our earlier post.
When it comes to cleaning LVT floors, for best results, we'd recommend using a pH-neutral cleaner. CLEANER PRO promises a streak-free finish that dries in minutes; for best results, use this ph-neutral cleaner twice weekly.
Shower waterproofing needs a high-performance paint
If you find your bathroom ceilings and walls are regularly covered in water, there are paints available that prevent condensation. All the more, some contain anti-fungal agents to prevent the formation of mould, making bathroom maintenance an even easier task. Additionally, high-gloss paint works well as it repels moisture, but the only downside is that it doesn't look as good on walls as eggshell or satin. Still, it's great for protecting smaller surfaces like trims and woodwork that would otherwise be affected by bathroom moisture.
Make sure the bathroom is watertight
When water damage occurs in a bathroom, silicone degradation is often to blame, particularly in the areas around a bathtub or shower. With a fresh application, however, your bathroom will be protected from leaks; just take care when applying it near glass or porcelain tiles.
If you're a DIY fan, there's no doubt silicone has a place in your toolbox. Accidents do happen of course, and if you've managed to get it on glass FILA's ZEROSIL will clean this right off. Simply apply ZEROSIL to the affected area and leave to it act before scraping away the silicone with the provided spatula after 20 minutes. This product also works on ceramic and porcelain tiles, and it can even clean wax, so handy for those candlelit soaks in the bathtub.

Got a question on bathroom cleaning? We'd love to hear it! Why not get in touch with our team or share it with us in the comments below?