Fila's set to launch several new products at next month's exhibitions in Italy. At both Cersaie and Marmomacc, new solvent-free protectors will be launched and will join Fila's Green Line range.
All products provide high performance and have VOC-free, water-based formulations, which protect without altering surface appearance.
At Cersaie, Fila will introduce FILANODROPS – a new dual-action cleaner and water repellent for shower enclosures, mirrors, enamelled ceramic tiles and glass mosaics. It will also be presenting new uses for products, including lappato porcelain protector – FILAPD15. Meanwhile, at Marmomacc, Fila will be showcasing a new professional marble crystallizer, for restoring worn surfaces to their original sheen.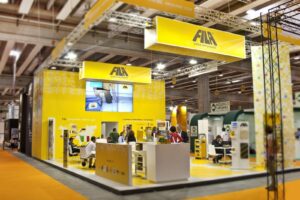 Other show activity will include the launch of a new Fila smartphone APP and an introduction to Fila Service, which provides a turnkey surface care service for site management.
For more information, please contact Lisa Breakspear at Fila UK on tel. 01584 877286 or visit www.filasolutions.com
Or meet Fila at: Cersaie (Bologna – 23 to 27 September) – Area 45, Stand 28 and Marmomacc (Verona – 25 to 28 September) – Pavilion 7 – stand C6.