Outdoor paving and cladding in natural unpolished or rough-finish stone is indeed very attractive: Vicenza stone, Quartzite, Lecce stone and Pietra Serena are all used in various ways in outdoor areas. One main feature of this type of porous stone, however, is that it is very absorbent, with the consequent disadvantage that it is often subject to staining due to deterioration caused by the elements.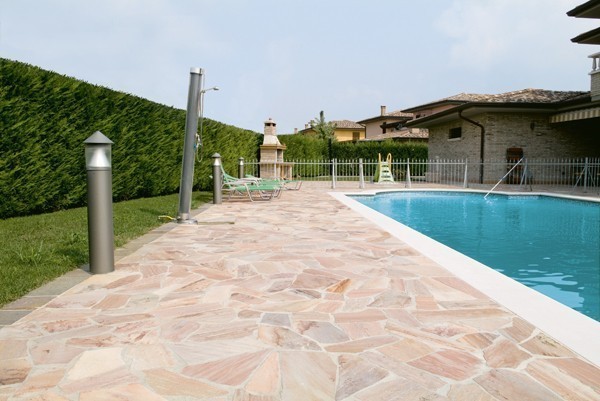 Prevention, of course, is better than a cure and exactly for that reason we offer some solutions for correct cleaning and protective treatments which are ideal for your natural stone outdoor surfaces.
Cleaning of just-laid external stone paving or cladding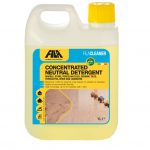 It is extremely important to ensure that your new external stone paving is perfectly clean and free of any post-laying residue. However, Quartzite, Vicenza stone and many other porous local stones are sensitive to acidic substances and it is therefore necessary to pay close attention to the detergent used.
For effective cleaning use FILACLEANER, the all-purpose neutral detergent, ideal for even the most delicate surface.
Dilute FILACLEANER in water (1:30), spread the solution using a flat brush, working it well into the surface, then remove residues and complete by rinsing the whole floor with plenty of water.
How to Clean any Kind of Floor With Just 1 Product: FILACLEANER
Clean and remove grease stains from stone paving or cladding with FILAPS87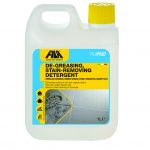 If your stone paving needs deep cleaning, we recommend a special washing (ideally once or twice a year) which permits deep-level removal of dirt which may have accumulated over time. FILAPS87 is a single product which allows you to remove grease and wax stains from various types of paving.
Dilute the product (1 litre to 10 litres of water) apply and wait for it to work; after 4-5 minutes use a scrubbing brush (or single brush machine), remove residue (with a cloth or liquid vacuum cleaner) and rinse with plenty of water.
FILAPS87 one product with three functions: degreasing, stain removing and wax stripping
Remove graffiti, smog and dust from outdoor stone cladding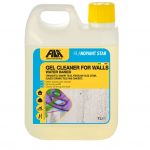 If your outdoor stone cladding is discoloured by smog or dust or marred by graffiti, you can trust FILANOPAINT STAR, a strong cleaner with a viscous consistency, ideal for concrete walls, natural stone and fair-faced bricks.
Very easy to use: apply the product undiluted using a large flat paintbrush or airless method, wait for it to work on the stains then use a rough cloth before rinsing well.
After you have deep cleaned the surface you can apply one of the following treatments as required.
Protection from dampness for outdoor stone paving and cladding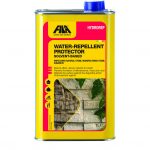 If your outdoor area is subject to dampness and rain, we recommend you use HYDROREP (or alternatively FILAHP98), breathable water-repellent (ideal for natural stone, agglomerates, concrete, terracotta and quarry tiles) which prevents formation of algae, moss and efflorescence, protecting surfaces from the elements and from dampness.
Using a paintbrush, apply it directly to the area of paving or cladding and carefully spread it over the entire surface including the grouting. Before the product dries, remove any residue with a sponge or microfibre cloth. The surface is ready for use after just 4 hours.
 Outdoor Surfaces At Risk From The Elements? Here's How To Protect Them

Stain and graffiti protection for outdoor stone surfaces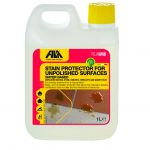 For high quality protection which does not alter the natural look of your outdoor stone, use FILAW68 eco-friendly stain protection which guards not only against stains but also against graffiti as it prevents paint and colours from penetrating the stone and makes cleaning fast and easy.
Application is very simple: on a dry surface apply two coats of the undiluted product one after the other using a fleece or paintbrush, working it well into the grouting. As soon as the product has dried the surface it ready for use.
3 Simple Steps to Protect Floors from Stains
Colour-enhancing stain protection treatment for outdoor stone paving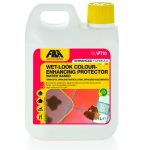 Finally, if you wish to enhance the colour of your stone and give it an attractive wet-look effect, use FILAPT10, the wet-look colour-enhancing stain protection treatment, ideal around barbeque areas or in your drive.
Its water and oil repellent formula enhances the colour of the material and at the same time renders it extremely resistant to traffic, making the treated surface very easy to clean.
For proper use, follow these simple instructions: shake well before application (undiluted or diluted 1:10) using a fleece, roller or pasting brush and taking care to work it well into the grouting. After 3 hours, apply a further coat over the entire surface. As soon as the product has dried, the surface is ready for use.
Would you like information about other surface protection products? Click here.