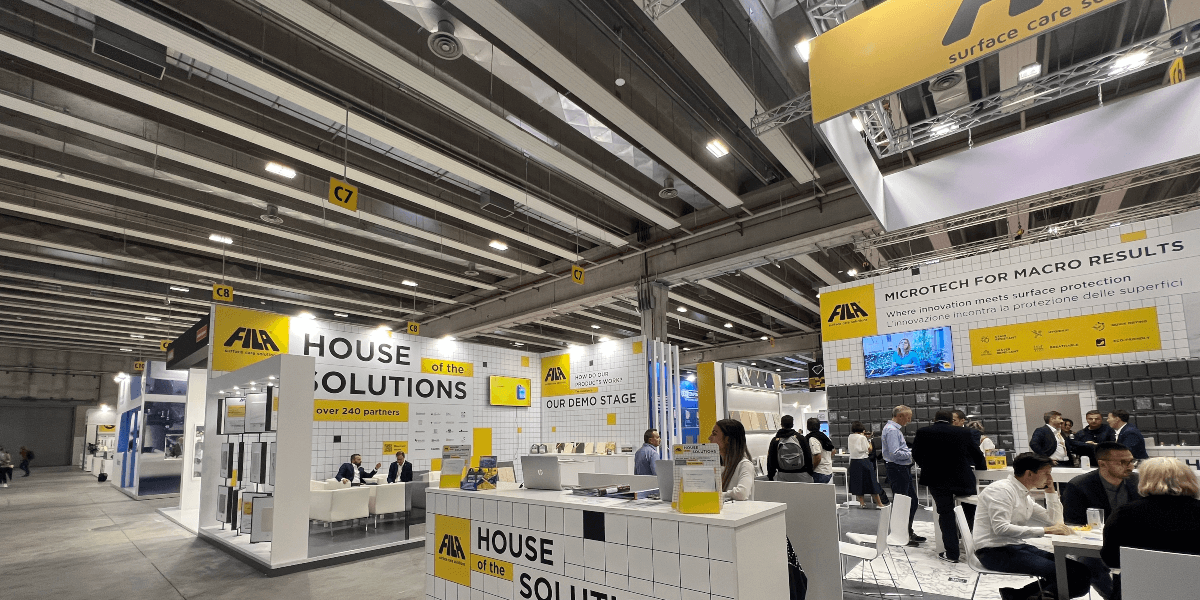 It's been another great year at our annual shows, MARMOMAC and CERSAIE 2022! Not only did we launch FILA's highly anticipated new product, CONCRETE HYDRO, but we also collaborated with WAMI in order to offset our water footprint across both trade fairs. For all organisations involved, they were both must-see events, and this year, in particular, was very special. Attending is always a great experience for FILA to learn and share with other like-minded people, network and keep up-to-date with any industry changes.
Here's how this year's trade fairs went down… 
An overview of the CERSAIE and MARMOMAC trade fairs
CERSAIE
At the 39th edition of Cersaie, a record number was hit, with 91,296 visitors attending the show over five days. According to the organisers, this was 50% more than last year, a show that was post-pandemic, and this year's International Exhibition of Ceramic Tile and Bathroom Furnishings certainly lived up to the high expectations of the international brands in attendance.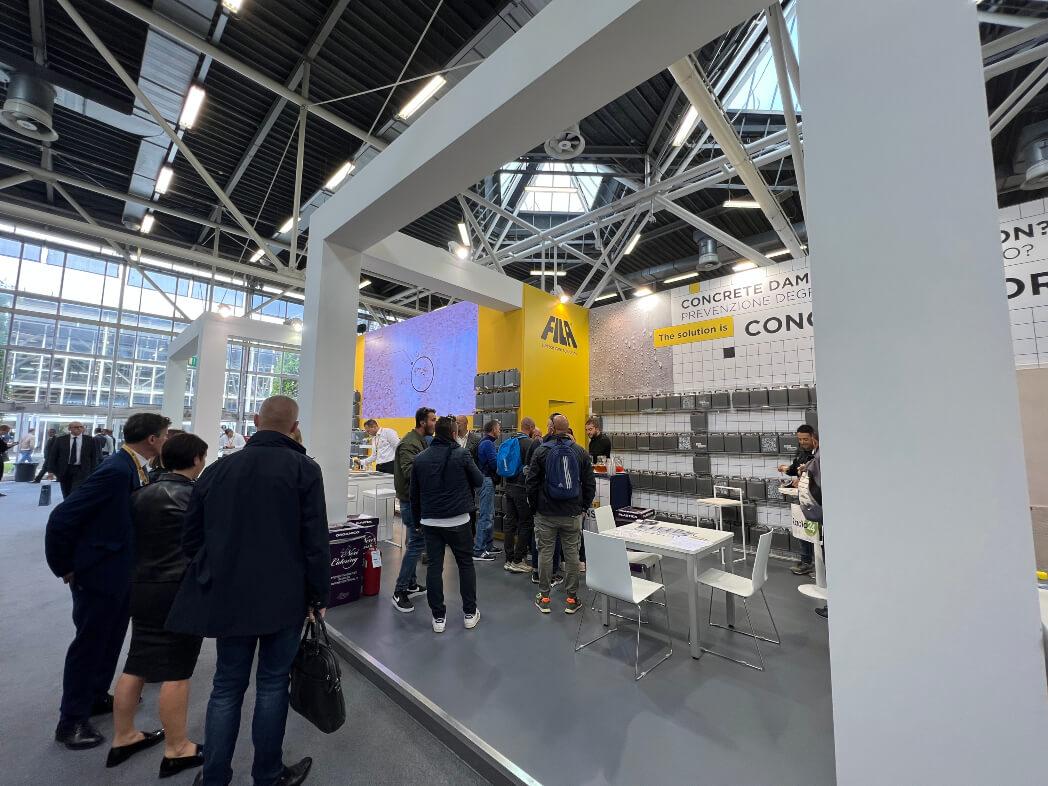 MARMOMAC
The Marmo+mac exhibition is a leading trade show for the natural stone and design sector. A must-see event for stone producers and designers alike, Marmo+mac highlights the best production traditions and innovation on a national and international scale. Taking place in Verona, this year's event saw 1,168 exhibitors across 47 countries showcase in 10 halls. Marmo+mac is now one of the biggest meeting platforms for international natural stone system professionals – will you be attending next year?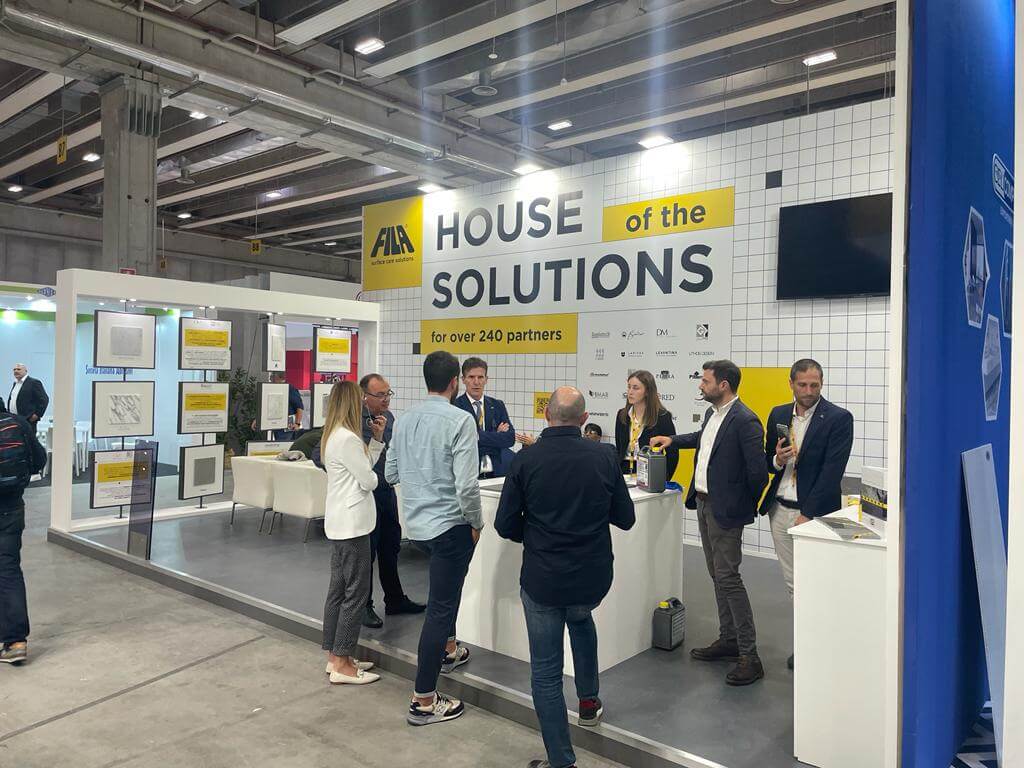 Why we love these events
The trade shows are always an excellent chance to mingle with international pros, especially since so many fairs were cancelled due to the global pandemic. Getting the opportunity to also hear people speak so passionately about the surface industry provides great insight for us and leaves our team full of new knowledge that can be applied back at our FILA headquarters.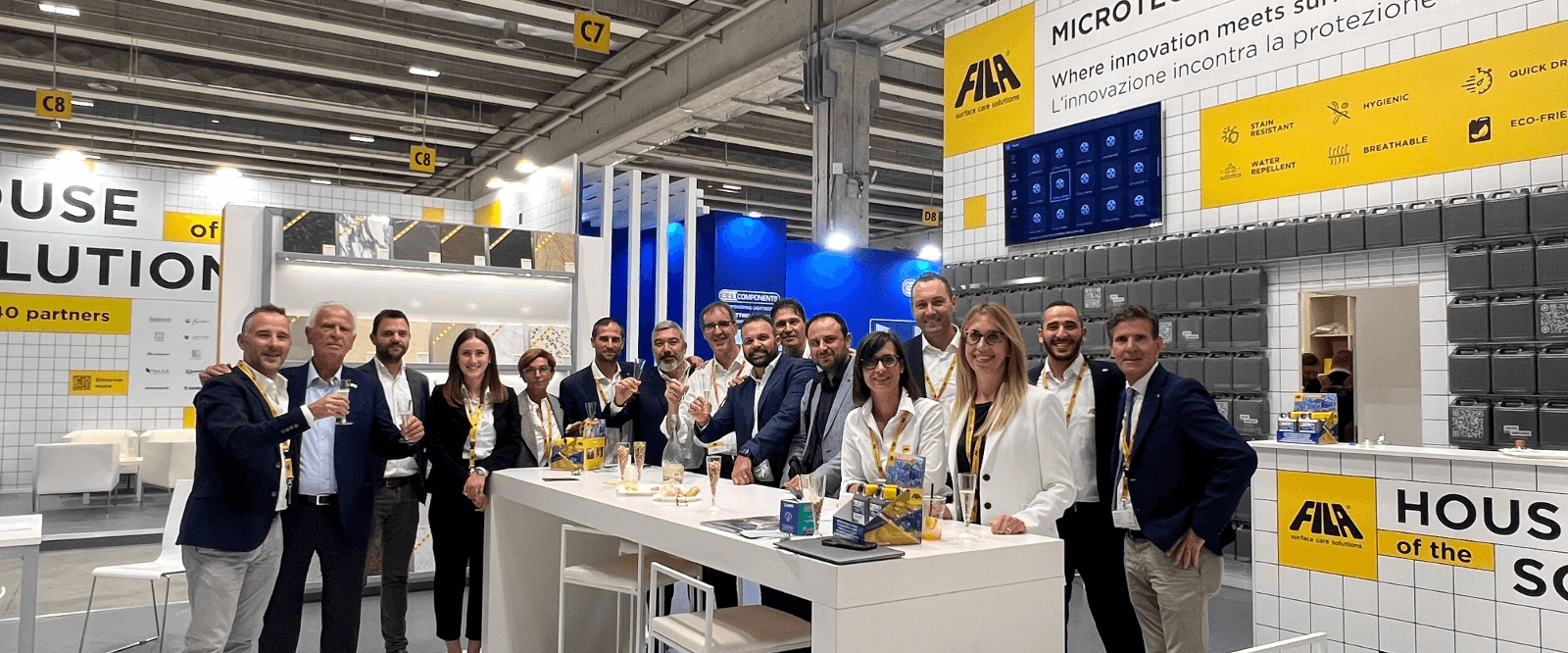 FILA's collaboration with WAMI (Water with a Mission)
At both trade shows, FILA collaborated with WAMI, a brand of mineral water that aims to make clean drinking water accessible to all. For every bottle they sell, they donate 100 litres to underprivileged communities through the use of wells. This innovative approach not only solves a global problem but also gives the consumer a chance to be part of the answer too. Simply enter the code on the bottle into the WAMI web app to find out more about your water footprint.
At both trade shows, FILA restored balance by only purchasing water for our stall from WAMI. This meant the water drunk by our attendees each day was donated to WAMI's water project in Betoho, southern Madagascar, a country where about 40% of the population does not have access to clean water sources. Making clean water accessible to all is actually an SDG goal, and at FILA, we are so very proud to be a part of this cause. It's also a step towards combatting climate change when you think direct access to water can significantly reduce CO2 emissions.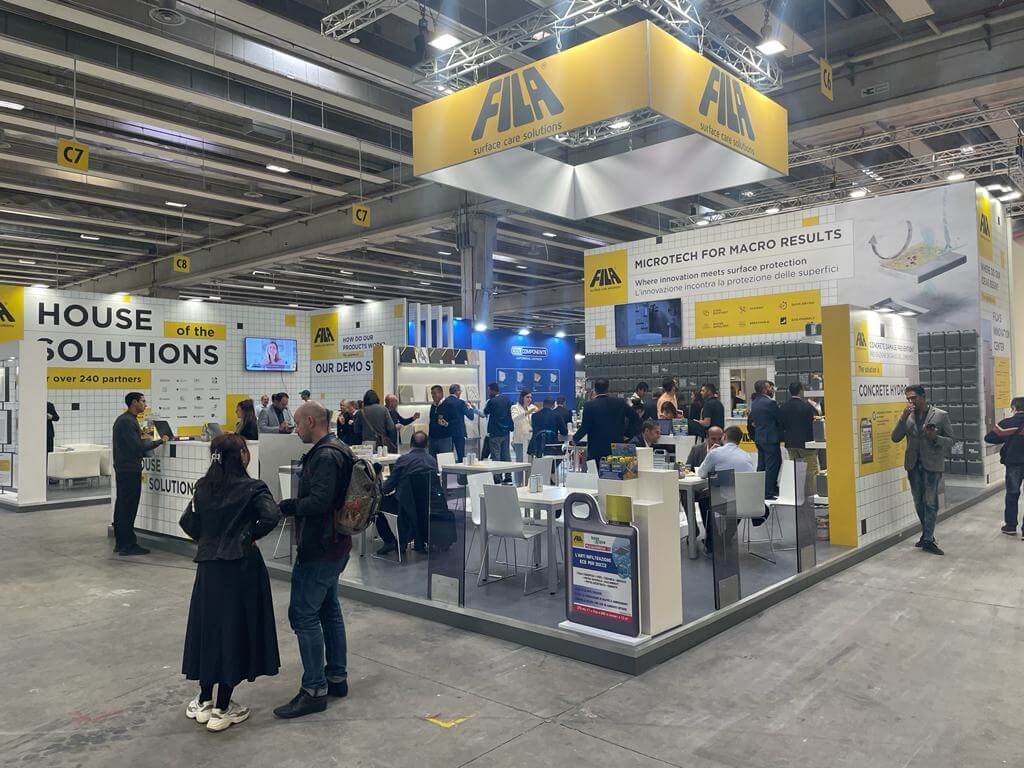 Presenting FILA's CONCRETE HYDRO
At the shows, we also introduced our new product, CONCRETE HYDRO, a consolidating water-repellant sealer for concrete. Using FILA's pioneering technology, it also prevents the degradation of plaster, brick and tuff. Here's more about this water-based treatment… 
This new sealer is VOC-free
Ready-to-use, CONCRETE HYDRO is VOC-free with a low environmental impact. This means it won't affect the building occupants' health or the concrete itself and, in the long run, will be better for the environment too.
And will stop the surface from deteriorating
CONCRETE HYDRO hinders the absorption of water and protects the concrete from chalking (a powdery, chalk-like appearance caused by foot traffic). It also won't affect the finish of the surface or yellow and is safe to paint after treatment.
CONCRETE HYDRO prevents the build-up of efflorescences
Additionally, this product limits the growth of algae which is caused by pollution and smog and prevents the build-up of efflorescences such as carbonates, sulphates and saltpetre.
And has Indoor Air Comfort Gold certification*
At FILA, we are the first Italian brand in our field to obtain this, and it is testimony to the renewable objectives we have set ourselves. CONCRETE HYDRO is also Eurofins certified, and the rigid Eurofins certification requisites include those of mandatory national regulations such as FrenchA+, CAM Edlilizia, Belgian Regulation, AgBB and the innovative environmental sustainability evaluation systems such as LEED, BREEAM and WELL.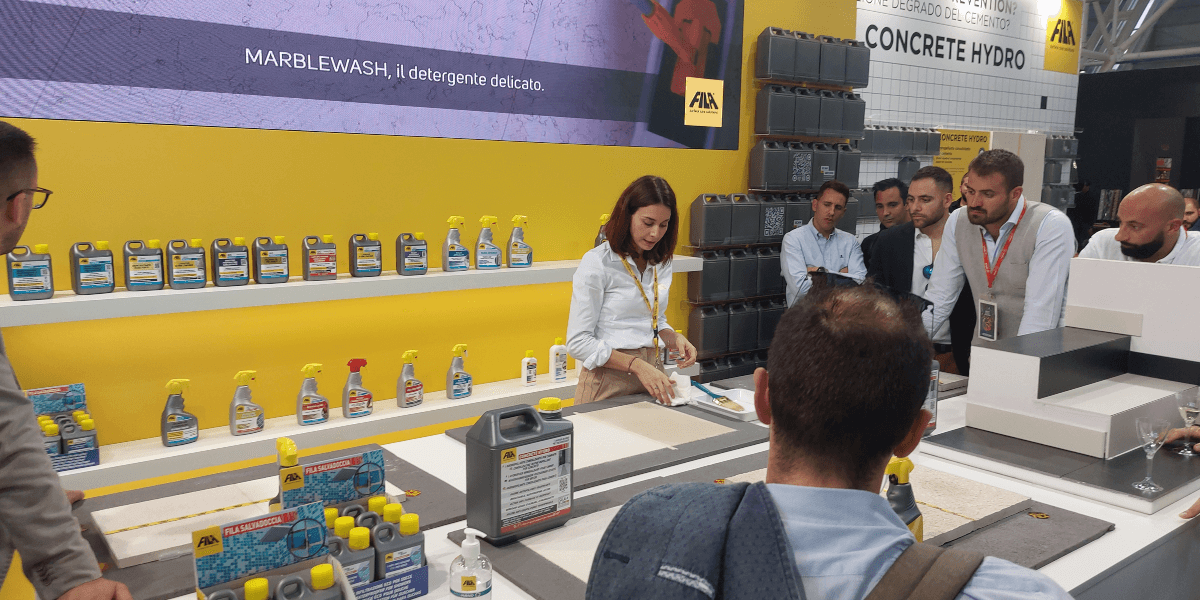 What Air Comfort Gold certification means
An important recognition that certifies low VOC emissions in construction products, at FILA, we are honoured to receive Air Comfort Gold certification. Other products with this prestigious rating include WET ECO, PW10, W68, and MP90 ECO XTREME and underline FILA's desire to be as respectful of the environment as possible.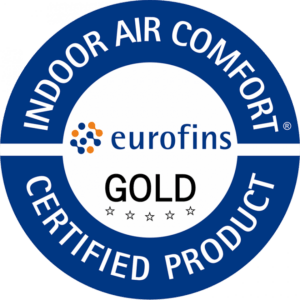 Try CONCRETE HYDRO for yourself; download the technical datasheet here. Thank you for reading.