As specialists in surface protection at FILA, we have helped thousands of customers keep their commercial flooring performing at the optimum level. Let's work through why a maintenance plan is important, plus the pH-neutral cleaner to use – it really doesn't have to be complicated.
Why routine maintenance matters:
It will extend the life span of floors
Regularly maintaining your flooring will make it last longer and keep your facility healthy long-term. Poor cleanliness will inevitably result in a buildup of dirt which can lead to wear and over time cause changes to the surface material. Keeping your floors clean and maintained will also minimize germs and avoid having to replace the material prematurely. All it takes is a little commitment from you to extend the lifespan of floors and ensure the finish always looks great. Here's why a regular plan can save you money too.
And save you money too
A routine maintenance plan is a no-brainer, especially if your building is large. Imagine having to replace five floors of marble? The cost could really add up. Floor maintenance is a case of spending now and saving later.
A maintenance plan will prevent accidents
Did you know cleaning plays a critical role when it comes to safety? This post explains Slip Risk Assessments in greater detail. If a floor isn't properly maintained, cracks or slippery substances can lead to falls, but these kinds of accidents can be prevented with a proactive approach.
And ensure a professional first impression
A well-maintained floor will reflect on your space and signal to customers that the property is well taken care of. There's nothing worse than a bad first impression, and dirty flooring won't help especially if you're looking to increase footfall. Unkempt floors are not only an eyesore, but they're also unhealthy and can make the environment unpleasant for customers and employees alike. Your best bet? Perfect a great cleaning rota, and you'll make a positive impact on anyone who walks into the building…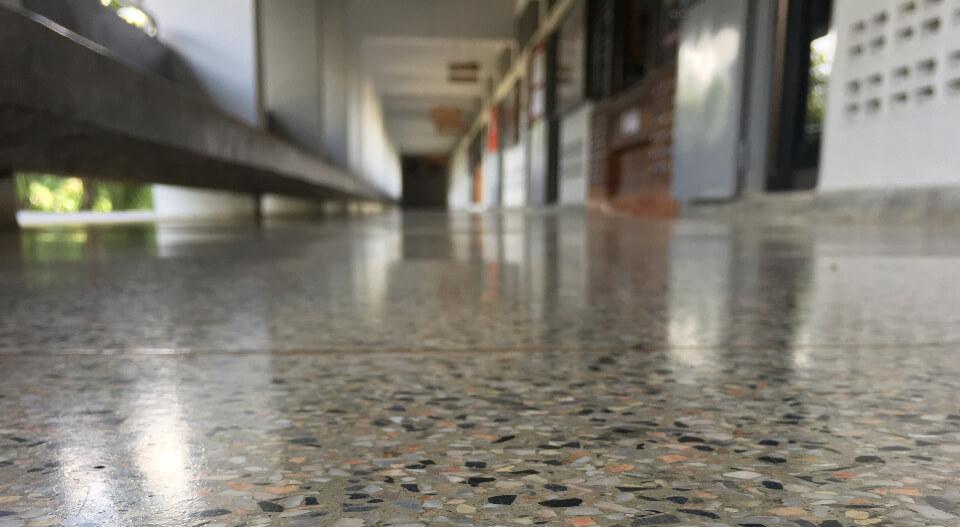 Routine maintenance for commercial flooring:
Daily
Ideally, most commercial hard floors should be cleaned on an everyday basis. Establishing a daily regime will remove any surface soiling and ensure your floors stay looking their best. Start by sweeping the floor, removing any loose debris and dust and begin mopping with a pH-neutral cleaner like CLEANER PRO . This concentrated cleaner can be diluted at 25 ml in 5 liters of water, promising brilliant results every time.
Monthly
For a monthly deep clean, FILA's CLEANER PRO can be used to achieve higher levels of cleanliness. Concentrated, it's great for cleaning really dirty floors and can even be used on delicate natural stone like marble. If you're using a scrubber-dryer machine, this marble cleaner should be diluted at 1:200, and the solution poured into the tank. You can also use CLEANER PRO on hardwood floors which need a monthly cleaning to keep the surface looking tip-top.
Yearly
Inspecting your floor on an annual basis will ensure the maximum possible lifespan is achieved. So take care to reseal where needed and strip and replace any wax. The surface will thank you, we promise.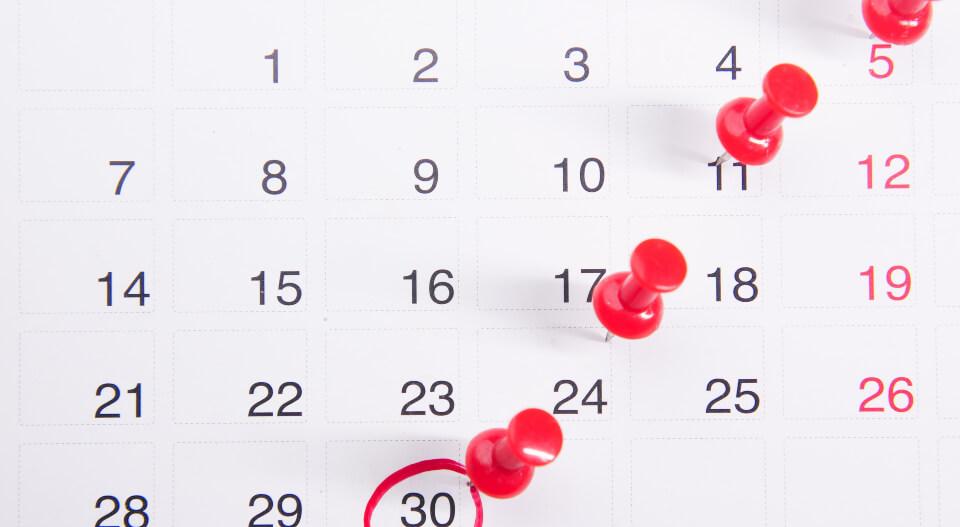 Why use CLEANER PRO for the routine maintenance of commercial flooring:
Guaranteed efficiency
When used diluted, this marble cleaner does not need rinsing, and it won't leave any residues either. On the other hand, normal detergents often leave microscopic deposits because they contain shine additives. Over time these can build up and form unsightly streaks, affecting the overall look of the floors. CLEANER PRO will not form any surface marks, or worse, leave it sticky. With this product, if your flooring looks clean, it means it is.
Great savings, clean flooring
For routine cleaning, just one drop is enough to see an amazing result. Simply dilute just 25 ml in a 5-litre bucket of water – it's concentrated, and so a little goes a long way. Consequently, this can result in big savings for you when you consider that 1 liter will do 50 washes or for cleaning up to 500 m². 1 liter will also last up to a year, depending on use. Not bad for a commercial flooring detergent that's gentle too.
CLEANER PRO can be used to clean ANY surface
Recommended by over 200 manufacturers, there's a good reason why contractors love CLEANER PRO . Not only is this cleaner an effective maintenance tool, but it's also gentle enough to use on any surface. Here are just some of the many materials you can use CLEANER PRO for:
Natural stones like marble
Particularly those with a polished finish that are sensitive to strong detergents.
As a wood cleaner for timber flooring
Hardwood floors? Avoid acid-based products and abrasive tools, for that matter. Instead, aim to mop with a gentle wood cleaner at least once a week to ward off any dirt and grime. Versatile enough to use on any hard surface, FILA's CLEANER PRO can even be used for wood. Simply dilute 3 caps of the product into 5 liters of water to clean wood surfaces without damaging them. Alternatively, CLEAN&SHINE cleans any material too, and it won't leave any superficial residues. Why not check out this post on maintaining hardwood flooring ?
An LVT cleaner for vinyl tiles
Commercial vinyl flooring demands a regular clean to keep it in good condition. You'll also want to avoid any abrasive cleaners as these can scratch the surface. Thankfully, CLEANER PRO doubles up as an LVT cleaner too. Check out this post on maintaining vinyl flooring .
Decorative terrace
Again, this cleaner cleans but does not attack.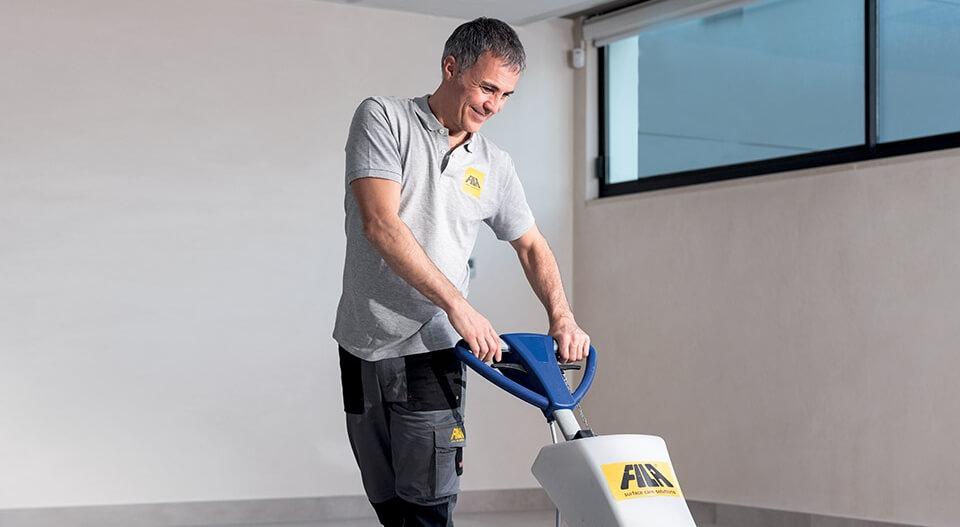 Additional maintenance advice
Want to avoid grit and dirt from being walked in? Entrance mats can reduce the risk of damaging floors. They should be an appropriate size and regularly cleaned to maintain the effectiveness of entrance matting. You should also avoid dragging furniture around; this can scuff the surface, and take care when using vacuum cleaners wherever possible. Additionally, take extra care when cleaning flooring and mop up spills as soon as they happen. This will prevent the spill from potentially staining.
The success is in your protocols
Like we said at the start, it doesn't have to be hard. You just need the right tools and a multi-step process. Why not check out FILA's CLEANER PRO for yourself for maintaining hard floors? This way, you'll be free to focus on your other responsibilities.
As with any product, please make sure to follow the manufacturer's guidelines when using this concentrated cleaner. Thanks for reading.