Easy Tile Grout Cleaning at Your Fingertips
Whether you've chosen ceramic, porcelain, cement tile or natural stone, keeping tile grout clean is so important when it comes to maintaining healthy homes. And as we all know… health is everything nowadays!
Lets' look at how to keep tile grout clean right after installation.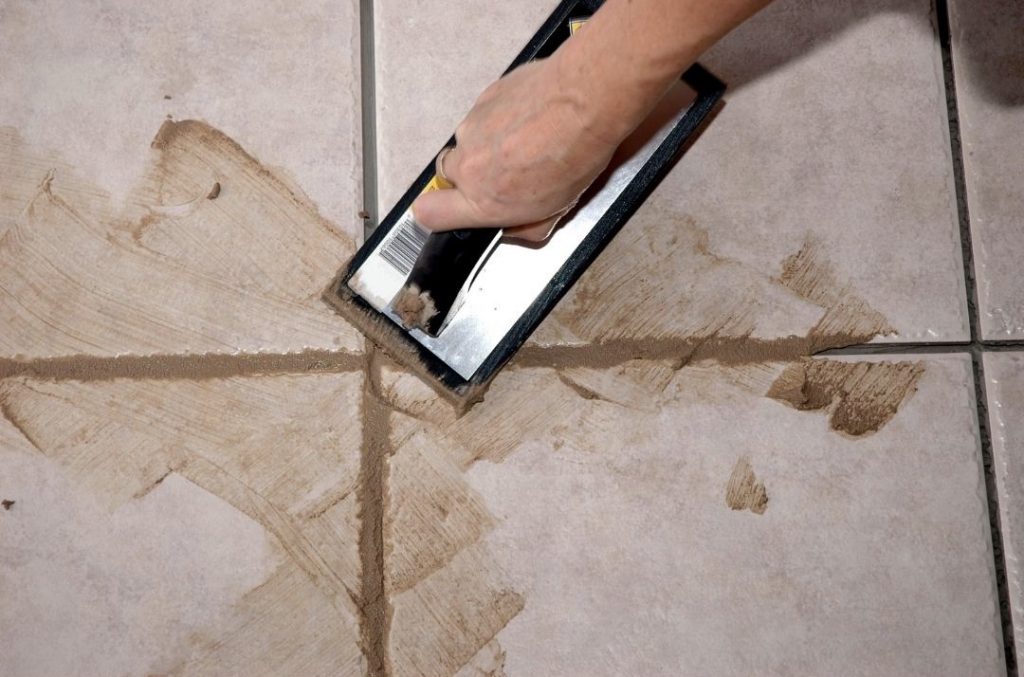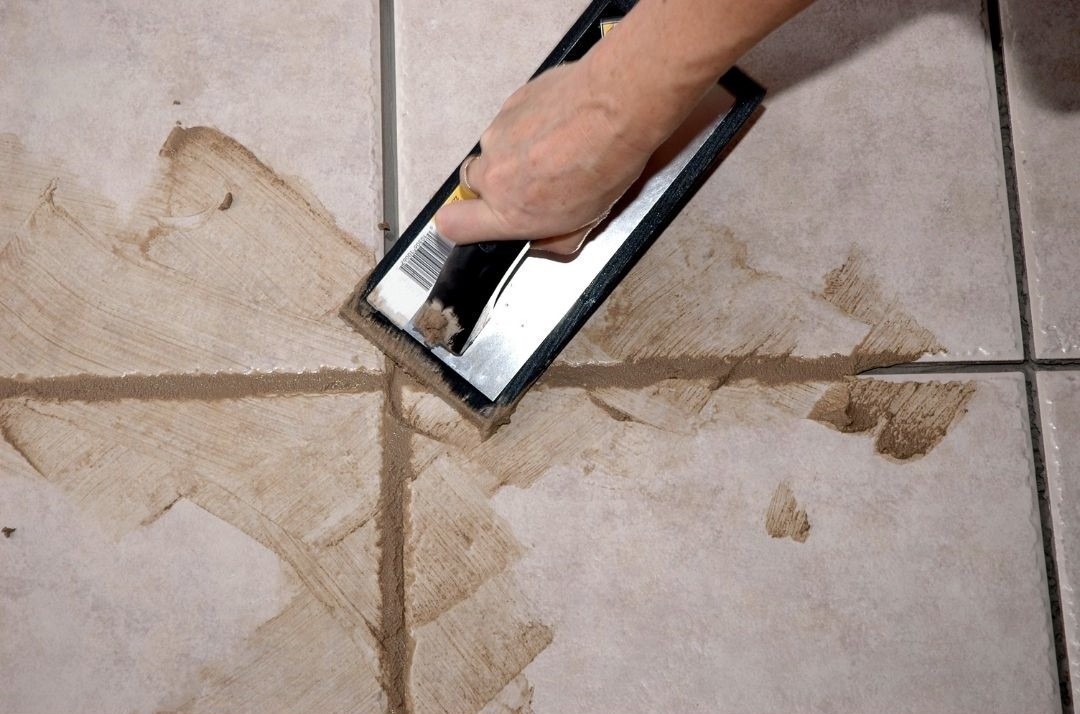 Once the tile is installed, the first step is making sure the grout residue from the installation process has been removed. If the residue (commonly called grout haze) remains, it can cause a film on the tile that then attracts dirt and oil.
So, how what's the best tile grout haze remover?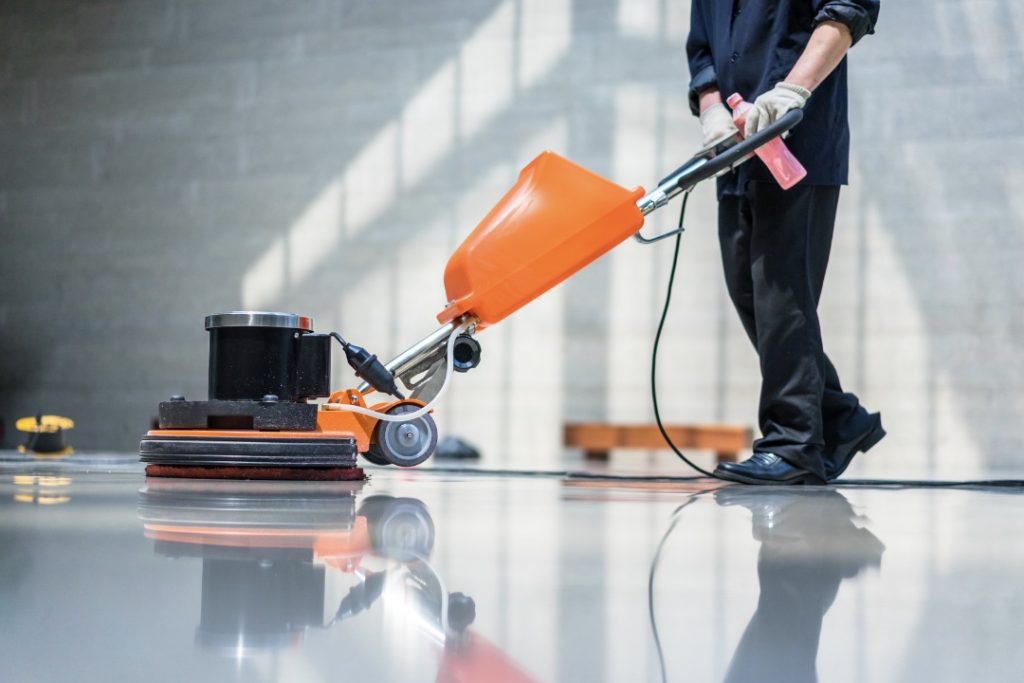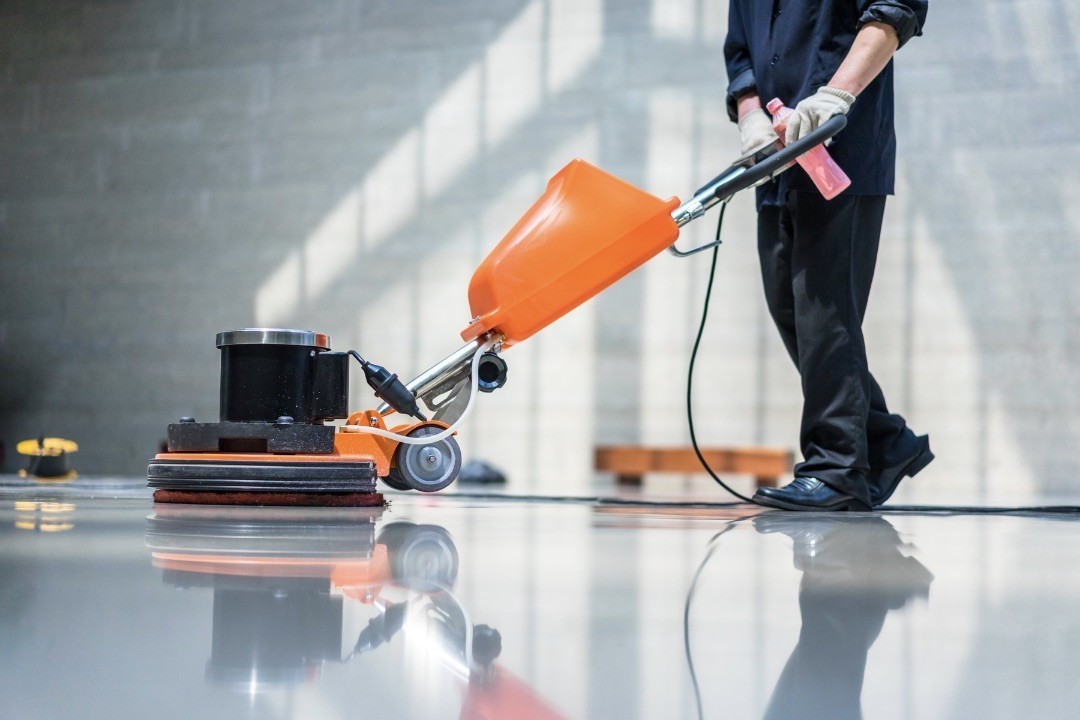 Depends on the grout that was used to install the tile; cementitious grout haze removers are especially made for cement grout, while epoxy grout haze remover are for hybrid, urethane and pre-mixed grouts.
The tile installer should always carry out after construction cleaning with the appropriate cleaner.
Here at FILA, we recommend DETERDEK Cementitious Grout Haze Remover, our time-tested, industry standard grout haze remover that works every time. It can be used on porcelain and ceramic tile, acid resistant natural stone, quarry tile and terracotta. It's safe to use indoors and out, on floors, walls, shower stalls, bathroom fixtures and facades.
For epoxy grout haze, we suggest using EPOXYOFF Epoxy Grout Haze Remover. It can be used on nonabsorbent materials: porcelain and ceramic tile, glass mosaic and glazed quarry tile.
Like all FILA cleaners, DETERDEK and EPOXYOFF are water based.
Now lets' look at how to keep tiles clean on a daily basis.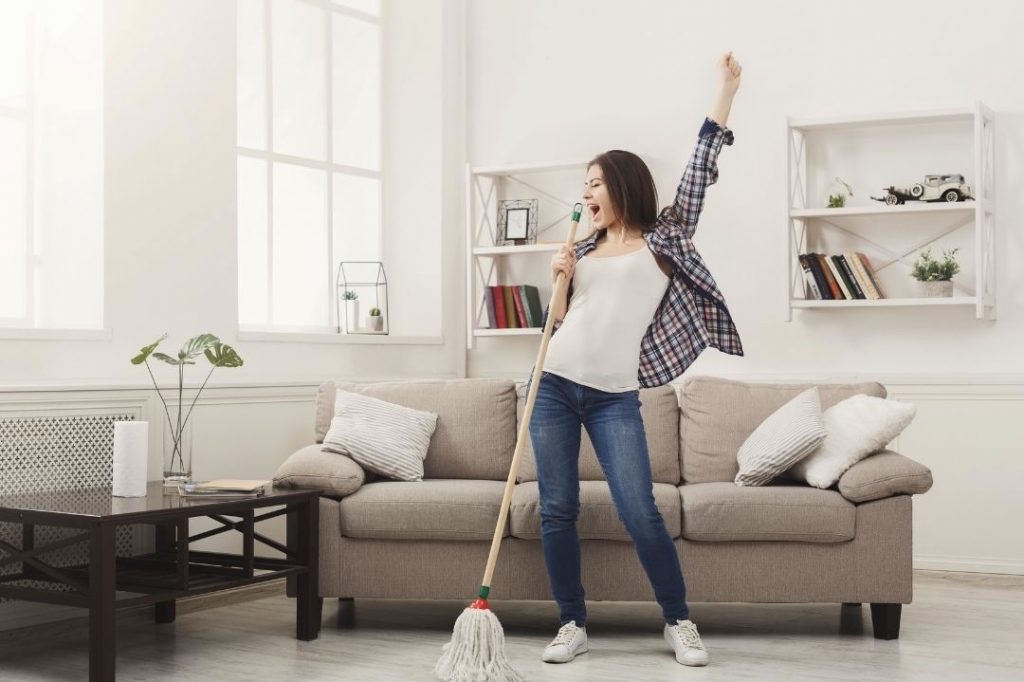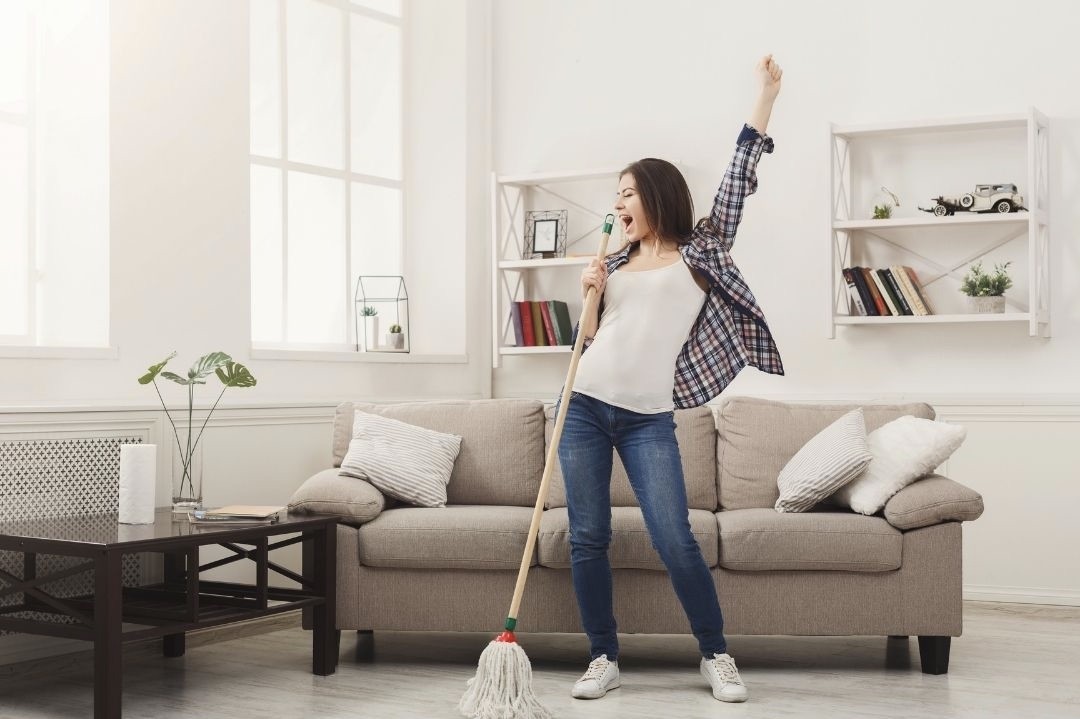 If you're smart, you'll wanna start maintaining your tile right after it's installed, and pH neutral cleaners are the best way to do that.
What's are pH neutral cleaners, you might ask?!
Great question… let me introduce you to the pH scale.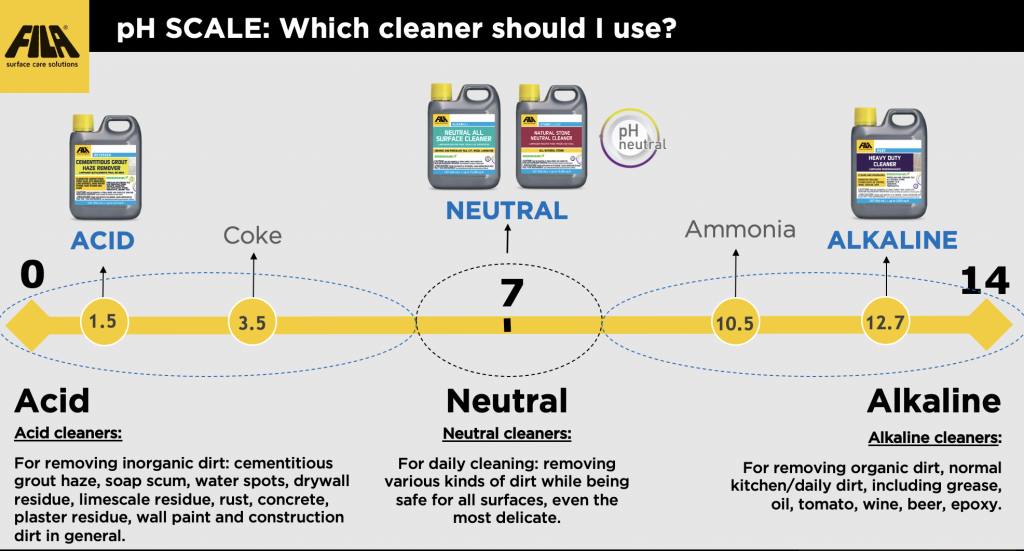 On the pH scale, pH neutral cleaners are those that have a pH of 7. Acid cleaners have a pH of 1 to 6, and alkaline cleaners have a pH of 8 to14.
We'll go into the pH scale in more detail in another post, but today I want to focus just one aspect:
pH neutral cleaners are safe for all materials, even the delicate ones. Yes, even those delicate natural stone tiles. At FILA, we've got 2 concentrated pH neutral cleaners.
CLEANALL Neutral All Surface Cleaner for porcelain and ceramic tiles, LVT wood and laminates, and STONECLEAN Natural Stone Neutral Cleaner for all natural stone tiles.
Just put one capful of product in one gallon of water for a no-rinse, no-residue application. At this dilution, CLEANALL and STONECLEAN can even be used in the tank of floor cleaning machines.
However, if things have gotten a little out of hand, and dirt and grease have actually formed a layer on the tile, then it's best to hit it with a heavy duty cleaner to get the surface back to tip-top shape.
PS87 Heavy Duty Cleaner is FILA's best tile cleaner for layered dirt. Diluted it cleans and degreases ceramic tile, porcelain tile, natural stone, concrete and terracotta. Undiluted it removes ground-in dirt from porcelain tile.
Now let's look at a tile grout cleaner to finish the job.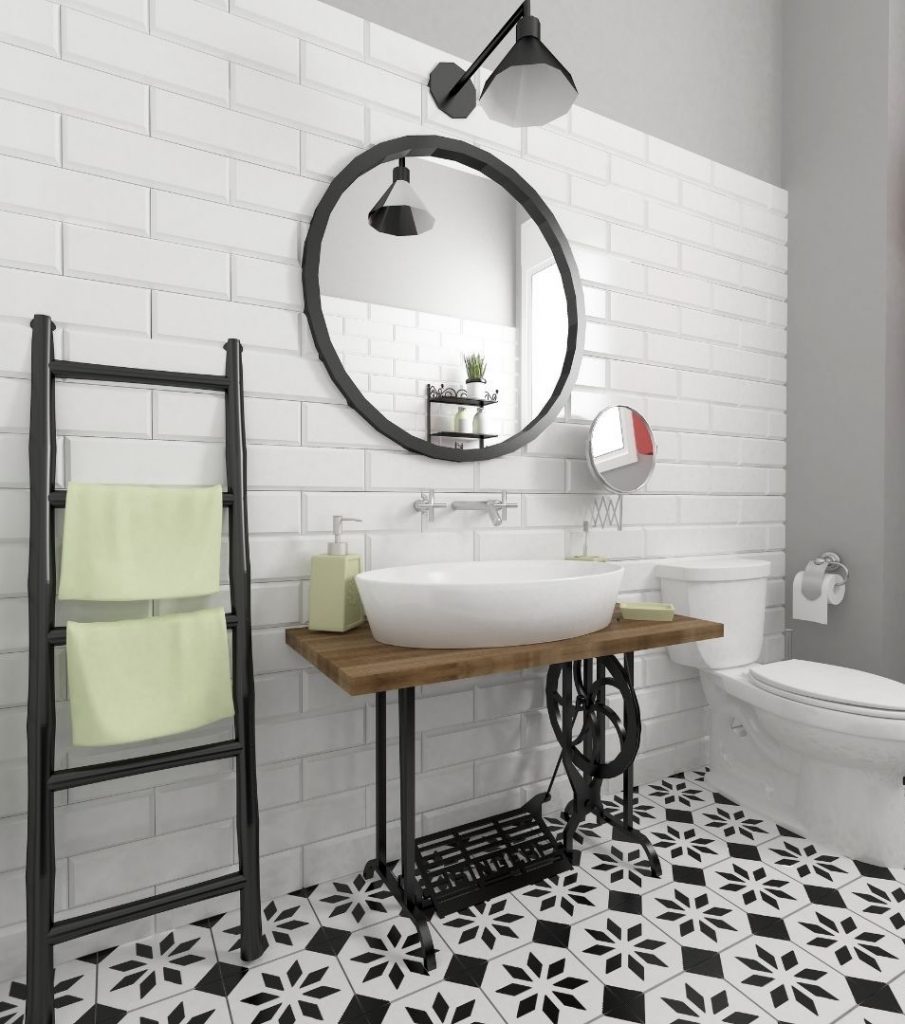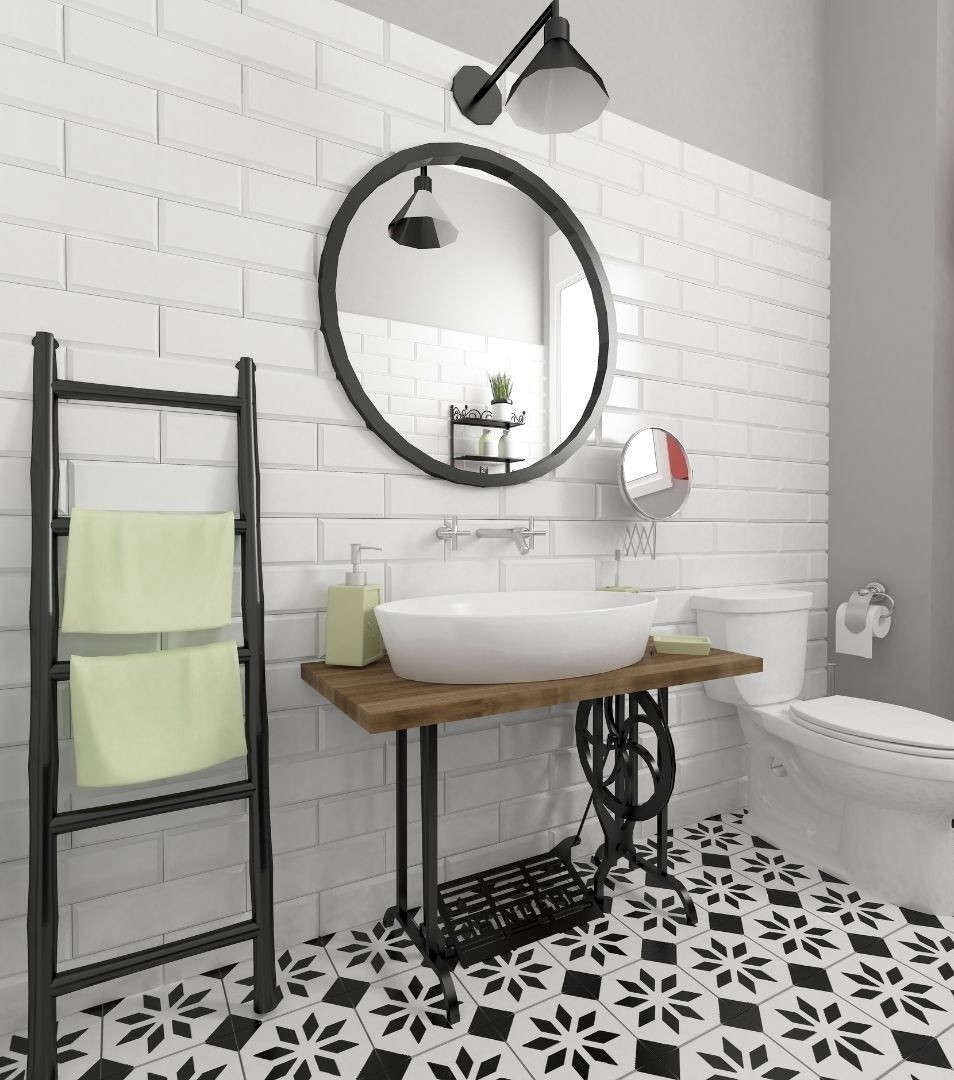 So, what the best tile grout cleaner? In the FILA's product line, GROUTRENEW Grout Cleaner and Deep Stain Remover is the way to go. It removes tough to clean, grease, dirt, soap scum and food stains from porcelain and ceramic tile. The spray bottle makes it easy to use and have around the kitchen or bathroom – handy just when you need it!
For step-by-step instructions, go to this blog post:
Clean Tile Grout in Record Time!
Or…
Watch the GROUTRENEW video:
To find out more about tile maintenance, go to filasolutions.com.