Beautiful, sturdy and extremely long-lasting, hard surfaces have been used as a building material for many centuries. From large-format porcelain tiles to marble splashbacks and tops, it goes without saying they play a starring role in luxury interior design. Their flexibility also makes them suitable for indoors or outside, and unlike carpets, their surface does not give allergens anywhere to hide. The only downside, however, is that from time to time, they can mark, but fortunately, the right stain removers will help and hopefully make things less of a chore for you.
Whether you're dealing with a spilt cup of coffee or your children's felt tips, it's essential to know how to minimise accidental damage. Never fear; however, our cleaning superheroes are here to tackle almost any stain and save the day!
1. Rust marks
Rust marks can occur when metal items come into contact with a surface and water. They're particularly common on bathroom porcelain tiles thanks to wet metal bottles or cans and are mainly composed of iron oxide. Likewise, rust marks can indeed happen outdoors on garden paving and are generally caused by metal objects such as fire pits. Rust is also easily smeared and can be pretty stubborn to clean, thanks to the iron particles that it leaves behind.
Treating rust with an effective

stain detergent
Wish you could get rid of dark orange stains without the back-breaking hard work?  It's easy with our rust stain remover, NORUST. Simply apply this cleaner directly onto the stain and leave it to act for 15 minutes. Thanks to its non-acidic formulation, it'll even work on delicate surfaces like polished stone. For larger patio spaces with a great deal of rust, DETERDEK PRO is the stain detergent we'd recommend you use. Simply wet the area, scrub and thoroughly rinse to remove signs of rust and sulphate residues on acid-resistant materials and porcelain tiles.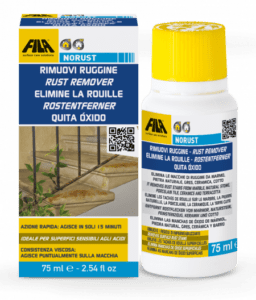 2. Coloured stains
Kids love to draw, there's no doubt about that, but it's not always strictly on paper. If you've discovered some suspicious new art, don't worry; we'll cover this now; indelible markers should come straight off with this next cleaner. SR95 is also great for those red wine spills, even if it's full-bodied and can be used on natural stone and porcelain tiles. Be warned, however, that although SR95 may tackle red wine 'stains' on stone, it won't tackle the acid erosion it leaves on limestone and marble. For this, you would need to use FILA's MARBLE RESTORER (we'll explore this more further down).
FILA's

best stain remover

for coloured, organic stains
Along with tackling red wine and pen, FILA's SR95 is also our best stain remover for coffee and tea too. Additionally, it can safely be used on natural stone because it doesn't harm the finish and is ideal on low-absorbent ceramic surfaces such as porcelain tiles. To use SR95, vigorously shake the can first and completely cover the stain. Leave to work for 15 minutes before removing the residues with a sponge. For more stubborn marks on marble, wipe before the product dries and repeat the process again.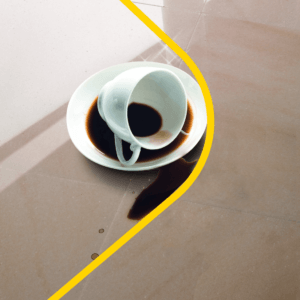 3. Oil and fat-based grease
Whether it's an oily stain on your drive or a cooking splatter, somehow, grease seems to know how to get around. Its little droplets manage to cling to every surface there is, can quickly blacken with grime, and, if left, will cause a bigger problem later. As hard work and water alone are unable to tackle such marks, you're going to need something a little more equipped to clean that baked-on gunk. FILA's NOSPOT will help you banish oily smudges for good so you can get out of those gloves and back relaxing in no time at all.
Removing oily stains and grease
Thanks to its easy-to-use spray nozzle, FILA's NOSPOT can get into those nooks and crannies that are normally missed. This means you can tackle those hard-to-reach spots where grease can fester – the best trick for getting outstanding results is to give it some time! One simple spray of NOSPOT will remove greasy marks from natural stone, terracotta, quarry tiles and concrete. Simply spray from a distance (around 15 cm) and then leave it to dry. Once the grease is absorbed, all that will remain is a layer of white powder.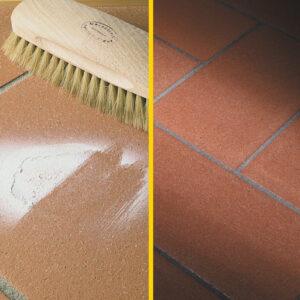 4. Tape, glue or silicone marks
Silicone is frequently used to mend and seal tiles, and due to its adhesive qualities, it is the perfect substance for this kind of purpose. Despite careful precautions, however, it can often stick in the wrong place, such as on glass shower screens, metal or floor tiles. Likewise, construction tape can be just as tricky because it sticks in any condition (we suppose this is why contractors love it so much). But how do you get rid of silicone and gooey tape residues without damaging the material itself? Our silicone remover ZEROSIL is the one you need for this job.
How to tackle with FILA's

silicone remover
When dealing with large residues, first cut away as much as you can with a box cutter, knife, or blade. Then, give the bottle a shake, apply the solution over the spot and leave to act for 20 minutes. Any leftovers can then be removed with a damp cloth or with the spatula included in the kit. In just a few simple steps, old tape and silicone will be gone! ZEROSIL is also effective for glue, wax and resin on surfaces like porcelain tiles, marble, glass and metal.
5. Acidic marks on polished natural stone
Remember when we covered the dangers of wine and how acidic it is? Well, the same goes for tomato sauce and fizzy drinks too. When an acidic product comes into contact with limestone and marble, the acid dissolves the calcite, attacking the surface as well as dulling its sheen. Etchings like spots or rings are sure a sign of acid erosion, so it helps to wipe up spills straight away. If the worst happens, however, there's always FILA's marble restoration kit for natural stone countertops.
Try our marble restoration kit
If you've spotted any dubious splashes on your marble worktops, first, simply wipe the surface as quick as you can. Then eliminate dullness with FILA's MARBLE RESTORER, our countertop-saving kit! Have a read of this blog post for further tips and information.
Discover FILA's stain-removing solutions
At FILA, we offer stain-removing solutions for the most common problems; all it takes is the correct procedure and the right cleaning product. We formulate ours to save you the arduous work, so you'll spend fewer hours scrubbing. View our range of stain removers or speak to our team to discuss a particular dilemma.