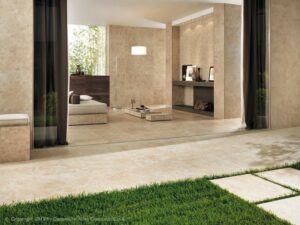 In this post we will see how to solve the problem of a dirty porcelain tile floor.
Porcelain tiles are one of the materials most used for floors and wall coverings in modern homes, suffice to think of the beautiful floors in wood-effect porcelain tiles or those that reproduce natural stone or terracotta. The success of this material is probably due to the lower laying and treatment costs compared to wooden floors or those in natural stone.
But is it really true that a material like this does not require any kind of maintenance? Despite being considered less delicate than parquet or marble flooring, porcelain tiles, especially textured ones, have a tendency to dirty. Let's take a look at some useful tips for protecting textured porcelain tiles from dirt and making subsequent cleaning easy.
The surface of this material is very uneven and, precisely because of this, dirt accumulates easily and is not completely removed by normal washing. Result? The floor always looks slightly dirty and stains easily.
To protect your porcelain tile floor from dirt, you can apply FILASTOP DIRT, the protective barrier against dirt that FILA has conceived specifically for all kinds of textured and unglazed porcelain tiles.
FILASTOP DIRT binds chemically to the material, without creating any kind of surface film and stops dirt from accumulating, making subsequent cleaning and maintenance easier.
How to apply FILASTOP DIRT
For application of the product, you can watch this simple video tutorial:
Or follow these instructions:
APPLICATION AFTER LAYING ON NEW SURFACES:
1. Wash the floor thoroughly with DETERDEK (concrete grouting) or FILACR10 (epoxy grouting).
2. Apply FILASTOP DIRT to clean dry floor and grouting, covering evenly with a paintbrush, sponge or fleece applicator pad.
3. Rub the surface with a cloth or single-brush machine with white disc.
4. Remove any residue within 10 minutes using a clean cloth or single-brush machine with white disc. We recommend applying the product to 2/3 m² at a time.
5. The surface can be walked on after 12 hours.
APPLICATION ON UNTREATED SURFACES TO BE RESTORED TO THEIR ORIGINAL APPEARANCE:
1. Wash the floor with FILAPS87 and/or DETERDEK.
2. Apply FILASTOP DIRT to clean dry floor, following the instructions above.
ADVICE: in the case of stubborn residues, rub the surface with a cloth soaked in the product until they are completely removed.
WARNING: It may enhance the colour of the material or grouting; carry out a spot test beforehand. Solvent-based product; when used indoors, air the room during application.