We have often highlighted the importance of correct washing after laying of surfaces. Unfortunately, this is often done hurriedly and, even worse, with unsuitable products that may ruin the material and call for expensive restoration work.
Our treatment specialists Alex Rimmel and Martin Castellani Shelley from Exclusive Floor Care in Stockport (England), encountered a similar situation: a splendid marble tiled swimming pool in Cheshire, completely ruined by incorrect washing after laying that had turned the material opaque and stained it. The surface was also scratched and marked due to a less than professional attempt at polishing, and had stains caused by incorrectly applied waterproofing treatment.
A real disaster that did not, however, discourage our treatment specialists..
Restoration of the marble started with a good degreasing wash using FILAPS87 specific detergent to eliminate all residues of previous treatments.
To eliminate all the scratches and acid stains from the marble, the treatment specialists then used diamond pads and the FILAMARBLE RESTORER kit.
Once the sheen of surface had been restored, it was given a general wash with FILACLEANER neutral detergent, ideal for delicate surfaces like marble and polished stone.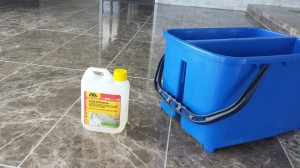 To complete the job and protect the material from dirt and stains, a coat of FILAMP90 ECO PLUS was applied, the eco-friendly stain protector from the FILA GREEN LINE.
The result was surprising, with the marble so shiny and brilliant that it left the client completely satisfied, in his own words "in seventh heaven".