In this article we want to explain how to clean your wood-effect porcelain tiles, one of today's most popular flooring materials, which over the last ten years has seen an increasingly more refined evolution in the reproduction of the natural grain of wood.
It is in these very grain that dirt tends to stick and is often difficult to clean. To solve this problem, FILA has devised products to guarantee cleaning and protection against dirt for your floor in wood-effect porcelain tiles.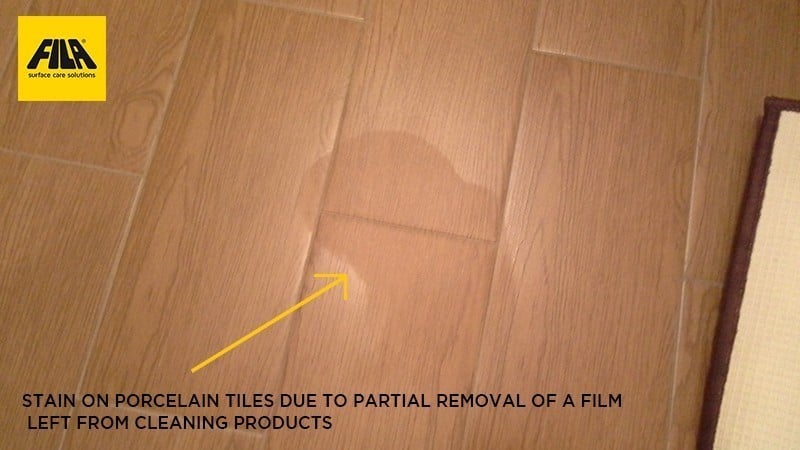 Initial cleaning of a new floor in wood-effect tiles
The first thing to do is make sure that the floor is really clean, with thorough removal of that at times almost invisible film that inevitably forms after laying of this kind of tile. It is therefore indispensable to use an acid detergent like DETERDEK PRO for the initial cleaning, the only product that eliminates all kinds of laying residues (glue, grouting, concrete,…) and guarantees correct initial cleaning.
How to use?
First of all, wet the floor with a little water, then pour a dilution of DETERDEK PRO and hot water (1 litre of product every 5 of water). Work on just a few metres at a time, wait 2-3 minutes and rub hard with a flat brush (or single-brush machine). Finally, mop up the residues with a cloth and complete by rinsing with plenty of water.
Does your porcelain tile floor show smears and footprints when seen against the light? Here's how to clean it
How to clean a floor in wood-effect porcelain tiles: ordinary maintenance
For daily cleaning of the floor, it is important to use a neutral detergent that does not leave any residue on the surface. For this reason, we recommend using CLEANER PRO, a delicate yet effective product, ideal for ordinary maintenance of floors in wood-effect porcelain tiles. Normal detergents, on the other hand, often contain shine additives that deposit on the floor and over time form unsightly streaks and marks or, even worse, make the surface slightly sticky, therefore attracting dirt even more easily.
Dilute 25 ml (three capfuls) of CLEANER PRO in 5 litres of water and clean the floor. CLEANER PRO leaves no residues, does not require rinsing and can be used on any kind of surface.
Find out how to clean any kind of floor with CLEANER PRO.
How to protect wood-effect porcelain tiles against dirt
After cleaning your wood-effect tiles, we recommend protecting them with STOP DIRT, a truly effective product that creates a barrier against dirt and therefore making everyday maintenance easier.
STOP DIRT creates no surface film, it chemically binds to the material without altering its original appearance, it prevents dirt from becoming stuck in the fake grains of wood-effect porcelain tiles, it helps to stop water pooling and makes cleaning of the surface itself easier.
Read how to apply STOP DIRT to your floor in wood-effect porcelain tiles.