Two Fila floor protection systems have been chosen to protect floor surfaces at Gloucester Services – a new family-run motorway services dedicated to local food, farming and its community. Located near the Cotswolds, on the northbound M5, the £40-million development is a joint venture between a local charity – Gloucester Gateway Trust – and Westmorland Limited. It was delivered by AFL Architects and includes local stone and timber lighting designs and an arched wildflower seeded roof. All flooring works, including the application of FILAFOB and eco-award winning FILACLEANER – were carried out by Polished Concrete Designs, for Buckingham Group Contracting Ltd.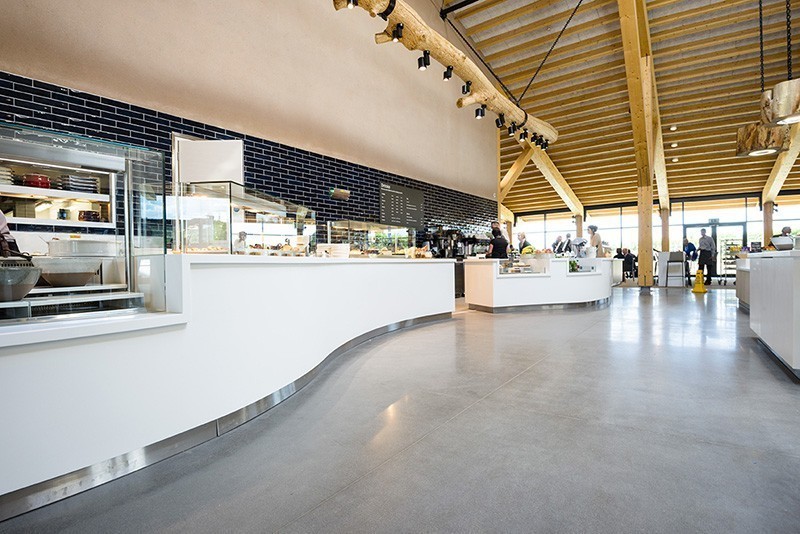 Gloucester Services is a new model of business and charity working side-by-side. Its abundant sustainable features include electrical vehicle charging stations and capacity to switch to bio-fuel pumps. Locally produced 'farm-shop' food is stocked in place of fast food, and income generated will help support nearby target communities and charity partners in Gloucester and Stonehouse.
Within the main building and petrol station, stain-proofing FILAFOB has been used to protect Mapei's decorative cementitious flooring, Mapei Ultratop Anthracite. The non film-forming treatment seals without altering surface appearance and is suitable for concrete, terracotta, unpolished marble and natural stone. FILACLEANER – part of Fila's award winning Green Line – was chosen to maintain the expansive floor; the pH-neutral detergent provides a raft of eco-features, from bio-degradable composition to concentrated/non-rinse formulation.
For more information on Fila's surface care range, please contact Lisa Breakspear at Fila UK on tel. 01584 877286, email [email protected] or visit filasolutions.com