Thanks to the free FILA SOLUTIONS APP, downloadable from Google Play or Apple Store, just a couple of screen touches are all it takes to find the best product to care for your surfaces, how and how much to apply and your nearest sales point. Useful and easy to use, the FILA APP has been proclaimed "Product of the Year 2014" in Germany and is a finalist in the TTA Awards in the UK.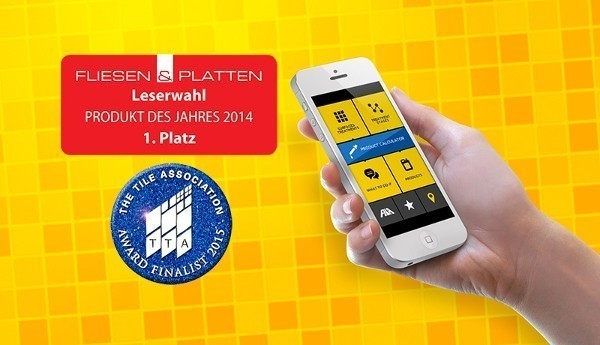 FILA SOLUTIONS APP: ALWAYS AVAILABLE, EVEN OFF-LINE
Want to know which is the right product for protecting your top in marble? Not know how to clean your porcelain tiles? Nothing could be simpler with the free FILA SOLUTIONS app!
We are not talking about a simple product catalogue; this is a real treatment guide, which will help you make the correct choice depending on your requirements, offering the option of saving the path identified for consultation at a later date.
One of the most important characteristics of the FILA SOLUTIONS app is that its main functions work perfectly without an internet connection. You will therefore find an answer to your needs, whenever and wherever.
THE FILA SOLUTIONS APP: PRODUCT OF THE YEAR AND MARKETING EXCELLENCE
Its usefulness and ease of use are what convinced the jury of the German technical magazine Fliesen & Platten to proclaim it "Product of the Year 2014". The award ceremony took place on 26 February in Cologne.
Read the article about the announcement at the Fliesen und Platten Forum 2015 here
But the recognitions do not stop here, the free FILA SOLUTIONS app is a finalist in the TTA Awards 2015 in the category "Excellence in Marketing". The winners will receive their awards on 18 April during the gala evening at St John's Hotel and Conference Centre in Solihull, south of Birmingham.
Last year, Fila won the TTA Awards 2014 in the category "Best Environmental Initiative" with the Fila Green Action project.
Read about the awards ceremony evening in London here