We've all experienced the problems caused by efflorescence. It can have a massive effect on the overall aesthetics of a surface. Efflorescence can range from a powder-like dusting to thick snow-like coating. It's made up of soluble salts and moisture which migrate to the surface, evaporate and leave a salt deposit behind. In the summer, build-up tends to be less, as moisture evaporates more quickly, but it can be especially noticeable over the winter months. As well as affecting porous materials, efflorescence can also migrate through the grout joint – so it's a problem that can affect both natural stone and ceramic installations.
How you treat the problem very much depends on the surface.
How to remove efflorescence on ceramic/porcelain tiles, terracotta and acid-resistant natural stone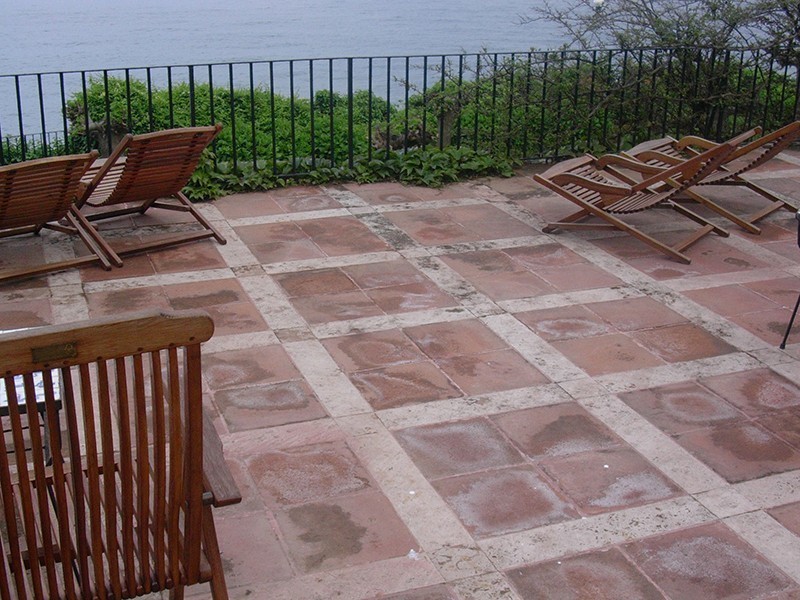 If you're treating a ceramic or porcelain tile or a terracotta floor, you can use an acid detergent like DETERDEK. This will react with the salt and break it down. These formulas can also be used on acid-resistant natural stone – but they won't be suitable for polished limestone, marble and any surface that is sensitive to acid. But the problem with this type of treatment is that salts may still be present. They will need to travel through to the surface, so a single treatment will not necessarily cure the problem. If the surface is subsequently treated with a film-forming protector, rather than an impregnator, the tile won't be able to breathe. Salts and moisture will then become trapped under the film, creating a cloudy white layer.
How to prevent efflorescence before they appear
A far more effective solution is to treat the underside of the tiles before they are installed, thereby creating a barrier. FILAPW10 is applied in this way, so it prevents efflorescence from travelling to the surface. The formula can be used on natural stone, granite, marble, agglomerates, terracotta and other absorbent materials. As well as halting salt in its tracks, it also stops tannins, metals and oxides from rising through the substrate to the tile surface, whilst allowing the material to breathe.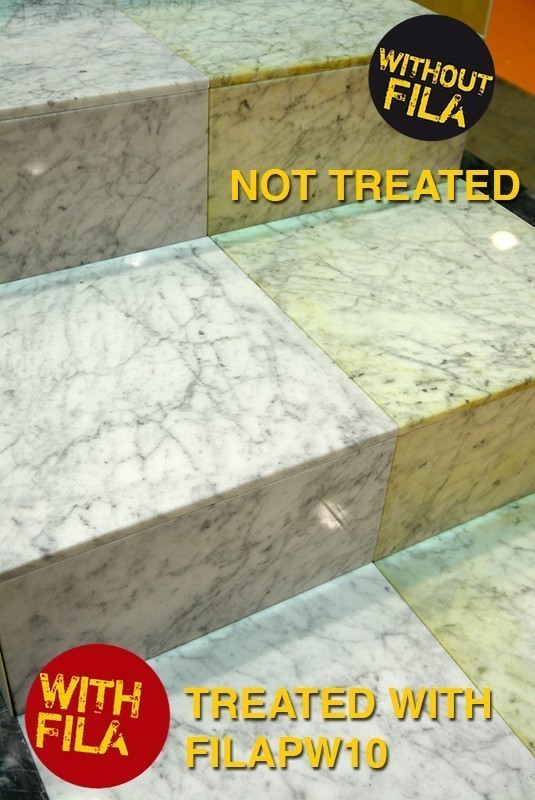 How to apply FILAPW10
Before applying FILAPW10, thoroughly clean the back of the tile or slab to remove any dust and residues.
Apply a continous, even layer of the treatment to the back and sides of the surface, using a large flat paintbrush or airless pump, avoiding pooling.
Leave the tiles/slabs to dry for approx. 24 hours before fixing.
Or see here the visual demonstration: