The initial clean is one of the most important stages of a stone floor installation, yet it's often not carried out properly, which can store up lots of problems!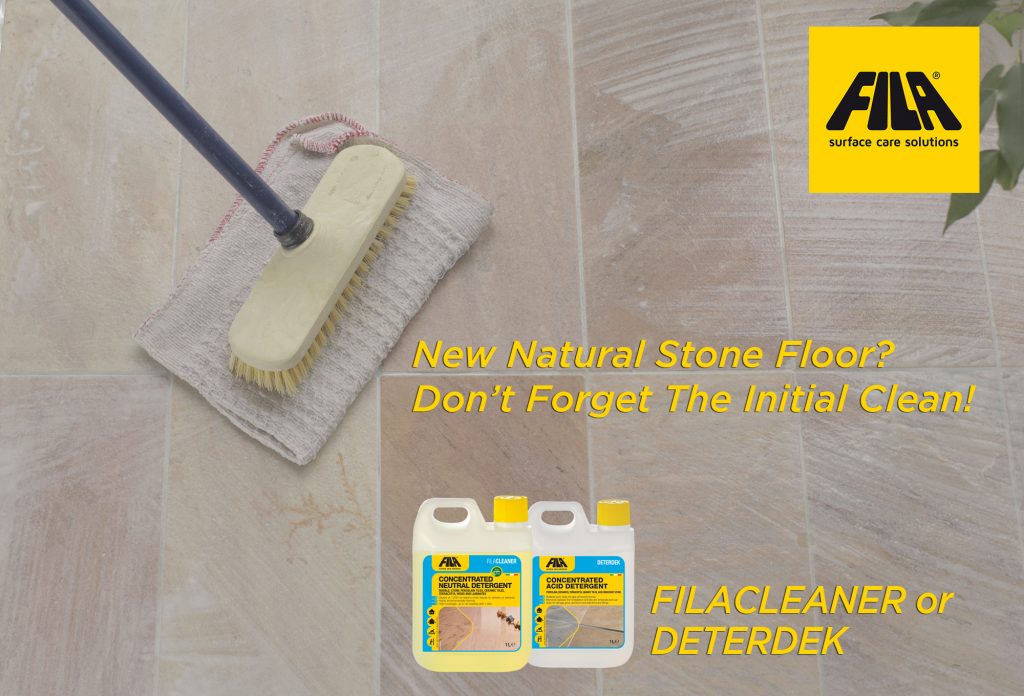 An initial clean should take places after stone have been laid – when the grout is set and before the surface is sealed. It's important to use a good quality cleaner because it will remove any residues, like grout and general dust and dirt. If you use water only, you'll be left with a grout haze, which is like a white film. If you seal the tile without cleaning it properly, you'll sandwich the dirt between the tile and the sealant – so the sealant won't be absorbed properly and won't be able to do its job.
On acid sensitive stone floors, we recommend FILACLEANER. It's pH neutral, so you can use it on all polished natural surfaces and agglomerates.
Add FILACLEANER to clean, luke warm water – diluted 1:30. Wipe the floor after the initial mop to remove any residue and then rinse with clean water.
On acid-resistant stone floors, we recommend DETERDEK diluted 1:5. It's an acid detergent, so always check the reaction of the product on a small section of material before proceeding.
If you need more advice, just contact our UK Help Line on tel. tel. 01584 877286 or visit www.filasolutions.com