Efflorescence or 'lime bloom' can be a real problem during the autumn. The white substance forms a powder-like coating and, because the weather is damper, it evaporates more slowly than in the summer. Efflorescence is made up of soluble salts and moisture which migrate to the surface, evaporate and leave a salt deposit behind. As well as affecting porous masonry, efflorescence can also migrate through a grout joint, so it's a problem that can affect both natural stone and ceramic installations.
How you treat the problem depends on the surface.
On existing quarry tiles, terracotta, acid-resistant stone, brick, porcelain and glazed ceramic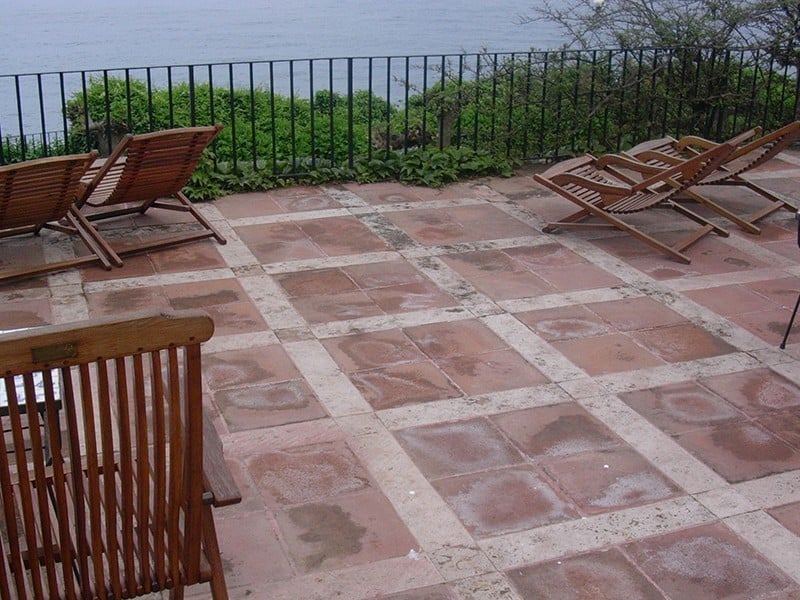 The surface should be cleaned with a buffered acid detergent like FILA Deterdek. Make sure that you choose a buffered acid, rather than a corrosive hydrochloric solution, to avoid damaging your tile and the grout joint. Buffered acids are also a lot safer, as they don't emit fumes.
To treat the surface with Deterdek:
Dilute the solution at a ratio of 1:5
Apply, allow five minutes contact time, then work in with a single disc cleaner or a brush.
Remove any residue with a cloth or liquid vacuum.
Rinse the surface with clean water.
Bear in mind that if salts are still present within the tile, they will need to travel through to the surface, so additional treatment may be necessary. If you're working with an acid-sensitive material, you'll need to use a pH-neutral cleaning solution instead and a series of treatments may be necessary.
A more effective solution is to treat the underside of the tiles before they are installed, to create a barrier.
FILAPW10 works in this way and prevents efflorescence from travelling to the surface. It can be used on natural stone, granite, marble, agglomerates, terracotta and other absorbent materials. As well as halting salt in its tracks, it also stops tannins, metals and oxides from rising through the substrate to the tile surface, whilst allowing the material to breathe.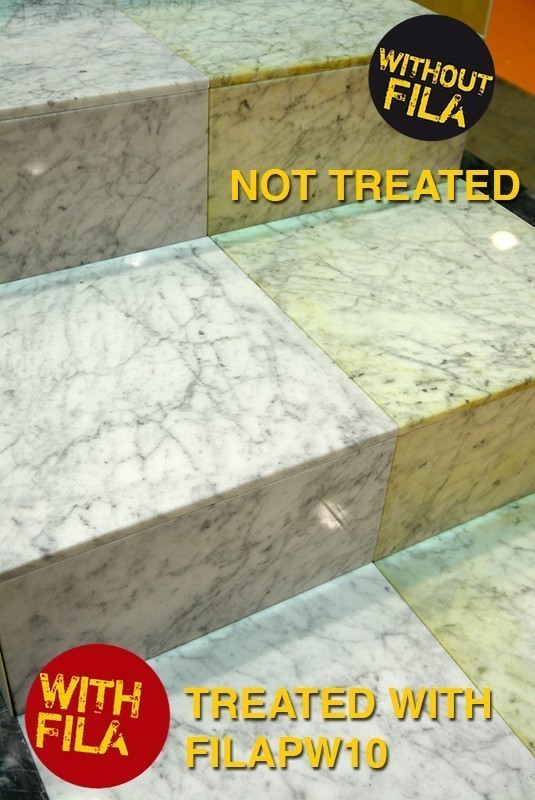 To treat new tiles with FILAPW10:
Thoroughly clean the back of the tile or slab to remove any dust and residues.
Apply a continuous, even layer of the solution to the back and sides of the surface, using a large flat paintbrush or airless pump, avoiding pooling.
Leave the tiles/slabs to dry for approx. 24 hours before fixing.