Efflorescence can be a tricky problem to treat – and the unsightly white marks it leaves can ruin the appearance of a natural surface. The tell-tale streaks and stains are caused by soluble salts and other water dispersible materials, which rise to the top of absorbent surfaces, like stone and terracotta. So, the answer is to treat the problem before it arises (or rises!)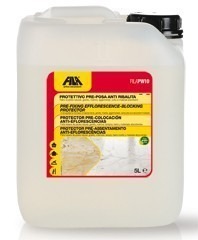 FILAPW10 offers a safe and permanent solution. It's a low VOC, solvent-free product that's designed for professional treatment and it's applied to the back of tiles before installation:
Tiles or slabs should be thoroughly cleaned before application. Then, using a paintbrush or airless pump, the treatment should be evenly applied to the back and sides of the dry material.; one litre of FILAPW10 gives 10/15m2 coverage. Tiles should then be left to dry for approx. 24 hours before fixing.
FILAPW10 permanently stops efflorescence salts, tannin and oxides from rising to the tile surface – but it still allows the natural material to breathe. It can be used on inside and outside surfaces, including: natural stone, granite, marble, agglomerates, terracotta and other absorbent materials.
NB. Tensile adhesion testing, carried out by The Ceramics Centre in Bologna – in compliance with UNI EN 1348-2009 – confirm the product's suitability for application to the back of tiles, without compromising the adhesion properties of adhesive and grout.
For more information on Fila surface care solutions, please contact Lisa Breakspear at Fila UK on tel. 01584 877286, email [email protected] or visit www.filasolutions.com.