A deep clean can transform a tile surface – but it can also restore slip-resistant properties too!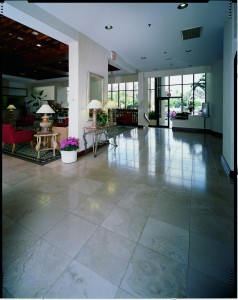 The tricky part is finding a product that gets results, without compromising the surface.
FILAPS87 is the 'three-in-one' solution. It can be used either diluted or neat to tackle a range of issues – and can safely be used on terracotta, quarry tiles, porcelain, glazed ceramics, concrete, linoleum, rubber and PVC, unpolished marble and agglomerates.
Undiluted, it will remove stubborn stains from a range of surfaces, including porcelain, whilst diluted FILAPS87 deep cleans and removes grease and wax.
For best results, leave it to act for a few minutes, then scrub the surface with a brush or single disc cleaner. Extracted dirt can then be vacuumed or wiped away, before the surface is rinsed.
For more information and samples, please contact Fila UK on tel. 01584 877286 or visit www.filasolutions.com
Article written by Angela Fitzhugh