Marble is one of the most commonly used kinds of natural stone in our homes: floors, wall coverings, tops in bathrooms and kitchens… this material is so beautiful and elegant that it can be used anywhere. The problem arises however, when it is laid in rooms where it risks being stained, like the kitchen because marble is very delicate and dirties easily. It is therefore indispensable to protect it with a good stain protector such as FILAMP90 ECO PLUS.
FILAMP90 ECO PLUS is the latest FILA protector in the Green Line, recently presented at the international fairs Cersaie and Marmomacc and will soon be on sale in FILA sales points.
FILAMP90 ECO PLUS is a natural effect stain protector, ideal for natural stone, like marble and granite, with shiny, glossy, brushed, matt fine polished finishes and polished porcelain tiles.
Look at the effect of the product on marble with brushed finish.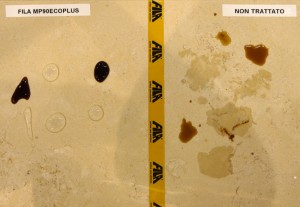 On the left the surface treated with FILAMP90 ECO PLUS: the drops of water and coffee stay on the surface without penetrating the material, which is instead what happens on the right where the surface has not been treated.
Now let's try and wipe the drops off with a cloth: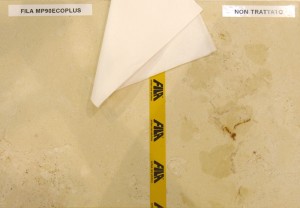 The drops wipe away easily, leaving no trace, from the part on the left treated with FILAMP90 ECO PLUS. Whereas, the water and coffee have penetrated the surface on the untreated part on the right, leaving it dirty and marked.
Incredibly effective, isn't it?
Remember that FILAMP90 ECO PLUS is also an eco-friendly treatment because it is free from hydrocarbon solvents. And as this is a water-based product, it stands up to residual humidity and can therefore even be applied just 24-48 hours after initial washing, making for quick treatment with time savings of up to 80%!
FILAMP90 ECO PLUS is a definite must-have for your home! Click here for more info and to download the technical details for this product