More than ten years later, FILA decided to repeat its gift to the municipality of Padua with treatment of the 2200 m² cocciopesto crushed tile floor in Palazzo della Ragione.
Built in 1218, the Palazzo in olden times housed the city courts and it has the largest suspended hall in the world, measuring 81 metres by 27 metres, its 27-metre high ceiling shaped like an upturned ship's hull.
Thanks to collaboration by our Master Treatment Specialist Roberto Rossetto and his team, 15 days was all it took to wash the floor with FilaPS87 degreasing detergent, treat it with FilaPRO130 protective oil, FilaNaturwax and FilaSatin waxes.
After FILA intervened in 2014, the floor in the Palazzo had always been maintained with surface washing and waxing and was ready for thorough restoration. The surface had blackened and was covered with marks left by adhesive tape (following the many exhibitions and other events held in the hall) and different-sized pieces required reattaching and plastering.
The team of treatment specialists from Euganea Trattamenti, headed by our Master Treatment Specialist Roberto Rossetto, first cleaned all the floor with FILAPS87 to remove grease and wax from the surface.
The most badly damaged areas were then replastered. Protective treatment was applied to the clean dry floor with a coat of FILAPRO130 protective base oil to nourish the material and as a base for the paste wax.
Work continued with application of FILANATURWAX paste wax to give the floor even more nourishment and deeper consistency. Finally FILASATIN satin-effect liquid wax was applied, a buffable wax that makes the surface even more resistant to traffic.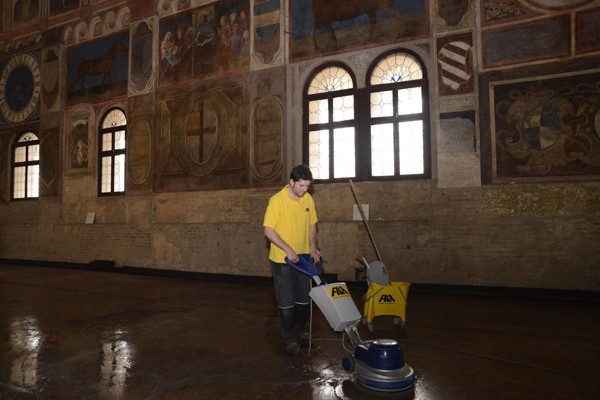 "We are proud to have brought new life to Palazzo della Ragione, the pride and joy of this city, famous worldwide", commented the President of Fila, Beniamino Pettenon at the symbolic handover of the keys to the City Councillor. "For a company like ours, international but with our roots firmly in Padua, this treatment is an example of excellence. Our systems have been used in a huge number of prestigious projects around the world, but having worked on one of Padua's symbols has allowed us to fully express our technical and organisational skills. While the work was in progress, in fact, Palazzo della Ragione was open as usual to visitors".
"I thank this company for its decision to become a partner of Padua Municipality Council, with their gift of maintenance of the Venetian Terrazzo floor in Palazzo della Ragione" said the councillor for monumental buildings. "It demonstrates how private enterprise can work with the Council in restoring public assets, confirming its presence here and making its contribution to enhancement of the artistic and cultural heritage of Padua".
Again in Padua, last year FILA was chosen for the initial restoration and protection work on the famous statues in the Prato della Valle. Based on preliminary trials in the IENI-CNR (Institute for Energetics and Interphases, formerly ICIS –Ed.) laboratories and performance tests carried out on the statues themselves, HYDROREP was picked as the perfect water-repellent product to protect these sculptures. Restoration work has so far been carried out on a couple of the monuments and will continue over coming months.