Lately, terrazzo has been making waves in the interiors world for many understandable reasons. A leading material for modern building projects, this all-purpose stone can be engineered to create flooring, wall panels and even staircases. Terrazzo consists of marble chips and/or other decorative stones, resulting in the material's distinctive speckled appearance. Unsurprisingly, its popularity has surged among architects and interior designers alike to aid in function and form. Here are some major benefits of using terrazzo agglomerate tiles.
Why use terrazzo in your next project?
Sustainability (especially with the right stone protector)
With construction leaning towards selecting greener materials, terrazzo is one of the many sustainable products available today. Many of terrazzo's components support our planet-friendly motives, and it is often regarded as the first "green" surface since the 15th Century. Terrazzo also features a blend of recycled materials and locally sourced stone (usually marble chips set into pigmented cement). With many contractors steering towards water-based sealers, this is another factor that can help the surface meet sustainable design standards. MP90 ECO XTREME is FILA's best stain protector for this, providing environmentally-friendly protection for terrazzo agglomerate tiles.
Design capabilities
Whether you're looking to create showstopping shower stalls or flooring, terrazzo opens the door for architectural exploration. With this stone, the sky is the limit; no matter the scope – any project can make a visually stunning impact. If you're considering a special touch to the floors with an elaborate logo design, terrazzo can bring any concept to life without the need for grout joints. This is vitally important to keep the floor surface seamless considering the amount of footfall public spaces see. Complex patterns are also possible too in any colour. The installer will simply combine a selection of aggregates to create the desired effect. It's safe to say that terrazzo will create a long-lasting impression no matter how complicated the brief whilst providing a durable surface that lasts.
Resistant surface
Did you know it's quite rare to damage terrazzo flooring? Quite impressively, this material can resist water and fire damage. Terrazzo floors can also be slip-resistant as well; however, it is always best to consult with a health and safety advisor first.
Grit and longevity
One of the lowest life-cycle-cost materials available today, terrazzo agglomerate tiles eliminate the need to replace the floor finish. In fact, did you know they can last longer than the building itself? That's pretty cool, right? And it means terrazzo is perfect for those surfaces exposed to significant wear. Hundreds, if not thousands, of people use public spaces daily, but this isn't an issue for terrazzo tiles. With its high compressive strength, terrazzo can withstand heavy pressure, even if it's caused by bulky machinery. Dating back thousands of years, terrazzo agglomerate tiles have an outstanding record for their performance. Whatsmore, in older buildings, they can even be restored to their original lustre without needing replacement – especially with the FILA system!
Low maintenance
A great feature of resin-based terrazzo is its non-porous system, which results in fewer bacteria accumulating between the grout lines. This type of terrazzo has extremely low maintenance costs and is fairly easy to clean with a ph-neutral cleaner like CLEANER PRO for floors or a protective spray like MARBLE REFRESH for vanity tops. On the other hand, cement-based terrazzo has a higher porosity and requires a stone protector like MP90 ECO XTREME for water-and-oil-repellent protection. Likewise, this water-based sealer reduces absorption without affecting the material's natural look meaning better colour consistency and performance too. With that, let's look at how to keep this surface looking tip-top…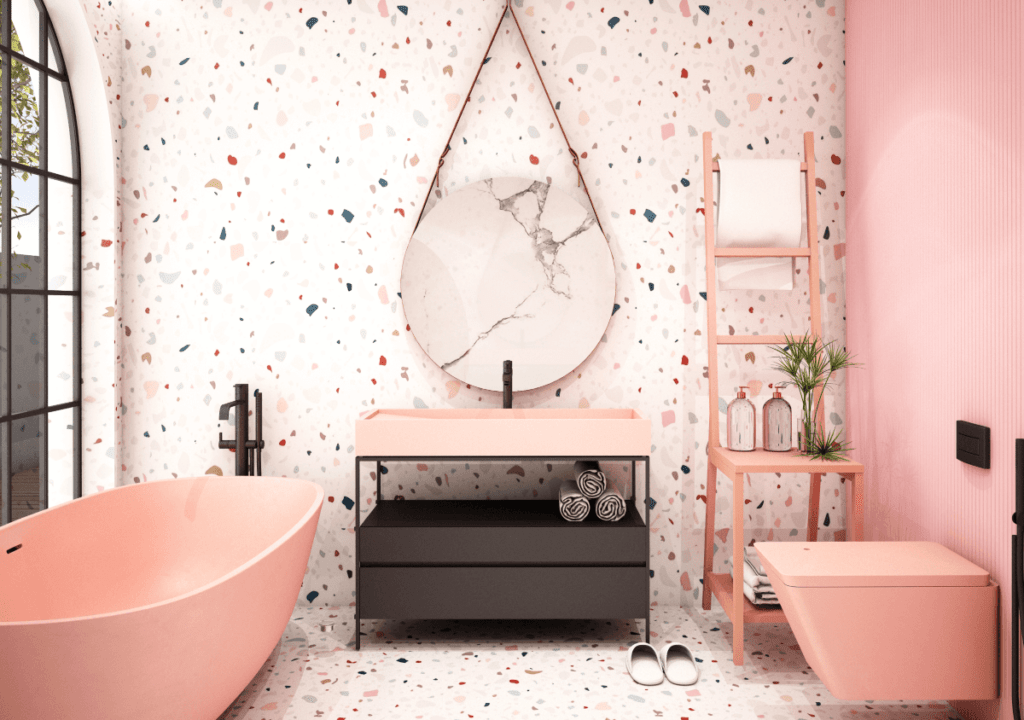 How to care for terrazzo agglomerate tiles in 5 easy steps:
1. Apply a pre-grouting protector
When installing cement unpolished terrazzo agglomerate tiles, we suggest using a pre-grouting protector like PRW200. This will protect the material during grouting and make post-installation cleaning easy. It can also be used for absorbent materials such as terracotta.
2. Perform the initial clean with a concentrated detergent
Next, the initial clean should be performed once the grout has dried out. For this, a ph-neutral cleaner like CLEANER PRO will work wonders. Not only will it remove traces of grout, but it's also kind to the stone. In fact, CLEANER PRO is FILA's best surface cleaner for those with a polished finish that are sensitive to strong detergents.
3. Make ordinary maintenance easy with the right sealer
FILA's best stain protector for this kind of stone has to be MP90 ECO XTREME – a stain-proofing liquid that will make ordinary maintenance effortless. This sealer also has extremely low VOC emissions and is certified by GEV and marked EC1 Plus.
4. Apply wax as an optional treatment
Once the sealer has dried, you can follow up with a wax if the terrazzo is indoors. This is an optional treatment, and totally your call depending on the type of finish you're looking for. Choose from FILA's MATT, SATIN, or LONGLIFE. PS87 PRO can be used to dewax the surface in between treatments.
5. Routine maintenance of terrazzo tops and floors
Regarding upkeep, terrazzo should be easy to clean if the FILA system has been followed correctly. CLEANER PRO is FILA's best surface cleaner for floors and can be used at the dilution of 1:200, depending on how dirty they are. CLEAN&SHINE will also keep terrazzo countertops fresh when used daily; all you need is a clean, dry cloth. Then once every 2-4 weeks, MARBLE REFRESH can be used; this protective spray renews and maintains stain-proofing protection over time.
Using the FILA System for your project
If utilizing terrazzo agglomerate tiles is on the cards for your build, we would love to get involved with your project. Completely VOC-free and water-based too, our GREEN Line is perfect for use on this sustainable stone. In addition, using plant-based products will be beneficial to the lifecycle of the building and can even contribute to greater LEED points. Why not Get In Touch with any questions you have? We're always happy to help and were recently recognised by Forbes magazine among the 100 TOP Italian companies distinguished in the environmental sustainability sector.