We often receive questions about cleaning porcelain tile floors. Tiles are used more and more frequently in our homes, as they are considered very resistant and easy to care for. However, tile floors may stain even after very frequent washing. In this article, we have put together the most frequent questions and answers about cleaning porcelain tile.
PROBLEMS WHEN CLEANING PORCELAIN TILE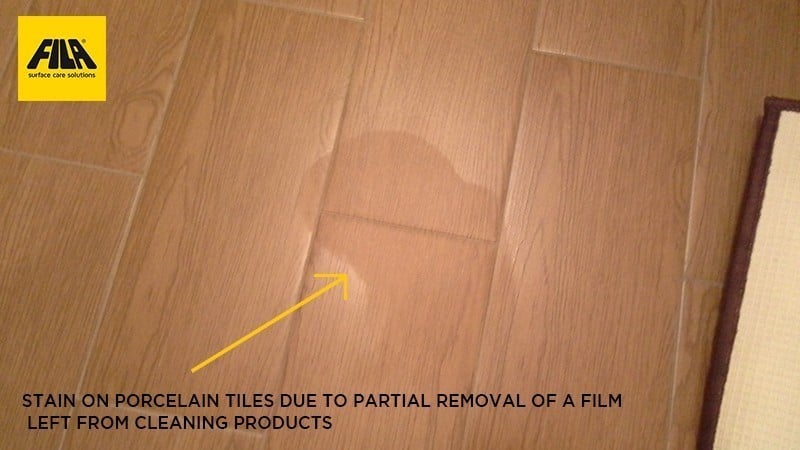 TIZIANA WRITES: Hi, I have a floor in wood-effect porcelain tile installed two years ago. When the light reflects on the floor, there are visible stains… could you advise what product I should use?
FRANCESCO WRITES: Good evening, after my floor in wood-effect porcelain tile was installed, I followed the manufacturer's instructions for initial cleaning, but I now there are streaks on the floor and as soon as we walk on it you can see all the footprints. Each time I wash it the problem seems to disappear, but after just a few hours, when the floor is perfectly dry, the streaks are again visible.
SIMONA WRITES: Hi, I have a floor in wood-effect porcelain tile. My problem is that when I wash the floor, footprints appear. Once it's dry they disappear but you can see them against the light and the marks will not go away. I have used lots of different products but can't seem to solve this problem. Now I only wash the floor with water. After the floor was installed, the installer washed it with hydrochloric acid diluted 50% in water. Was the initial cleaning correct, or is this the cause of my problem?
MARIA PIA WRITES: Good morning. I have a floor in fabric-effect porcelain tile that we basically can't walk on!!! If my children walk on it barefoot, it shows their footprints right away! Is there a cleaner that also provides some protection for the floor?
SOLUTION: WASH WITH DETERDEK PRO OR PS87 PRO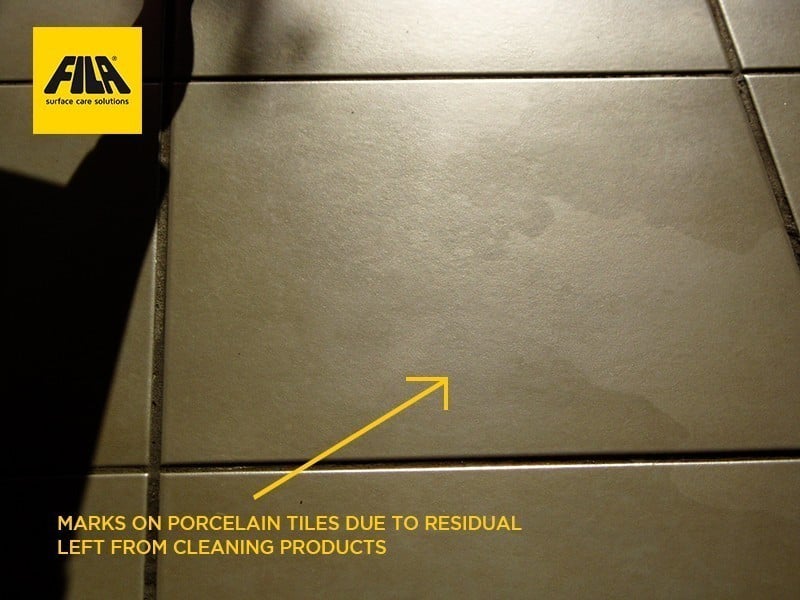 Stains and marks seen against the light on a porcelain tile floor are usually caused by residue that accumulates on the surface, which may have one of two origins:
• Installation residue that has never been correctly removed, forming a patina on the surface that is invisible to the naked eye, but which collects dirt. To remove installation residue, wash the floor with DETERDEK PRO Grout Haze Remover. If the floor is new and has had this problem since installation, construction residue is probably the root of the problem. Find out more about DETERDEK PRO.
• Residue due to "polishing" effect maintenance products that leave waxy residue on the floor which, over time, layers on the surface. In this case, you should use PS87 PRO Heavy Duty Cleaner. This situation is most likely to occur on a floor that is not new, where marks on the surface have become more evident over time. Find out more about PS87 PRO.
HOW TO KEEP PORCELAIN TILE CLEAN
Once you have removed the stains from the tile, it is important to use the right product for everyday maintenance to prevent the problem from reoccurring. Use CLEANALL Neutral All Surface Cleaner to gently clean porcelain tile floors. The product does not require rinsing and does not leave a residue, preventing future stains. Find out more about CLEANALL.
Click here for a short video on how to clean tile surfaces with CLEANALL.