In this article we want to explain how to clean your wood-effect porcelain tile, one of today's most popular flooring materials, which over the last ten years has seen an increasingly more refined evolution in the reproduction of the natural grain of wood.
However, it is in the grain that dirt tends to collect, becoming difficult to clean. To solve this problem, FILA has created products to guarantee proper cleaning and protection against dirt for your floor in wood-effect porcelain tile.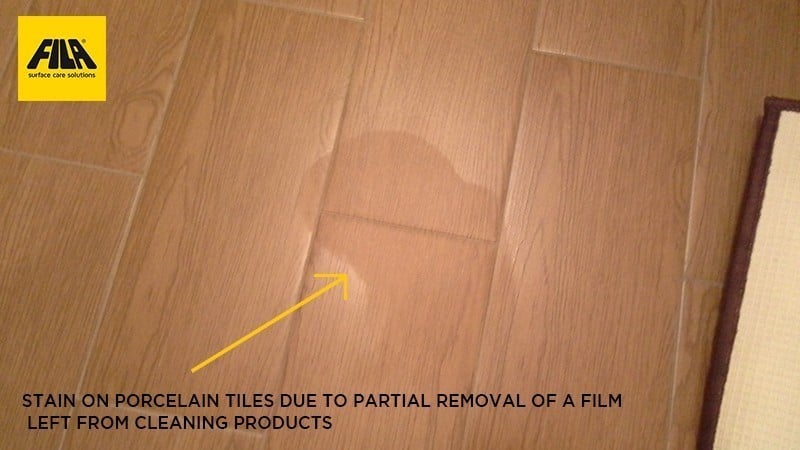 Initial cleaning of a new floor in wood-effect tile
The first thing to do is make sure that the floor is really clean, making sure to remove that almost invisible film that inevitably forms after the installation of this kind of tile. It is therefore indispensable to use an acid cleaner like DETERDEK for the initial cleaning, the only product that eliminates all kinds of inorganic installation residue such as dust, sheet rock, etc. and guarantees correct complete post-installation cleaning.
How to use it.
Wet the surface and grout joints with water, then use DETERDEK diluted 1:5 (1 QT of product in 5 QT of water). Apply the solution to sections of a few square feet at a time. Let sit a few minutes, then rub vigorously with an abrasive pad or large brush. Remove the residue with a cloth or wet vac and rinse with plenty of water. Should any stubborn dirt remain, repeat the application with a more concentrated solution.
Does your porcelain tile floor show smears and foorprints when seen against the light? Here's how to clean it.
How to clean a floor in wood-effect porcelain tiles: everyday maintenance
For daily cleaning of the floor, it is important to use a neutral cleaner that does not leave any residue on the surface. For this reason, we recommend using CLEANALL, a delicate yet effective product ideal for regular maintenance of floors in wood-effect porcelain tile. Normal cleaners, on the other hand, often contain shine additives that deposit on the floor and over time form unsightly streaks and marks or, even worse, make the surface slightly sticky, therefore easily attracting dirt.
How to use it
Dilute 1:200 (one capful of CLEANALL per gallon of water) for a no-rinse application. Can be used directly in the water tank of a floor cleaning machine when diluted 1:200. CLEANALL leaves no residue, does not require rinsing and can be used on any kind of surface.