Very often, we receive questions about cleaning porcelain tile floors. This material, used more and more frequently in our homes as it is considered to be very resistant and easy to care for, actually often shows problematical stains and marks against the light that will not go, even after very frequent washing.
In this article, we have put together the most frequent questions and relative answers about cleaning porcelain tiles.
PROBLEMS WHEN CLEANING WOOD-EFFECT PORCELAIN TILES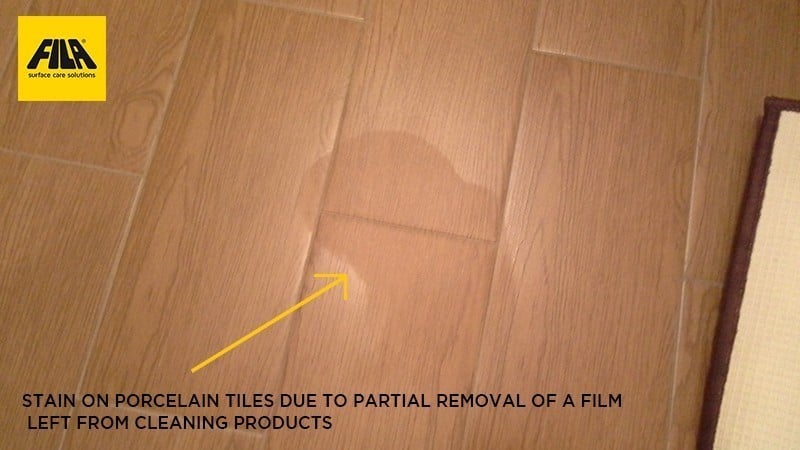 TIZIANA WRITES: Hi, I have a floor in wood-effect porcelain tiles, laid 2 years ago. This floor currently looks very rough against the light, with marks that look like dirt… could you advise what product I should use? Thanks in advance
FRANCESCO WRITES: Good evening, after my floor in wood-effect porcelain tiles was laid I followed the manufacturer's instructions for initial cleaning, but not long after I now always have the same problem with annoying stains against the light and as soon as we walk on it you can see all the footprints. Each time I wash it the problem seems to disappear, but after just a few hours, when the floor is perfectly dry, it returns.
SIMONA WRITES: Hi, I have a floor in wood-effect porcelain tiles. My problem is that when I go to wash the floor, footprints appear. Once it's dry they disappear but you can see them against the light and the marks stay. I have used lots of different products but can't seem to solve this problem. Now I only wash the floor with water. After the floor was laid, the installer washed it with hydrochloric acid diluted 50% in water. Did he do the right thing or was this the cause of my problem?
MARIA PIA WRITES: Good morning. I have a floor in fabric-effect porcelain tiles that we basically can't walk on!!! If my children walk on it barefoot, that's it…. is there a detergent that gives a minimum protection?
Thanks a lot
SOLUTION: WASH WITH DETERDEK DETERGENT OR FILAPS87 DEGREASER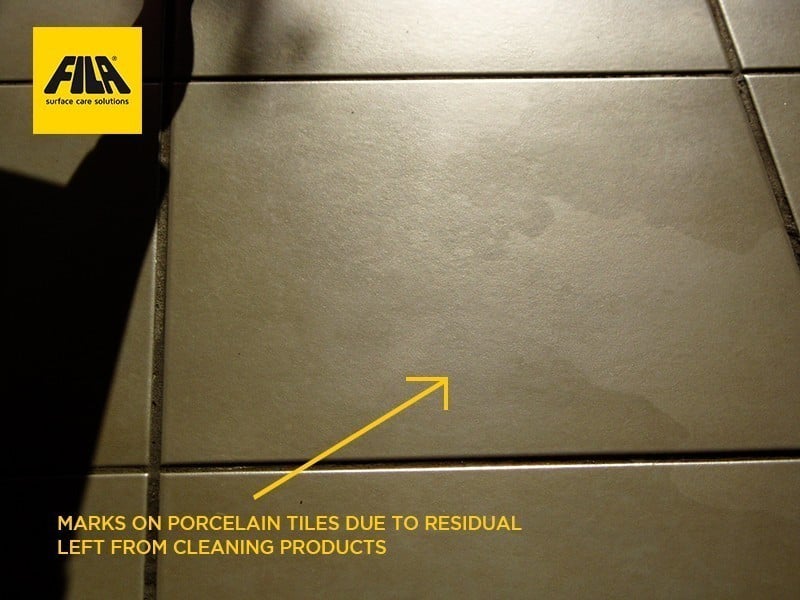 Stains and marks seen against the light on a porcelain tile floor are usually caused by residues that accumulate on the surface, which may have one of 2 origins:
• Laying residues that have never been correctly removed and which form an invisible patina on the surface that is invisible to the naked eye, but which holds onto dirt. In this case, you need to wash thoroughly with specific DETERDEK PRO detergent. This is most likely the cause if the floor is new and has had this problem of marks since it was laid.
• Or residues due to "polishing" effect maintenance products that leave waxy substances on the floor, which, over time, create a sensitive layer. In this case, you should use PS87 PRO degreaser. This situation is most likely to occur on a floor that is not new, laid years previously, where the problem of the marks has come about gradually, becoming slowly more evident.
How to keep porcelain tiles clean
Once you have removed the stains from the tiles, it is important to use the right product for ordinary maintenance, to prevent the problem recurring. For this, we recommend CLEANER PRO: a neutral detergent that leaves no residues on the surface, preventing the formation of marks. CLEANER PRO: can be used on any surface and a little goes a very long way! Just one 1-litre bottle is enough for up to 40 washes.