Looking to spring-clean your patio or blitz an indoor surface? Finding a product that's both effective and safe can be a tall order – but dual- action Fila Deterdek is the ideal solution.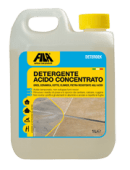 Fila Deterdek is a safe, fumeless 'all-in-one' descaling detergent that gives an exceptional deep clean without causing damage or altering the appearance in anyway.
It's ideal for removing ground-in dirt and grout residues, lime deposits, saline efflorescence – and even hard-to-shift rust stains! And, unlike many traditional descalers, it's free from muriatic acid, so it doesn't erode aluminium or steel – or present a hazard to you or the environment.
Fila Deterdek can be used on porcelain and ceramics, as well as terracotta, quarry tiles and acid-resistant natural stone – both indoors and outside. You can use a single-disc professional cleaner or apply wth a cloth or brush. Any residue can be removed after a few minutes and the surface should then be rinsed with clean water.
To find out more, contact Fila UK on tel. 01584 877286, email [email protected] or visit www.filasolutions.com
Article written by Angela Fitzhugh