Classic stone mosaics are now very popular in bathrooms. Intricate designs are regularly used to create features above sinks, and as borders around rooms. When they're installed onto floors, they're generally always sealed – but this isn't always the case with wall tiles.
Even though wall surfaces aren't subjected to foot traffic, they are under attack from lots of other things – from steam and splashed water, to soap and cosmetics. They do need to be sealed, using a product that will protect both the tile surface and grout line.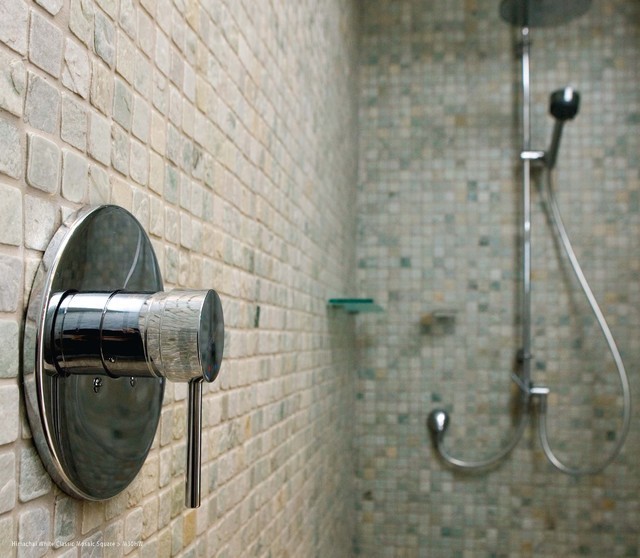 Some people recommend sealing a mosaic before and after fixing, but care should be taken. If a solvent-based product is used to seal the face of the tile, it may seep around to the back and soften the glue used on the mesh backing. Also, some solvents may not be suitable for polished stone surfaces; care should be taken with choosing a suitable product and a patch test is often recommended.
To ensure a successful seal, always make sure that the mosaics are thoroughly cleaned after installation, to remove any grout and fixing residues. Use a suitable pH-neutral detergent, like CLEANER PRO, which will ensure that all residues are removed. Let the cleaner act for a few minutes, before rinsing with clean water. For this type of clean, we recommend a dilution of 1:30.
To seal the mosaics, we recommend FILAMP90 ECO PLUS. It's a solvent-free protector and it can be safely used on all natural stone surfaces – as well as polished porcelain, marble and granite. It will also protect the grout joint from staining.
If your stone mosaics have a matt, honed finish:
Apply neat FILAMP90 ECO PLUS – on a clean, dry surface – 'to saturation' using a brush or fleece pad.
Work into the mosaics and grout joint.
Remove any excess that hasn't been absorbed with a clean cloth or kitchen towel.
For stone mosaics with a polished finish:
Apply neat FILAMP90 ECO PLUS – on a clean, dry surface – using a brush or fleece pad.
Leave for ten minutes.
Soak a clean cloth or kitchen towel in the protector and rub into any areas that you've missed. Also, use the cloth/towel to remove any unabsorbed excess.
Because FILAMP90 ECO PLUS is water-based, it withstands residual humidity, so you can apply it within 24-48 hours after the initial wash. The protector will be fully absorbed four hours after installation.
To find out more about sealing natural surfaces, contact FILA's UK Help Line on tel. 01584 877286 or visit www.filasolutions.com