We have already reiterated how important it is to clean after installation, to ensure that our floors are always clean and free from residues.
Porcelain tiles are the most frequently used materials for floors, because they are very practical to wash, but if not adequately cleaned, they can easily get dirty. The tiles in fact often have a fine layer of residual grouting or concrete, which can only be eliminated with specific products that do not harm the material.
DETERDEK is the ideal product for cleaning floors that were not thoroughly cleaned after installation or that have only recently been installed. Thanks to its acid-based formula, it effectively removes building site dirt without harming metal profiles.
Let's take a look at how to use it properly: first wet the floors, then dilute DETERDEK in water and apply this solution a few metres at a time, waiting 2-3 minutes and then rubbing hard with a flat brush. At this point, the floor can be rinsed with plenty of water.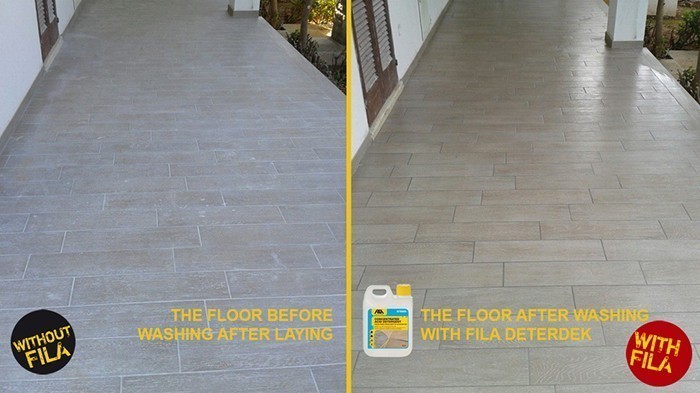 If your surface has tiles with epoxy grouting, use FILACR10, the cleaner for epoxy residues ideal for wall coverings and floors in porcelain and glazed ceramic tiles and glass mosaics. Its viscous formula makes it the ideal product for washing vertical surfaces and it also works on larger, old residues.
How to use
Shake before use, then brush one coat of product over the area in question. Allow the product to work for about 30 minutes, then rub the surface with a brush. At this point, rinse with a wet sponge and the job is done.