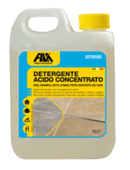 Natural stone paving is ideal for application outdoors.  Sometimes, atmospheric agents can lead to rust or sulphate stains. It's important to know how to remove these stains, without damaging the surface.
To clean natural stone paving, Fila has developed DETERDEK – a specialised descaling cleaning agent which is able to remove residual rust or sulphate stains from natural stone paving.  (Deterdek contains surfactants, so it can descale and clean.)
We do not recommend using Deterdek on polished marble or limestone surfaces.
Deterdek cleans without altering the stone's appearance and it does not generate fumes which are harmful to people or the environment.
To remove rust stains, wet the area to be treated with water. Next, pour a little DETERDEK onto a green scouring pad and gently rub the area.  Then, rinse the treated surface thoroughly.
To find out more about stain removal, get in touch with Fila's experts!