FILA's limestone floor cleaner is great for those floors that require a little special care. Although a hardwearing surface, limestone is highly porous, and regardless of its finish, is very sensitive to acid. For this reason, the correct cleaning methods and products should always be used, but how do you know if they're suitable? Whether you have limestone paving outside or luxurious natural stone floors, we've pulled together this guide to keep them looking their best.
Protect limestone during installation
When it comes to installing limestone floor tiles, PRW200 is a pre-sealer that will protect the surface from grout residues on the edge of the stone. This is known as the 'picture framing' effect and is often hard to remove, so this sealer will prevent the surface from being marked at all. It also speeds up the drying time after the initial wash and, therefore, the subsequent treatment stages. The surface can then be washed with FILA's CLEANER PRO to remove post-application deposits and make future maintenance really easy to do!

The image on the right demonstrates the effects of PRW200 when installing limestone.
Apply a regular stone sealer
As mentioned, limestone is an incredibly porous material, and as a result, a sealing treatment is essential for its protection. A stone sealer will safeguard the material from harmful elements like dirt and general wear as well as prevent the growth of moss or algae on external paving. Whether you have an outdoor patio space or limestone flooring, at FILA, we have a stone sealer for any scenario. W68 is suitable for indoors or out, providing a protective base coat, whereas WET ECO is great for reviving the original colour of untreated tumbled limestone.
Avoid acidic cleaning solutions
Limestone is a hardwearing stone and great for busy households, but that doesn't mean you shouldn't exercise care when it comes to maintenance. Never use acidic cleaning solutions or DIY blends, especially those that contain lemon and vinegar. Even 'eco' surface sprays often contain acidic ingredients, so always read the fine print to ensure the product is appropriate. The wrong type of cleaners can, at best, dull the surface, or at worst, even damage your stone as well as being detrimental to your sealer and grout.
Stick to our trusted limestone floor cleaner
Because less is more when it comes to this stone, a limestone floor cleaner is the best kind you can use. Thanks to its concentrated formula with a neutral pH, FILA's CLEANER PRO, is the ideal detergent for washing acid-sensitive surfaces. Whatsmore, it even doubles up limestone patio cleaner, so you can use CLEANER PRO indoors and outside too. Use this simple, yet effective product on a consistent basis and your limestone flooring will always be lovely and clean.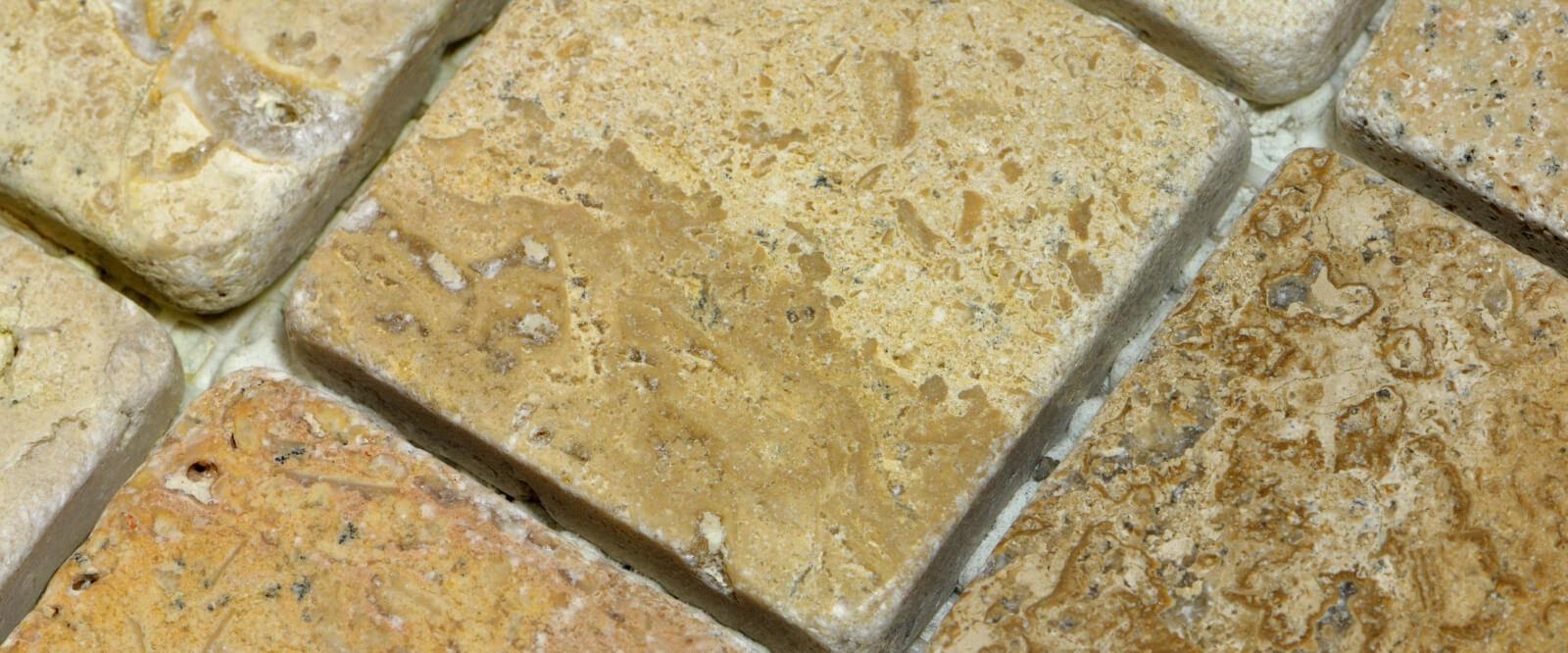 Tackle soil marks with our handy stain kit
If you spot a stain on limestone, you need a specialist treatment, and at FILA, we have the products to help. Our solutions are formulated to remove any type of common stains like rust, oil and grease and are suitable for delicate surfaces like limestone. For instance, our rust spot remover, NORUST, is a fast-acting limestone patio cleaner that specifically targets rust stains. Additionally, SR95 is a spot remover for stains like indelible markers and coffee, whereas FILA's NOSPOT easily gets to work on greasy marks.
Deal with mould and mildew with FILA's ALGACID
There's nothing worse than slimy, slippery paths from an algae buildup – nobody wants their limestone to be a victim of growths. A result of when dirt and moisture come together on a porous surface, it creates the perfect environment for mould and mildew to thrive. But how can you tackle this problem without turning to acid? Limestone must not be touched by these kinds of products. The answer? FILA's ALGACID, a limestone patio cleaner that will hamper this buildup on external natural stone paving.
Reduce dirt transmission with a hardworking doormat
Last but not least, if your doormat is old, it could be why you have to mop your limestone flooring more often. Doormats should usually be replaced every two years, or even more frequently in rural conditions, helping to collect dirt particles before they enter the home. If possible, you should aim for a doormat at every door, including the back, to ensure limestone floors are protected throughout. And don't forget to vac them each week, doormats need maintenance too, or the dirt will simply be walked back all over your floors!
For more tips and tricks from our stone experts, why not have a read through our blog? Thanks for reading.