Stone enhancement treatments are very popular and there are lots of different products available. Some intensify the colour, whilst others – like FILAPT10 – provide enhancement, protection and provide other benefits.
Product options include impregnating sealants, which either penetrate into a stone's porosity or form a surface film. Cosmetic finishing waxes can also be used to enhance internal surfaces and can be layered and easily removed, if necessary.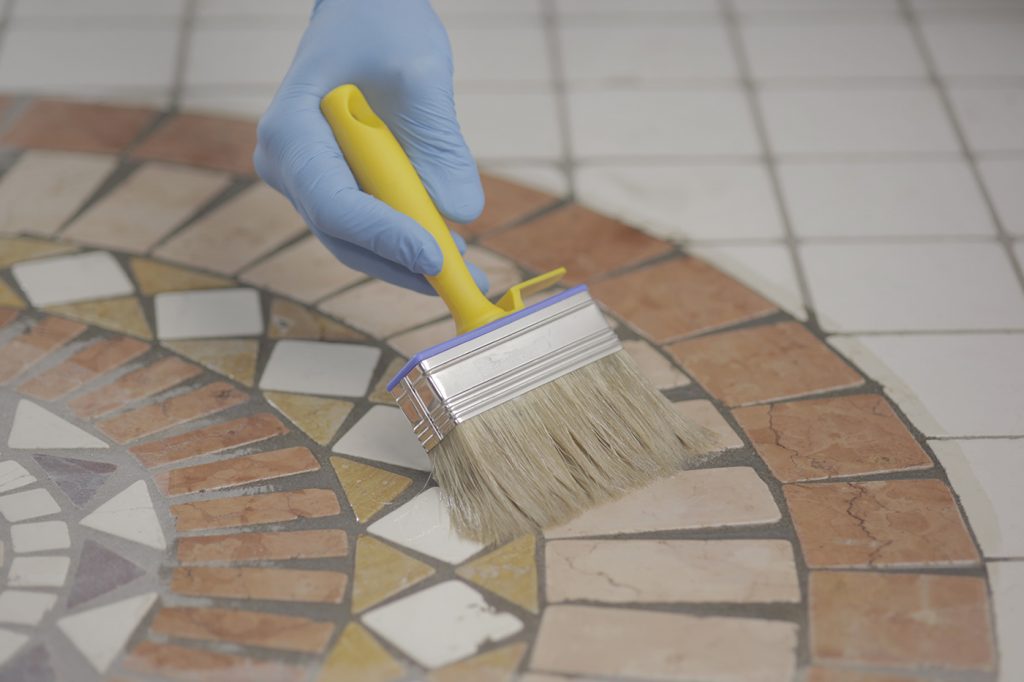 Before applying any type of impregnator or sealant, check that it's suitable for the installation and always ensure the surface you're treating is completely clean. Poor application can ruin a stone floor, resulting in a patchy surface littered with 'sealed in' dust and fixing debris. This, in turn, will compromise the sealant's ability to penetrate the surface and will make the floor more difficult to maintain. It may, ultimately, also result in an expensive sealant removal job!
Indoors, application of a surface wax over an impregnator can achieve a variety of looks – from a natural matt finish, to a satin sheen or a high shine. As well as creating a distinct lustre, wax can also extend the life of your impregnator and make a floor easier to maintain. Wax should not be used where water or high levels of moisture are present though, or outdoors; as soon as water or moisture hits the surface, the wax will turn cloudy and begin to fail.
More about FILAPT10
FILAPT10 is a solvent-free colour-enhancing protector that can be applied to terracotta, stone and agglomerates with residual moisture. The treatment seals and protects against dirt, stains and the elements, whilst also giving a wet-look finish. This creates a further benefit, as grease can be easily wiped off the surface, so it's ideal for application under BBQ's, on driveways and near kitchens.
To apply FILAPT10, cover the dry/clean surface evenly, using a large flat paintbrush, fleece applicator pad or roller.
Work well into the stone surface and the grout joints.
Apply a second coat after 2-3 hours.
The treated surface can be walked on after just 12 hours.
Handy hint! To work out exactly how much FILA product you need, download the free FILASOLUTIONS APP at FILA APP DOWNLOAD, from Apple Store or Google Play: Click on the central blue tab – PRODUCT CALCULATOR – and then select the product name, material, treatment stage and floor area. The APP will then instantly display how much product you need to treat the surface.
After applying your enhancing treatment or wax, always ensure that the surface is going to be correctly maintained. A quality pH-neutral cleaner, like FILACLEANER, will give the best results, in terms of cleanliness and aesthetics, and it will also maximise the lifecycle of any treatment applied.
For more advice, please contact Fila UK's Technical Helpline on tel. 01584 877286, email [email protected]