With its warming, nurturing shades, terracotta is a go-to choice for rustic flooring that lasts. Its baked clay tones not only add earthy texture but also provide a versatile look, and it's, therefore, no surprise this flooring is growing in favour across the building sector. A naturally viable product, it's also eco-friendly, energy efficient and highly durable too. If you're looking to specify terracotta, have a read of this post. Here's everything you need to know about 'baked earth', including FILA's best cleaner to use.
What are terracotta tiles made of?
A type of ceramic stoneware, terracotta is made from clay with a kiln firing technique. Characterised by its red, natural finish thanks to the clay's high iron content, terracotta looks fantastic when used for flooring, roofs and patios too. Fired at a relatively low temperature, around 1,000 °F, terracotta remains porous unless it is sealed or glazed. Part of its popularity stems from its organic, warm hues, which are said to be great for wellbeing. Incorporating nature into interiors is linked to several health benefits.
The origin of terracotta
For centuries terracotta has been used for a diverse range of applications, including sculpture, architectural decoration and pottery too. Its benefits have long been enjoyed, and it can be found in a range of locations, including the Mediterranean and the East. In fact, one of this material's most famous uses dates back to 248 BC, when the first Emperor of China built the 'Terracotta Army'. Since then, terracotta has been used for roofing tiles, mosaics and even bricks for building domestic as well as civic structures.

Types of terracotta tiles
Fast forward to now, and terracotta is more commonly found under our feet. It's also typically associated with warmer climates, but this material is definitely gaining favour in Britain. There are, however, a few different types to consider, depending on your project's brief. Let's cover these in more detail for a straightforward install and ensure you opt for the right type:
Glazed or unglazed?
Terracotta is available as glazed or unglazed, it's completely your choice, but glazed will create a water-proof finish. The only downside is that glazing can alter the material's natural color, which some people don't like, preferring to opt for un-glazed terracotta instead. This, in itself, can lead to problems such as staining and mold as the unglazed finish will leave floor tiles porous. You can, however, use FILA's terracotta protector, which won't alter the surface appearance – we'll cover this lower down.
High or low-density?
If you're looking for something weather resistant and durable too, opt for high-density terracotta tiles. They have a hardened finish which is great for flooring, and they're suitable for other applications like roofing. Low-density terracotta is a cheaper option, but this material has far less resilience. As a result, tiles can easily crack, and they do not suit floors. Low-density is also more porous and prone to surface stains.
The difference between handmade vs machine-cut terracotta tiles
The final type to consider? Machine-cut or handmade – both of which serve a purpose. Handmade tiles offer a rustic and authentic appeal but are not as easy to fit. Plus, they cost more to make in the process. On the other hand, machine-cut tiles can be installed with great ease, so they are great if you tend to work to tight deadlines. With them, you'll also achieve a more consistent finish, but in the end, both types have their perks, and it's down to the individual project.

Why terracotta makes fantastic eco-conscious flooring
One way to reduce the carbon footprint of a building can be through the materials themselves, where they come from and how long they last. So when it comes to sustainable products, terracotta's up there and a rising star for the environmentally conscious. With this material, buildings can have a longer life span with no unnecessary wastage. The manufacturing process also consumes less energy when compared to aluminum, concrete and glass. Terracotta is also resilient with the right care and is very easy to treat with a terracotta protector and degreasing floor cleaner.
What products can be used to clean terracotta?
When it comes to terracotta upkeep, it always starts from day one, ie when the tiles are first laid. It's important any grout residues are removed, or this can affect the flooring long-term, but a pre-grouting treatment like PRW200 can also help. Once the grout lines are cured, DETERDEK PRO will remove post-application deposits and building-site dirt. This concentrated acid detergent will also eliminate saline efflorescences from terracotta and is effective against rust stains. For routine upkeep, FILA's CLEANER PRO can be used on a weekly basis. For particularly stubborn dirt, PS87 PRO is FILA's best cleaner for terracotta tiled flooring.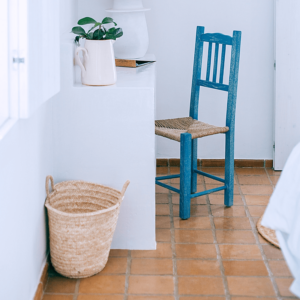 Does terracotta need sealing?
In short, yes. After using FILA's concentrated acid detergent, you can seal terracotta with our stain-protector W68 . This will reduce water absorption and stains without affecting the look of the tiles. It can even help your project obtain LEED credits. Additionally, W68 can be used on interior floors as a protective base coat before a wax is applied. Just make sure to carry out a prior patch test to check for any changes in color, and do not apply this sealer externally if rain is forecast.
Quick-fire care and maintenance tips for terracotta
Ensure the surface is vacuumed or swept daily to remove surface dirt and grit

Terracotta should be mopped weekly – this will ensure the sealer lasts longer

Avoid standard cleaning products – they can contain chemicals that will break down the wax or sealer

When maintenance is carried out, change the degreasing floor cleaner often

Never use too much water

Remove spills as soon they're spotted
Thank you for reading our post; we hope this has helped – terracotta has a lot to offer. If you have any further questions, why not get in touch with our team ? We're here to ensure your commercial surfaces last. Our terracotta products extend the lifespan of floors with powerful yet effective cleaning for both indoors and outside. We also host effective training sessions so you can develop your knowledge of FILA; click here to learn more .