After a busy summer in the garden, if you've noticed rust spots, these are easy to clean with a rust spot remover by FILA. Read on to learn more about the causes of rust and how to clean it using our simple but very effective method.

Rust and oxidation explained
Natural paving like limestone or marble makes an excellent choice, but as it is prone to natural variations, it can suffer from a term known as 'oxidation'. This is because some stones naturally contain levels of iron salts and when they get wet, these salts react and create internal rust and also discolourations. Another kind of rust can also occur from water running over metal fixtures and fittings, like garden tables and chairs, which can wash deposits of iron particles onto your stone paving. Although it's not one of the easiest jobs to tackle, at FILA, we make rust removal painless; here's our tried and tested approach.
How to use the rust spot remover by FILA
Let's face it, nobody wants to spend hours scrubbing pavers; not only is this bad for your back, but it could even damage the stone. For swift rust removal in minutes, simply follow these steps and check out this handy video too!
Apply NORUST to the affected area
With its fast-acting non-acidic formulation, FILA NORUST is great for targeting small rust stains on stone pavers and even delicate marble. The product is also undiluted, and easy to use, simply apply the product to the affected area. With its gel-like consistency, NORUST specifically targets the stain, optimising the results, avoiding waste, and reducing the risk of the product coming into contact with grass and plants.
Leave the product to act for 15 minutes
Next up, it's time to leave the product to act for around 15 minutes – you'll see it turn purple as it reacts with the oxidised iron. If this doesn't happen within 1-2 minutes then it's likely the stain isn't rust.
Remove the residue and rinse
Once the fifteen minutes is up, it's time to rinse the surface – you can do this with a hose pipe or clean cloth. For more stubborn stains, you can repeat the treatment, but a maximum of 3 applications is advised.
Use a limestone patio cleaner for extended areas
For larger paving or limestone patio spaces, DETERDEK PRO can completely remove rust and sulphate residues. Simply wet the area and scrub with an abrasive pad before rinsing thoroughly when finished. As this limestone patio cleaner combines both descaling and washing, it should NEVER be used on marble or finely polished chalky stone.
Allowing sufficient drying time
Weather permitting, it shouldn't take too long to see the results of your hard work!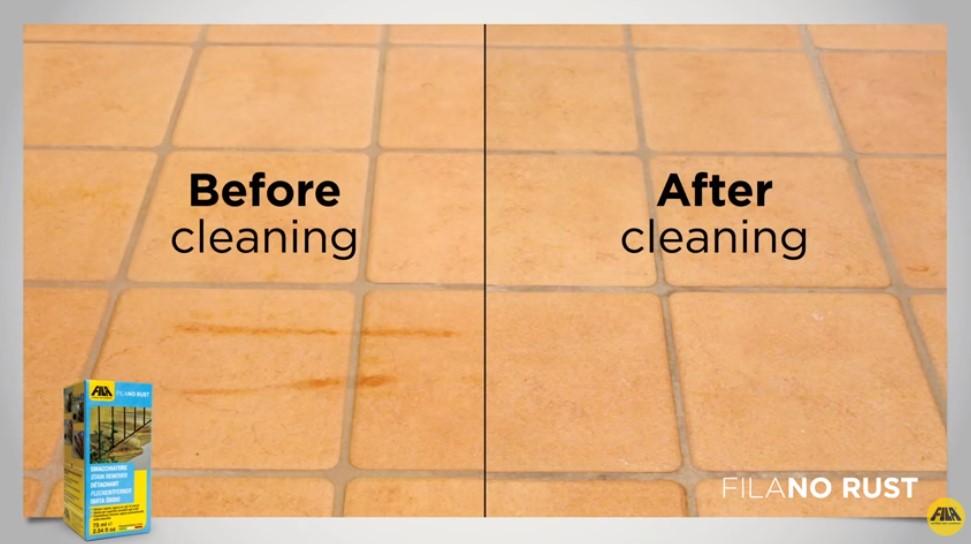 5 tips to prevent rust stains from coming back
1. Store your garden furniture through the winter
Once you've removed rust stains from stone paving, you don't want them back, so prevention is always better than the cure. By storing barbecues and furniture away from bad weather, oxidised particles cannot affect your stone and cause rust.
2. Adopt a regular cleaning routine
To keep stone paving looking great, as well as rust-free, you should aim to clean it a couple of times a year at least. At FILA, we have a range of stone cleaning products for any surface; check out our blog post – how to clean a patio without a pressure washer.
3. Use weedkillers sparingly
You'd be surprised how many weedkillers contain ferric sulphate –  resulting in rust when it comes into contact with the iron-rich compounds in the paving's aggregate. Any rust marks will also appear as blotches and can be challenging to spot, so make sure to take extra care when using these products.
4. Protect your driveway
Rust doesn't just happen on paving; it can affect concrete driveways, especially if your car is exposed to bad weather. Combat this by storing your vehicle in the garage or using a protective sealer like CONCRETE SHIELD; your driveway will thank you, we promise.
5. Use a stone sealer on paving
By using a stone sealer on paving, you'll protect it from moisture, dirt and oxidised rust marks. STONE PLUS ECO, in particular, can be used on polished, untreated and tumbled stone to protect and revive the natural colour.
Try our rust busting products for paving – contact FILA to find out more
Got a question about our limestone patio cleaner, stone sealer or rust spot remover? Get in touch – we'd love to hear from you! You can speak to a member of our team on 020 8016 1856 or via email at [email protected].