Kitchen worktops in polished marble give a touch of elegance to the home, but – alas – they are very delicate and risk being damaged without proper attention and protection. Splashes from the hob, greasy tableware, encrusted dirt… these are enemies of this fine material.
Let's watch together how to keep a polished marble worktop in perfect condition with minimum effort.

Initial cleaning of a new marble worktop
There are few, simple rules to be followed to maintain the beauty and quality of the just laid material. Immediately after installation, it is necessary to carry out an initial deep cleaning to remove all laying residues. Often invisible to the naked eye, these residues can form a film on the surface, collecting dirt, creating patches and making daily maintenance difficult and rather ineffective. Here's what to do:
Get a cloth and some FILACLEANER: FILA's pH natural concentrated detergent;
Dilute the product 1:30 in lukewarm water, that is, about 150-160 ml in a 5-litre bucket of water;
Spread the solution onto the worktop with a cloth, rubbing the dirty and dull areas;
Remove the residue with a cloth and rinse with plenty of water.
How to protect your marble worktop from stains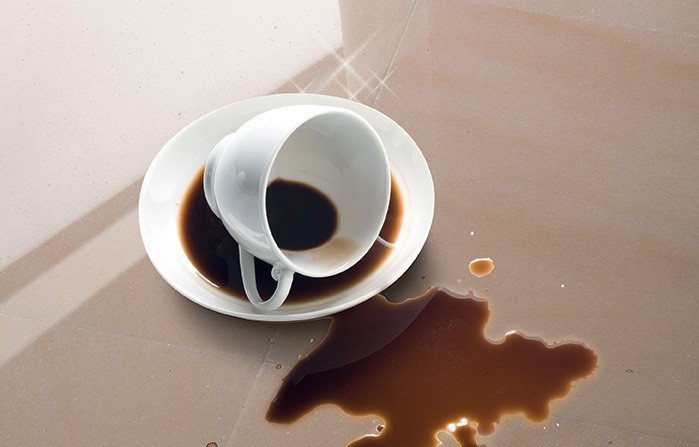 Remember, prevention is better than cure: restoring a stained worktop is very difficult and expensive, that's why it is important to carry out a good stain proof treatment that prevents dirt and stains from being absorbed by the material.
You can choose between natural-effect (which keeps the natural colour of the stone) or colour-enhancing protection (which brings out the natural marble vein and enhances its colour).
Let's watch how to carry out a natural-effect stain proof treatment with FILAMP90 ECO PLUS
Equipment necessary: a basin, a paintbrush, a pair of gloves, paper towels and FILAMP90 ECO PLUS: FILA's eco-friendly stain protector;
On a dry, clean surface, evenly apply one coat of FILAMP90 ECO PLUS using the paintbrush;
After ten minutes, massage the surface with the paper towels soaked in the product to allow it to penetrate deep down and remove residue;
Ordinary maintenance: how to clean every day to strengthen stain protection
For daily cleaning of a marble worktop we recommend you use FILAREFRESH, the protective detergent with a keen eye on the environment (eco-friendly and certified for food contact). Using FILAREFRESH, a simple and practical spray, you can effortlessly clean surfaces while strengthening stain protection at the same time to make it longer-lasting. It is extremely easy to use: just apply using a soft dry cloth, rubbing the surface until it becomes completely dry. No rinsing is required and it leaves a pleasant scent.
If maintained correctly with FILAREFRESH, the stain protection can even last as long as 10 years!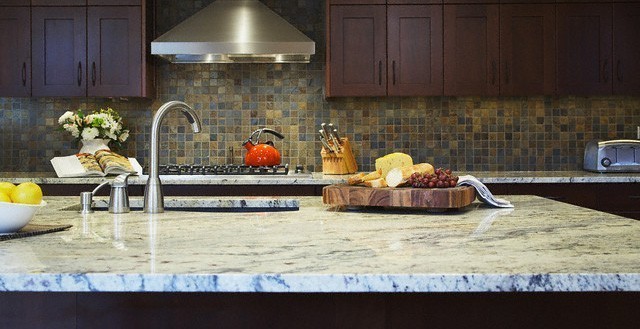 Stains on your marble worktop? Here are the solutions!
If you have not, unfortunately, treated your marble top yet and it has become stained, here's how to solve the problem:
Grease and fat stains (e.g. oil): spray FILANO SPOT, the spray stain remover, from a distance of about 15 cm. Leave to dry for a few minutes and then remove the white powder that has formed using a brush. Clean with a wet cloth.
Coloured food stains (coffee, tea, fruit juice…): apply FILASR95 stain remover onto the stain. Leave to act for about 15 minutes and then remove the residue with a sponge. Warning: remove the product before it dries completely.
Dull stains caused by acid attacks (vinegar, lemon…): to restore the polish to the marble worktop, use the FILAMARBLE RESTORER kit, following the instructions in this video
Once you have got rid of the stains, remember to protect your top against future problems by applying a good stain proof treatment!
Watch the video on how to clean and protect polished marble surfaces
If you need more advice, just contact our UK Help Line on tel. tel. 01584 877286 or download our

FILA SOLUTIONS APP