When FILA products are picked to clean and treat major international buildings, we must admit, it's a source of great pride for us. 😉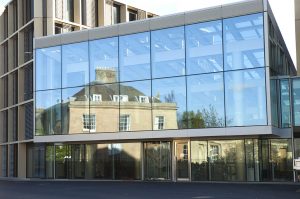 Today we want to share with you one of the latest projects in which a complete FILA cleaning, protection and maintenance regime has been specified: the Mathematics Institute of Oxford University, the largest university building ever built in the last century.
Designed by Rafael Viñoly architects, about 300 m2 of Spanish Blue Limestone were laid in the reception area and main staircase and 1,600 m2 of Cumbria porcelain tiles for the basement mezzanine floor. All materials were installed and carefully treated with Fila products by W B Simpson (MIDLANDS) Ltd for main contractor Laing O'Rourke.
Washing after laying and stain proof treatment of limestone
FILACLEANER was chosen for the initial cleaning of surfaces. Thanks to its concentrated formula with neutral PH, it is the ideal detergent for washing acid-sensitive limestone like Spanish Blue Limestone.
On a dry, clean surface, FILAW68, the water-based stain protector for non-polished surfaces, was then applied, which contributed to the attainment of LEED credits and is GEV certified and marked EC1 Plus for its extremely low COV emissions. What's more, FILAW68 does not form any surface film and protects without altering the appearance of the material.
Washing after laying of porcelain tiles
For the initial washing of porcelain tiles laid on the raised floor – which includes the canteen area – DETERDEK was used: the acid-based descaling detergent that does not emit harmful fumes and gives an exceptional deep cleaning without ruining the surface. In fact, unlike traditional products with hydrochloric acid, Deterdek does not harm aluminium and steel edges, respects grouting and is not hazardous for the user or the environment.