Kitchen worktops made from sintered stone are becoming more and more common. This modern material combines the technical properties of porcelain stoneware with those of natural stone, creating slabs that are resistant to stains and abrasion, very functional and easy to clean. It's exactly because they are so easy to maintain that sintered stone and Lapitec® are often used to make kitchen worktops.
Lets take a look at some tips on how to keep sintered stone worktops clean.
First of all: what not to use to clean a Lapitec® worktop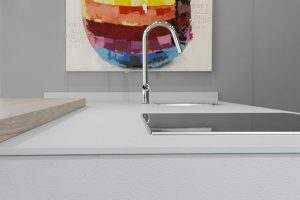 Given that sintered stone worktops are non-absorbent, they don't need any type of protective treatment. The use of wax, oily soaps, impregnating agents or other treatments can compromise your worktop's technical properties and finish.
Take care when purchasing cleaning products: some detergents on the market contain wax or other polishing additives that can leave an oily patina on the surface after several applications. This makes cleaning more difficult and ruins the glossy finish of your Lapitec® worktop. Avoid using washing up liquid as well.
How to clean a kitchen worktop made from sintered stone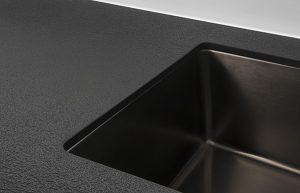 Because of everything detailed above, we recommend using a neutral detergent that leaves no residues, such as FILABRIO or FILACLEANER, to clean your kitchen worktop.
FILACLEANER and FILABRIO are the only detergents recommended by Lapitec®. This is because they effectively clean any surface without damaging the finish. FILACLEANER can also be used in various different dilutions according to requirements and the amount of dirt.
How to use FILABRIO and FILACLEANER
FILABRIO: this is a spray detergent that is ready to use. Spray the product directly onto the surface to be cleaned, then clean using a soft dry cloth.
FILACLEANER: pour 1 capfull of product into a basin with 2 litres of lukewarm or hot water. Rub the surface to be cleaned with a cloth or non-abrasive sponge soaked in the solution. Dry with a clean cloth. When used at this dilution, there is no need to rinse.
How to remove a stain from a Lapitec® worktop
You may occasionally encounter more stubborn stains on your kitchen worktop that cannot be removed by normal cleaning. In this case it is important to identify the nature of the stain in order to select the best product to remove it. Let's take a look at the right product to use for different types of stains:
Limescale deposits
Aluminium marks
Pencil marks
DETERDEK descaling detergent
How to use: apply the product diluted 1.5-1:10 in water based on the amount of dirt. Let it work for a few minutes and rub with a non-abrasive sponge. Rinse with clean water.
Grease
Coffee
Ice cream
Fruit juice
Blood
Wine
Beer
Ink
Nicotine
Urine and vomit
Marker pen
Coca cola
Hair dye
Rubber or chewing gum
FILAPS87 degreasing stain-remover
How to use: apply the product undiluted or diluted 1:10 in water based on the amount of dirt. Let it work for a few minutes and rub with a non-abrasive sponge. Rinse with clean water.
Rust
FILANO RUST stain-remover
How to use: apply the product to the area to be treated, fully covering the stain, wait for 15 minutes and then rinse the area thoroughly with water.
Silicon
FILAZERO SIL stain-remover
How to use: apply the product undiluted, so as to cover any silicone residues. Let it work for 20 minutes. Use the spatula provided in the box to scrape off the dissolved residue, then remove it with a cloth or kitchen towel.
Candle wax
FILASOLV de-waxing solvent
How to use: pour the product undiluted onto the stain, rub with a sponge and wipe off any residues with a kitchen towel.
Remember: these are the only products recommended by Lapitec® for cleaning your sintered stone surfaces.
Advice from the expert:
Clean a small area first to check the product works before applying it to the entire surface. Under no circumstances use concentrated hydrochloric acid or caustic soda, or any products that contain hydrofluoric acid or its derivatives.

Need any further advice on how to clean your Lapitec® worktop? Write to our technical assistance department here.