The result of the latest research in ceramics, large format tiles are enjoying increased popularity in both residential and commercial use.
A large slab is considered to be ceramic material measuring one metre on each side. Several large slab formats have been placed on the market, ranging from 100×100 to 300×150 with minimum thickness of 6 mm.
Given the size and thickness of these large slabs, their installation, handling and processing must be performed following some basic rules.
The cleaning of large format tiles during and after installation must also follow certain rules, which we at FILA have developed in conjunction with Assoposa, the italian professional tile installers' association.
RULES FOR INSTALLATION AND CLEANING OF LARGE SLABS
1. HANDLING AND INSTALLING LARGE FORMAT TILES
The handling and installation of large format slabs is performed using special equipment like suction cups, frames and trolleys.
If the suction cups used should leave marks, these can be removed with the specific FILAPS87 degreasing stain removing pure detergent.
2. CLEANING THE BACK OF THE SLAB BEFORE INSTALLATION
Before applying the appropriate adhesive to the back of the slab, you must ensure that there are no traces of ceramic or magnesium powder resulting from the processing of the slab.
We recommend washing the surfaces with DETERDEK, diluted at a ratio of 1:5. Rinse with water and wait until the surface is dry.
Installation can then be continued using use levelling spacers and grouting.
3. CLEANING AFTER INSTALLATION OF LARGE SLABS
When grouting has been applied to the joints and has completely dried, the post-installation washing operation must be performed.
If the large format tile has been grouted with cementitious or additive filler, the cleaning must be done with DETERDEK.
But if the large slab has been grouted with epoxy filler, the cleaning must be done with FILACR10.
The cleaning must be done over the entire surface: slab, grout joints, deformation joints and any profiles.
TIP FROM THE EXPERT: PRE-INSTALLATION CLEANING WHEN LAYING A NEW FLOOR OVER A PRE-EXISTING ONE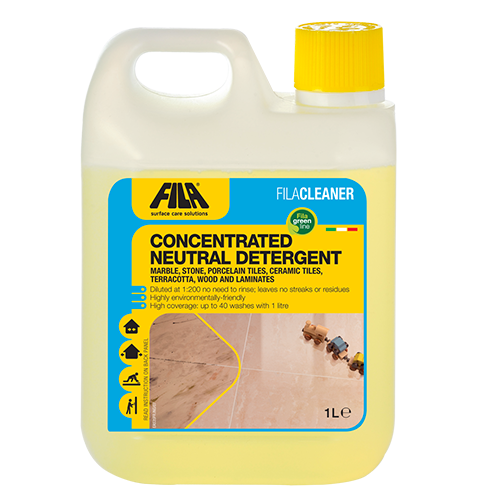 When a large slab floor is laid on top of another hard material such as ceramic, stone or concrete, it is important to thoroughly wash the pre-existing surface before proceeding with the installation.
Thoroughly wash the floor with FILAPS87. Apply the product with a floor scrubber equipped with a black disk and spread evenly over the surface. Dry off with a wet vacuum cleaner.
Rinse with FILACLEANER diluted at a ratio of 1:200.
Ensure it is completely dry before proceeding with the installation.
TIPS FOR PROTECTING JOINTS – FLOORS WITH LARGE FORMAT SLABS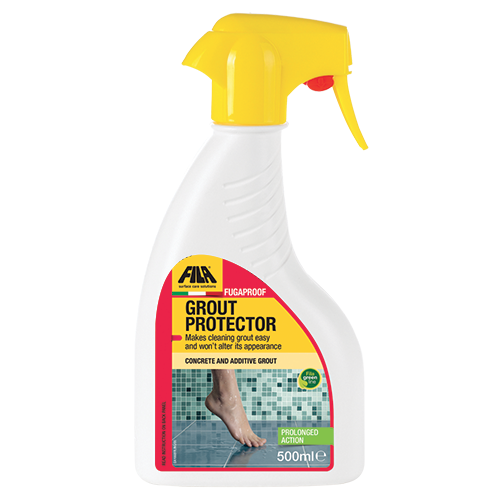 To keep surfaces clean and beautiful over time, thorough washing alone is not sufficient: blackened, dirty grout joints ruin even the most stylish, high-quality floors and provide a breeding ground for the mould that often appears in the joints between slabs.
This is why it is very important to protect the joints with FUGAPROOF, a specific, easy and safe-to-use product with spray application that inhibits the absorption of stains and facilitates the removal of dirt.
TIPS FOR THE MAINTENANCE OF FLOORS WITH LARGE FORMAT TILES
For everyday cleaning, FILA recommends FILACLEANER. It is used diluted, requires no rinsing and leaves no residue. The usual detergents, however, often contain substances (brighteners, waxes, perfumes, etc.) that are deposited over time on the floor, forming unsightly stains and blemishes or making the surface slightly sticky, thus attracting dirt more easily.