Over 1,500 Android and iOS smartphones and tablets have already installed FILA SOLUTIONS, the Fila app that provides a complete range of tools for cleaning, protection and care of any kind of floor or wall covering in natural stone, porcelain tiles, terracotta, wood, concrete, etc. not only for building site professionals and retailers, but for anyone wanting to treat the surfaces in their own home. Currently available in Italian, British and American English and German, it will soon also be available in French and Spanish.
THE FILA SOLUTIONS APP: ALWAYS TO HAND, EVEN OFF-LINE
The FILA SOLUTIONS app was created to support those who often work away from the office and need to find the right care solution for any type of surface, even where there is no internet connection.
The main functions of the app can in fact be used perfectly without any need for a data connection.
ALL THE FUNCTIONS: FROM CHOICE OF MATERIAL TO YOUR NEAREST SALES POINT
Want to know which is the right product for protecting marble? Not know how to clean your porcelain tiles? Nothing could be simpler! A couple of screen touches are all it takes to find the best product to use, how and how much to apply and find your nearest sales point. We are not talking about a simple product catalogue; this is a real treatment guide, which will help you make the correct choice depending on your requirements, offering the option of saving the path identified for consultation at a later date.
Here is a list of the main functions:
TREATMENT CYCLES: based on the choice of material (stone, terracotta, porcelain tiles, wood, etc.) it identifies the ideal treatment system from cleaning after laying to everyday and extraordinary cleaning.
TREATMENT STAGES: find the suitable solutions for each stage during treatment (pre-treatment, washing, protection, finishing, maintenance…)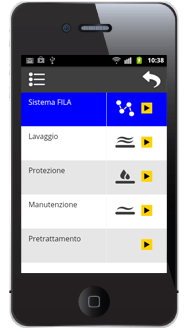 WHAT TO DO IF FAQs about common problems (stains, mildew, infiltration problems)
PRODUCT CATALOGUE with detailed info about products, certifications, treatment videos and technical information sheets.
MEASURING DEVICE easily calculates the amount of product needed for each treatment
FIND SALES POINT searches your nearest store, with an option for directions to the selected store.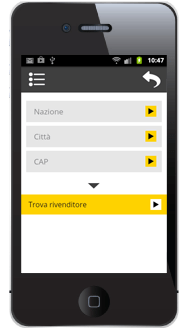 ALL THE NUMBERS
FILA SOLUTIONS is an all-round application: a virtual assistant that can help you and advise you whatever the occasion. From October 2013 more than 1,500 users have already installed this app on their Android and iOS smartphones or tablets.
Around one third of these have been installed on Italian devices, followed by users from the USA, Germany, the UK, Spain and France.
The number of downloads is constantly increasing: one third of the total installations occurred in the last three months alone.
It is currently available in 4 languages: Italian, British and American English and German. But next month we expect to also add French and Spanish.
Remember: this app is completely free of charge, it weighs just over 2 MB and works easily even on older devices. All excellent reasons for downloading it immediately! So what are you waiting for? Download it here!