All purpose cleaners are essential in the everyday upkeep of all home surfaces. In this article, we'll take a look at 5 key facts about all purpose cleaners. These facts can help you choose appropriate cleaners and give you insight on how to use them adequately on all surfaces.
Before we look at the characteristics of all purpose cleaners, let's go over FILA's 3 multipurpose cleaners created for the cleaning of all surfaces.
FILA divides surfaces into 2 categories:
The first category is NATURAL STONE.
In fact, we have created STONECLEAN Natural Stone Neutral Cleaner, a specific everyday cleaner aimed at the daily maintenance of all stone surfaces.
The second material category is wider and includes PORCELAIN AND CERAMIC TILE, LVT, WOOD AND LAMINATES.
FILA's CLEANALL Neutral All Surface Cleaner is designed to clean these surfaces routinely.
Watch the videos below to see how to use CLEANALL and STONECLEAN.
CLEANALL Spray Neutral Everyday Cleaner, on the other hand, can be used to spray clean both material categories (natural stone, ceramic, porcelain, LVT, wood and laminates).
Now let's look go over 5 facts about all purpose cleaners!
1. All purpose cleaners are pH neutral.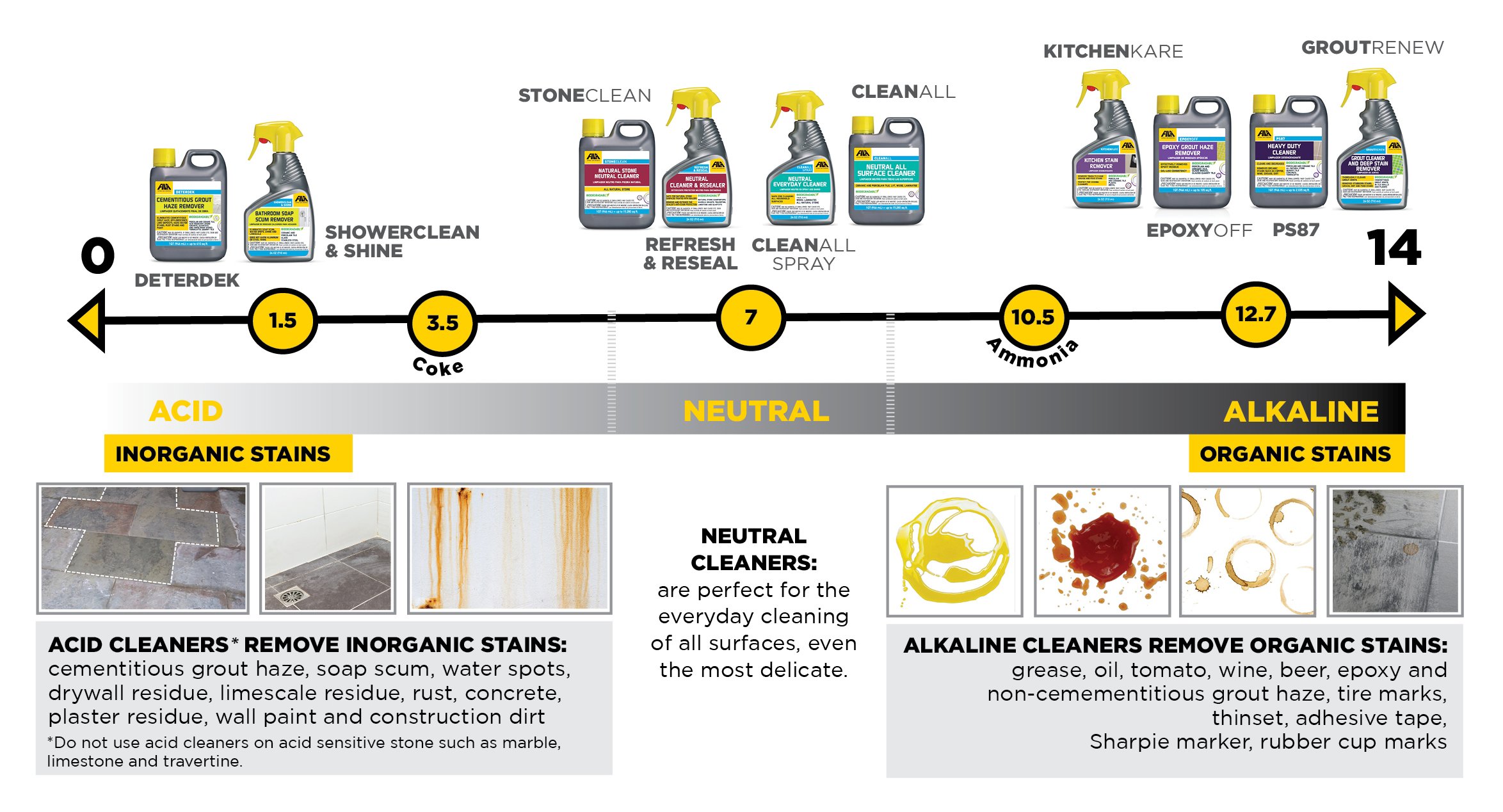 One key characteristic of all purpose cleaners is that they are pH neutral. You might be asking yourself what that means. It's actually very simple. The pH scale is divided into 3 parts, 0-6 is acid, 6-8 is neutral and 8-14 is alkaline.
Acid cleaners and alkaline cleaners are often used for heavy duty cleaning and stain removal. Neutral cleaners, on the other hand, are used to maintain surfaces regularly. If floors, walls and countertops are cleaned often, then the need for heavy duty cleaning is reduced over time.
2. All purpose cleaners are biodegradable.
The impact of cleaning products on the environment is of increasing concern, and FILA is especially careful about creating product formulas that are not only effective, but also mindful of the planet we all live in. CLEANALL, STONECLEAN. and CLEANALL SPRAY are all high-performing and also 99% biodegradable!
But FILA's dedication to the environment doesn't stop there. We have recently become one of over 100 signatories of The Climate Pledge, a pact by Amazon and Global Optimism that calls on companies to become net zero carbon by 2040, 10 years ahead of the Paris Agreement.
Find out more about The Climate Pledge here.
3. Multipurpose cleaners are safe for all surfaces

.
All purpose cleaners are worry-free. Because they are pH neutral, they can be safely used on delicate surfaces without having to worry about harming them with aggressive substances.
To find out more about cleaning tile surfaces, read this blog post.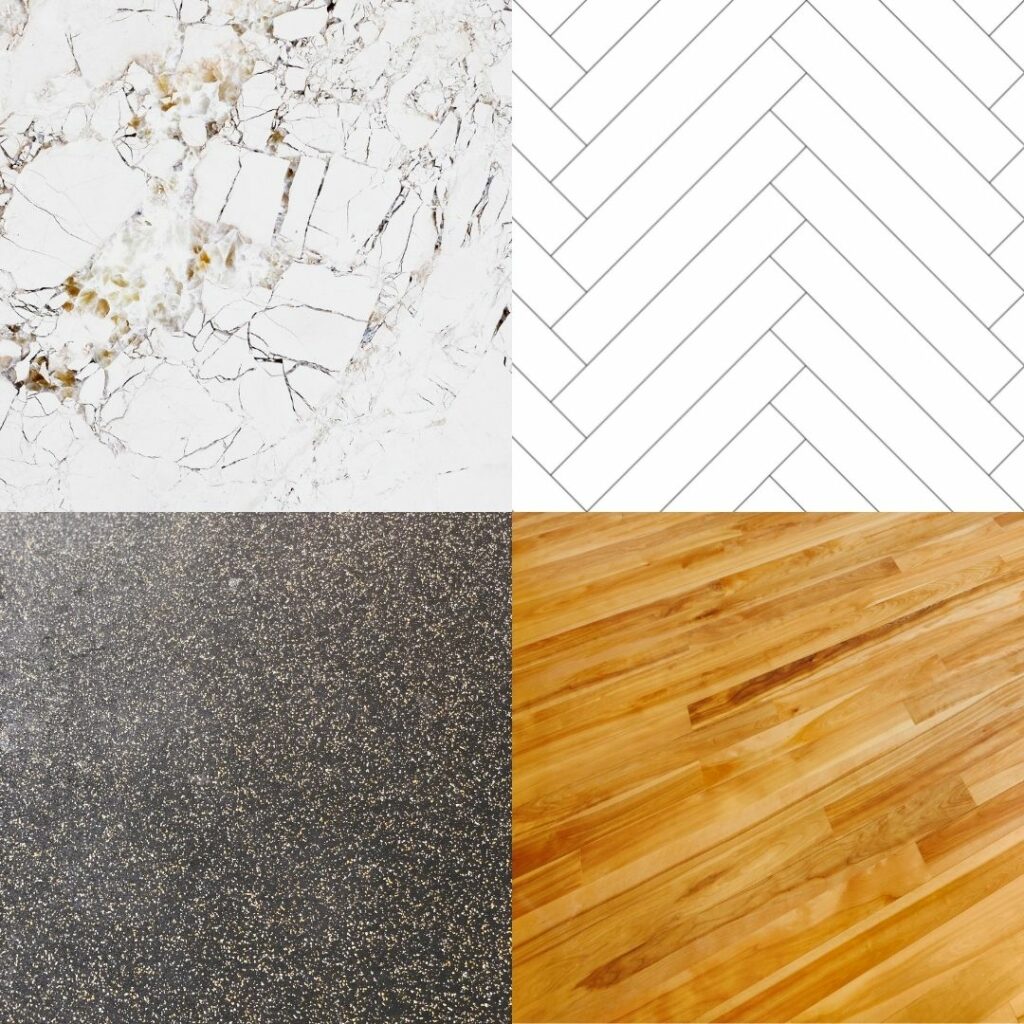 5. Multipurpose cleaners do not leave a residue.
All purpose cleaners can be used everyday because they do not leave a residue on the surface. This fact is particularly important because cleaner residue builds up per time, causing streaks, absorbing stains and attracting germs and bacteria. Once the residue has layered, it can only be removed through heavy duty cleaning.
And, since they don't leave a residue…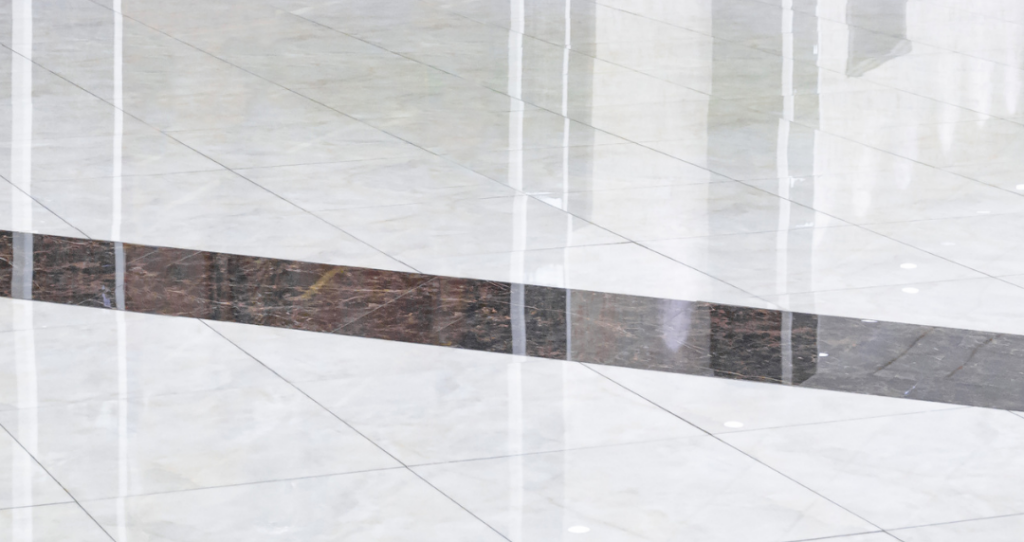 4. All purpose cleaners can be used every day.
…all purpose cleaners can be used everyday!
Dilute CLEANALL and STONECLEAN by adding just one capful in one gallon of water. At this dilution, they do not require rinsing and can be used in the tank of floor cleaning machines.
CLEANALL Spray is ready-to-use and does not need to be diluted. Just spray and wipe all household surfaces.
Thanks for reading our article about all purpose cleaners. For more information about FILA products, go to www.filasolutions.com.