After buying a new house or after renovation involving installation of a new floor, it is indispensable to wash the surfaces thoroughly to remove any residues of concrete, grout and glue remaining after laying.
Unfortunately this operation is often not carried out or non-specific products are used and, over time, this may cause various problems with the floor.
What happens if the floor is not washed after laying?
Installation residues (which are often not visible to the naked eye) remain on the surface and attract dirt. The end consumer has the impression that even a non-absorbent tile can get easily marked.
Residues become part of the tile, discolouring it (from example from white to grey). Sometimes, drops of acid substances such as soft drinks and wine may drop on the surface and dissolve the dirt, and eliminating it locally so that apparent stains occur (that are known technically as "clean stains").
If stain-removal treatment is carried out, installation and worksite residues are fixed permanently to the surface.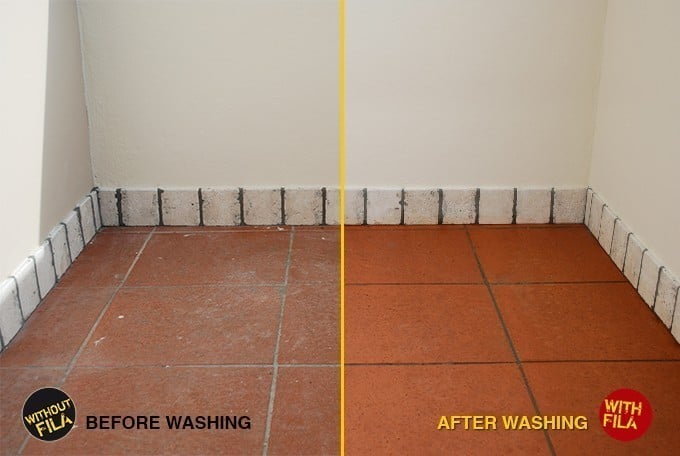 What happens if the floor is washed with non-specific products?
If the correct product is not used there is a risk of:
irremediably damaging the tiles
damaging the grouting and/or the steel and aluminium profiles
This is what happens, for example, when hydrochloric acid is used, a corrosive substance, hazardous for the user.

Why is washing after laying important?
Washing properly after laying and a correct maintenance:
Enable an entire clean floor to be obtained that is a safe and healthy environment that enhances people's long-term wellbeing.
Ensure that the tiles' original beauty is maintained over time
Keep the tiles' performance unaltered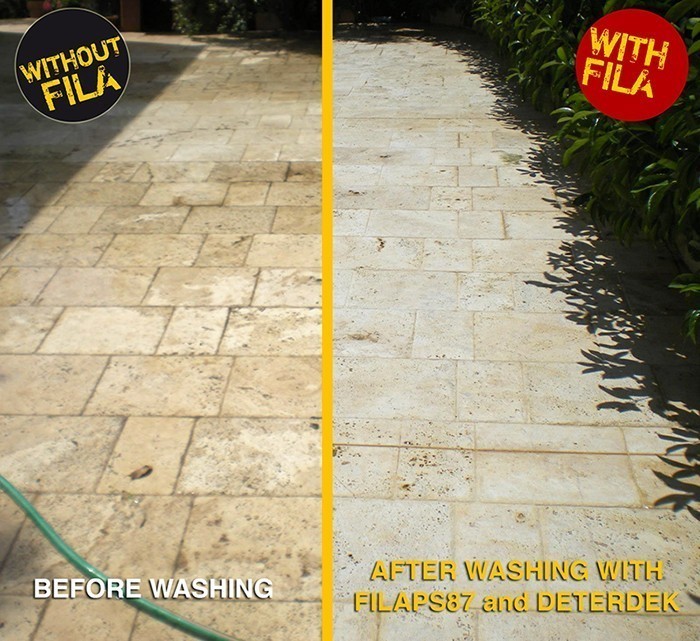 Each surface has its own product for washing after laying
FILA has devised a series of products ideal for initial cleaning, each one specific for a certain type of material and grouting.
DETERDEK: Descaler for terracotta, porcelain, ceramic tiles and acid-resistant stone
This is not just a buffered acid but an acid whose detergent component easily removes the polymer additive component of the concrete grouting.
• It cleans without attacking the surfaces, grouting and aluminium and steel items (extractor hoods, conduits, etc)…
• Buffered acid that does not release fumes that are harmful to the operator and the environment, unlike other commercially available acids. Using it is thus simpler and safer. Specially designed for washing after installation but also ideal for eliminating stains of inorganic origin like rust, salt marks and limescale, metal smears…)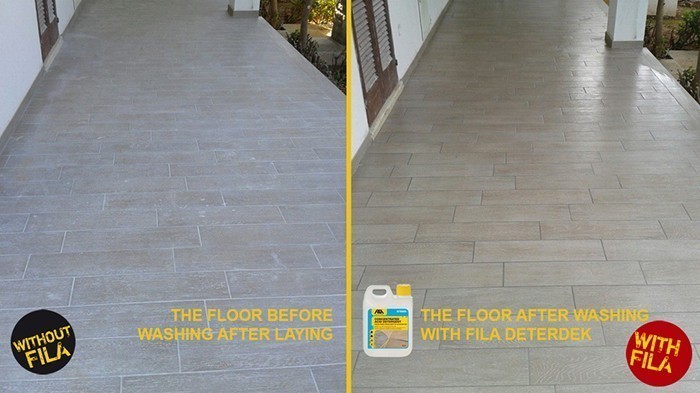 FILAPS87: floor cleaner, stain remover and wax stripper
It is an alkaline detergent whose chemical composition is ideal for washing matt finish stone surfaces like limestone, encaustic cement tiles and manufactured stone that are not resistant to acids.
• multifunction product: cleans, removes stains, removes grease and wax according to the different dilutions.
• pure, it removes stubborn stains from porcelain tiles
• ideal for washing surfaces that require special washing
FILACR10: Cleaner for epoxy residues
The specific concentrated detergent for washing after laying of floors and grouted wall tiles with epoxy grout and resinous grouting.
• viscous product that enables the wall to be washed
• formula designed to remove even stubborn and old epoxy grouting
• specific for non-absorbent products: glazed ceramic tiles, porcelain tiles and glass and ceramic mosaics.
FILACLEANER: All purpose floor cleaner for every kind of surface
The neutral detergent that is indispensable for washing after laying natural stone floors with polished finish that is sensitive to strong acids.
• ideal for daily maintenance of all surfaces
• concentrated product with high efficiency and cleaning power
• leaves no residue and reduces work time
• maintains floor hygiene
What is grouting with additives?
Grouting with additives can be considered to be an advance on concrete grouting. They are added during the production stage to the concrete (grouting basis) that can make the compound more flexible, water-repellent, mould-resistant but at the same time make the compound more difficult to remove.