Shower tiles can very quickly look dull, as soap scum, limescale and other deposits build up. But, with a little effort – and the correct products – they can easily be returned to their former glory!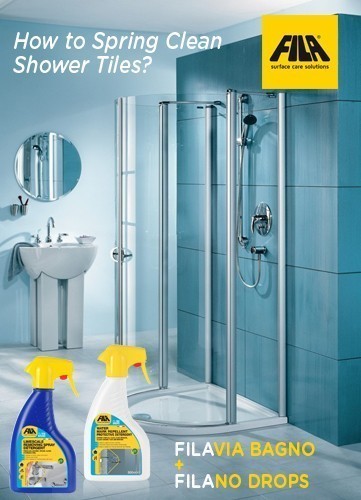 Avoid seemingly 'universal' limescale shifters; many are harsh, acidic liquids, which will erode chrome trims, taps, sealants and your natural tiles! Choose a quality product that offers a safe solution, like FILAVIA BAGNO for porcelain, ceramic tiles and glass, and FORMULA MARMO for polished natural stone.
FILAPS87 is a great deep cleaner too, but take care with the dilution on polished natural stone.
For ceramic tiles and glass surfaces, FILANO DROPS will protect from the build-up of limescale and water-marks; it creates an invisible hydrophilic film, so water droplets simply slide off surfaces!
For more information on Fila's wide range of surface care products, please contact Lisa Breakspear at Fila UK on tel. 01584 877286 or visit www.filasolutions.com