Nella mattinata del 9 novembre abbiamo avuto il piacere e l'onore di ospitare un gruppo di 25 studenti del CIMBA Institute, la famosa scuola americana di Business & Management (Consorzio di 37 Università americane la cui capofila è la University of Iowa), che da tempo offre a persone da tutto il mondo la possibilità di frequen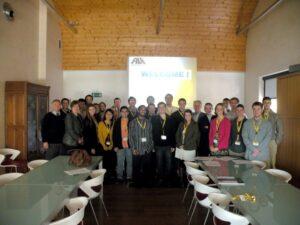 tare master, programmi undergraduate e corsi di alta formazione presso la sede Italiana di Asolo e di Paderno del Grappa.
Un altro gruppo di studenti aveva visitato l'azienda nel giugno scorso e, grazie all'esperienza positiva vissuta in quell'occasione, l'istituto ha deciso di replicare per offrire a un altro gruppo l'opportunità di conoscere da vicino quella che i docenti stessi hanno definito "un caso di eccellenza di azienda familiare dotata di una strutturata gestione manageriale".
Gli studenti, accompagnati dal professor Grachev (docente di International Business Enviroment) e dalla professoressa Bobina (docente di Global Economics and Business), hanno dapprima assistito a una presentazione dell'azienda da me condotta in una delle sale meeting dell'azienda. Successivamente li abbiamo guidati attraverso un percorso che ha dato loro l'opportunità di visitare le diverse aree aziendali: dagli uffici commerciali, marketing e amministrativi, fino al laboratorio e al reparto produttivo.
Tutti, studenti e docenti, sono stati molto colpiti dall'accoglienza ricevuta e dalla qualità dell'organizzazione. Il professor Grachev ha voluto ringraziare in particolar modo la mia famiglia "per aver condiviso i segreti del successo internazionale della Fila", sottolineando il fatto che "non solo gli studenti, ma anche i professori, hanno potuto imparare molto dall'esperienza vissuta".
Anche per noi è stata un'esperienza davvero positiva e ci auguriamo di continuare la collaborazione con il prestigioso CIMBA Institute, ospitando ancora in futuro altri gruppi internazionali di studenti. Un ringraziamento anche a tutti i collaboratori per l'ottima organizzazione!