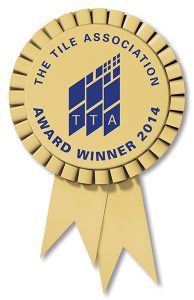 Il 25 aprile a Londra, durante la cena di gala organizzata all'Hilton London Metropole, si sono tenute le premiazioni dei TTA AWARDS, il più importante evento inglese nel settore delle piastrelle. FILA ha vinto il primo premio nella categoria "Best Environment Initiative" (Miglior Iniziativa Ambientale) per il progetto "FILA GREEN LINE".
TTA, The Tile Association, rappresenta l'intero settore inglese delle piastrelle per pavimenti e rivestimenti e vanta oggi 750 membri tra produttori, posatori, distributori e contractor. Ogni anno TTA premia i migliori prodotti e progetti del settore durante la serata dei TTA AWARDS.
Nell'evento di quest'anno, alla presenza di oltre 300 figure di spicco del settore, FILA ha ricevuto ben due importanti riconoscimenti: la gamma di prodotti FILA GREEN LINE ha vinto il premio come "Miglior Iniziativa Ambientale" (Best Environmental Initiative), mentre la Biblioteca di Birmingham, trattata con i sistemi di protezione e manutenzione di FILA, è stata premiata come "Miglior Applicazione in Ambito Commerciale" (Best Use of Tile in a Commercial Contract).
"Siamo assolutamente entusiasti di aver ricevuto ben due riconoscimenti. "L'eco-premio" evidenzia gli enormi vantaggi – in termini di ambiente , sicurezza e prestazioni – offerti dalla Green Line di Fila, mentre il premio commerciale, per la Biblioteca di Birmingham, è il riconoscimento per un sistema di trattamento eseguito a regola d'arte" ha commentato Lisa Breakspear, Sales & Technical Director di Fila nel Regno Unito.
Alla cena era presente anche Denis Tessaro, Area Manager di FILA, che ha così commentato l'evento:
"L'esperienza al TTA AWARD è stata indimenticabile. L'ottima e allegra compagnia al tavolo Fila composto da colleghi e clienti, l'atmosfera tipica inglese e la location hanno condito l'esperienza completata dalla vittoria nella sezione "best enviromental initiative". Ciliegina sulla torta la presenza importante di Fila nella sezione "Best use of tile in a commercial contract" vinta dal nostro cliente W B Simpson & Sons.
Oltre all'emozione ed orgoglio di far parte del team e dell'azienda che ha vinto questo prestigioso premio ho avuto anche l'onore di rappresentare Fila nella premiazione della sezione "Excellence in multiple retailing", premio andato a N&C Tiles&Bathrooms che, a questo punto, non può che diventare nostro clinte!!!
Ringrazio la famiglia Pettenon che mi ha dato l'onore di rappresentare l'azienda in questa importante momento, simbolo e premio al lavoro fatto negli anni dai miei colleghi sia nel quartier generale in Italia, sia sul campo in UK.
Adesso viene la parte più difficile: ripetersi l'anno prossimo. Ce la metteremo tutta per tenere in auge Fila ed i suoi prodotti green!!"